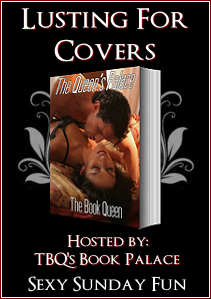 Thank you to The Book Queen for Lusting for Covers meme!
I love Lynn Veihl! I've read her for years. I've read her Stardoc scifi series written as S.L. Veihl as well. 😉 I adore her world building and her characters. If you like paranormal romance with lots of history and a unique take on the vampire mythology give Lynn Veihl a try.
I am so excited that Nightbound will be out in May. It's book three in her Lords of the Darkyn series. Green is my favorite color and I think it works well on this cover… I am also a fan of the hero on the cover. His jaw line, tousled dark hair and that t-shirt! *thud* be still my heart. 😀
(((hugs))) Kat
The Queen of Tarts
Make sure you look at the bottom of the post to see who else is Lusting for Covers
Release date: May. 7, 2013 |
Genre:  Romance
ISBN: 0451239814 |
ISBN-13: 9780451239815 |
Format: Mass Market Paperback and ebook
New York Times bestselling author Lynn Viehl continues her captivating Lords of the Darkyn saga, as a warrior of hidden legacy is finally allowed to enter the fray…. 
Beaumaris of York has many secrets. No human can know that he's an immortal Darkyn assigned to Knight's Realm, the Kyn stronghold disguised as a medieval theme park. And none of his brethren can discover that he's a half-breed, rescued from slavery as a child. Lately Beau has been yearning for action—and he's about to find it with his new mission.
Brilliant archaeologist Dr. Alys Stuart is infamous for her extraordinary theories—especially those concerning the mysterious Knights Templar—and she is unaware that her research is funded by the Kyn coffers. When the Kyn sends a vexingly good-looking man to assist—and protect—her, she doesn't expect the surge of attraction she feels for him.
When a powerful Templar artifact surfaces, Alys and Beau must trust each other enough to stop mankind's greed for immortality from sparking a war between mortals and Kyn that will destroy the world.
Lusting for Covers is a weekly meme, held on Sunday, that allows bloggers to share their current cover obsession with fellow book lovers.
Choose your own book cover that you've fallen in "lust" with in the past week. It can be new, old, a reprint, or even a book that is not yet out– it's all up to you! If you find a cover that catches your eye, then showcase it on your blog, and let others see the pretty covers out there.
(OPTIONAL): Besides posting the picture of the book cover you chose, it's nice to provide the book summary, title, author, or a website link for the book. It's not required, but it can help you readers' to add more books to their own list! A brief "Why I choose this cover" is also appreciated, but not required.
You're Next! comment with your link 😀