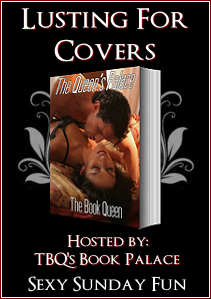 Thank you to The Book Queen for Lusting for Covers meme
So I was looking at my January new release database  and freaking out that more than half the books aren't showing covers… which means a LOT more work for me. Grr-argh 😛 Anyway, I was looking at the covers that did show for next month and I realized that covers with red, blues and purples jump out at me. So basically if it has a jewel tone color I'm all over it. Tattoos and pretty people don't hurt either to lure my attention based on cover alone. Unnatural poses on covers just make me giggle and think of fantasy author Jim C. Hines trying to duplicate them. He's actually taken his cover posing entertainment and education to the next level- Fundraising for a good cause! Click HERE for more information.
This cover doesn't have an awkward pose or a yummy clinch or a hot guy. It actually doesn't have a person at all. But it still grabbed my attention and I had to read the synopsis. Then I was hooked.
A Long, Long Sleep will be out with this cover on  it's paperback release January 22nd. I love the red digitized rose imposed against a plain black background. It's simple and eye catching. I want to get this book! Take a look at the synopsis and tell me what you think. Or tell me what you think of the cover.
(((hugs))) Kat
The Queen of Tarts
Make sure you look at the linky at the bottom of the post to see who else is Lusting for Covers 😉 (will be updated as soon as I see this weeks links <g>)
Release date: Jan. 22, 2013 |  Publisher:
Candlewick
|  Genre:  Speculative Fiction
ISBN: 0763663468 | ISBN-13: 9780763663469 | Format: Paperback
It should have been a short suspended-animation sleep. But this time Rose wakes up to find her past is long gone– and her future full of peril.
Rosalinda Fitzroy has been asleep for sixty-two years when she is woken by a kiss. Locked away in the chemically induced slumber of a stasis tube in a forgotten subbasement, sixteen-year-old Rose slept straight through the Dark Times that killed millions and utterly changed the world she knew. Now, her parents and her first love are long gone, and Rose– hailed upon her awakening as the long-lost heir to an interplanetary empire– is thrust alone into a future in which she is viewed as either a freak or a threat. Desperate to put the past behind her and adapt to her new world, Rose finds herself drawn to the boy who kissed her awake, hoping that he can help her to start fresh. But when a deadly danger jeopardizes her fragile new existence, Rose must face the ghosts of her past with open eyes– or be left without any future at all.
Lusting for Coversis a weekly meme, held on Sunday, that allows bloggers to share their current cover obsession with fellow book lovers.
Choose your own book cover that you've fallen in "lust" with in the past week. It can be new, old, a reprint, or even a book that is not yet out– it's all up to you! If you find a cover that catches your eye, then showcase it on your blog, and let others see the pretty covers out there.
(OPTIONAL): Besides posting the picture of the book cover you chose, it's nice to provide the book summary, title, author, or a website link for the book. It's not required, but it can help you readers' to add more books to their own list! A brief "Why I choose this cover" is also appreciated, but not required.
You're Next! comment with your link 😀