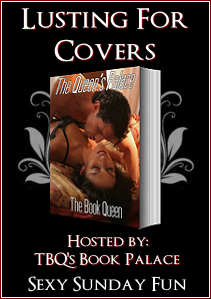 Thank you to The Book Queen for Lusting for Covers meme. Last weeks choice was from February so I decided to scroll through my New Fiction Release Database for March. I only got through the first week before Kathryne Kennedy's reissue of Double Enchantment with it's gorgeous cover caught my eye.
I love paranormal romance and her Relics of Merlin series is amazing! I was captivated by the fantastical Victorian England filled with magic, weres, spells gone awry, mystery and passion.
These books have been out of print 🙁 but Sourcebooks is in the process of re-releasing the first 3 and there should be a 4th book out by the end of the year. *Kermit flail*
Double Enchantment is book 2 and will be available again on March 5th. The original cover was pretty but it didn't really shout paranormal romance.
I like what Sourcebooks has done for this new cover.  I LOVE seeing the black stallion featured more prominently. (the hero is a were-stallion!) I like the historical romance couple layered over the magical elements. There's sparkles and a gnome!!! I really like the tease "She had two sides and they both intrigued him…"  🙂 If you love fantasy or paranormal try this series!
(((hugs))) Kat
The Queen of Tarts
Make sure you look at the bottom of the post to see who else is Lusting for Covers
Genre: Romance, Paranormal Romance, Fantasy
ISBN: 1402269854 | ISBN-13: 9781402269851 |
Format: Mass Market Paperback
Sir Sterling Thorn is looking for his missing sister and the magical relic used to kidnap her. His first clue leads him to the compelling figure of Lady Jasmina Karlyle, a woman who appears to possess two different personalities. Lady Jasmina Karlyle's simple spell has gone horribly wrong, and now she has a dreadful twin running around London who manages to get involved with a shape-shifter—Sir Sterling. But when she finds herself falling in love with Sterling, she is put in the impossible position of being jealous of her own self.
Lusting for Covers is a weekly meme, held on Sunday, that allows bloggers to share their current cover obsession with fellow book lovers.
Choose your own book cover that you've fallen in "lust" with in the past week. It can be new, old, a reprint, or even a book that is not yet out– it's all up to you! If you find a cover that catches your eye, then showcase it on your blog, and let others see the pretty covers out there.
(OPTIONAL): Besides posting the picture of the book cover you chose, it's nice to provide the book summary, title, author, or a website link for the book. It's not required, but it can help you readers' to add more books to their own list! A brief "Why I choose this cover" is also appreciated, but not required.
You're Next! comment with your link 😀