Me: Darling! You came! <eg> Come in, come in and get cozy on my virtual couch. I don't bite…. Unless asked. 😉 Oh! Can I get you something? Coffee, tea, soda… something stronger? And I has snacks. Feel free *waves at coffee table* I'm a candy fiend.
Scott: Well you are a redhead. One of my secret weaknesses. Btw, I brought you a yellow rose and a small box of chocolate. See? Chivalry and romance aren't all gone from men. 
Rum and Coke. My drink of choice since I can't get a strawberry lemonade anywhere anymore.
Me: Oh my goodness! Oh my goodness! You are a complete darling! gimme *tries to sniff roses and open chocolate box at the same time* Thank you! Here! I'll share… have a rose. This chocolate's mine. lol
*Hands of S.L. his drink and collapses on couch* How are you hon? Getting ready for the Romantic Times Book Lovers Convention? I'm nowhere in the vicinity of ready myself.
Scott: I have all the promo, the books, the artsy stuff and still feel like I am missing something. But as long as I have clothes and a place to sleep, I'm all ready. Except for the money.
Me:I'm working on a money tree… But my thumbs aren't very green. *sigh*
Can you tell about being one of the few guys at a romance convention? I adore that there's some testosterone present. <g>
Scott: It's always been that way. I do like interacting with people and the readers tend to be women. I won't lie, it is nice to be around so many women and some have read my stories and say they liked them.
Me: We like you too 😀
I know you are very artistic…. You write and create visual art (photography and book covers!) as well as being a husband and dad… Do you juggle too? 😉 Do you have any spare time to play bridge or watch Doctor Who?
Scott: I actually can juggle. Only 3 things though, haven't made it to 4.
I really love what I do. Love writing sexy stories, love doing book and promo art and love the family. The kids are into Dr. Who, I haven't gotten to that show. Still on Season One of Game of Thrones. I'm more of a Dexter and Walking Dead guy and thank God for DVR's.
Me: I am jealous of your juggling skills. 😉 I can't juggle at all… I mostly just throw things.
Soooo …Tell me a bit about your Working Stiffs series with Sahara Kelly and your newest story Full Service. Pretty Please *munches handful of m&ms*
Sco
tt: Hey, why do you only eat green M & M's?
Me: *looks bemusedly at handful* oh! well… no green thumb… green tongue? 😛
Scott: 😀
WORKING STIFFS is a series of stories Sahara and I started. We wrote the first story and I always say I'm a working like a pornstar and the series title was born.
We decided to go back and forth and write separate stories for the series. Mine is FULL SERVICE.
It's for all you ladies that don't like to self service your car or other things and a beefcake that decides to give a woman FULL SERVICE (cough cough) if you know what I mean. It has the typical sex, humor, sex, drama, oh and more sex in it.
Me: *Couch Kermit Flail* What's not to like?
Take a look *points down*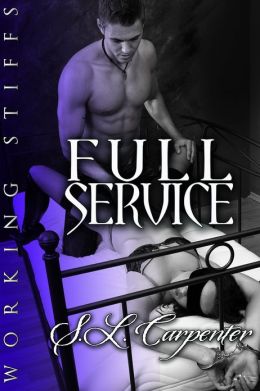 (Working Stiffs)
Release date: Mar. 30, 2013 |
ASIN: B00C4CH36G |
 Format: eBook
For Rachel Franklin, truth is nowhere near as hot as fiction. She's damn near given up on hoping to find a man who can make her toes curl or her spine bow with passion. It seems to happen all the time in those romance novels, but never to her. After a conversation with her girlfriends, Rachel decides to give sex one last shot. But this time, it'll be her way. Uncomplicated, steamy and satisfying – without any of the fuss and bother that goes along with 'relationships'.
And she finds the perfect candidate when her check engine light starts to flash and she heads for the local service station. Tyler Douglas takes one look and decides he's more than ready to check under Rachel's hood. Especially when she catches him off-guard and demands Full Service for more than just her car…
Me: Now… I have to tell you something. I began reading your stories about a decade ago when I found you on Ellora's Cave. This was before e-readers. I think I still have a few of your stories on a 3" hard disk somewhere…. Anyway, I love the humor and heat you bring to romance. You always make me laugh (and sometimes snort). And while your stories may be wicked, steamy, fun there is a feeling a respect for woman that I've always appreciated. Thank you. *blushes* seriously. Thanks. What's it like being in your brain? Do you have to focus on one creative project at a time or do you multi-task?
Scott: I am a mood writer. I always write stories that reflect my mood. I am in awe of the 5K a day writers because I can't do that. My mind is like a television and it changes channels. When I am into a story it does cook a while in my mind. Right now I am working on WANTED which is a follow up to my story OWNED and it is more serious then the other story I am playing with which is more funny and wildly sexy. I guess I am a little ADHD and get distracted, look…squirrel.
The humor part is because , let's face it, life is pretty damn funny. Sex is funny enough and in a lot of stories the alpha guy is a god and the woman a goddess with no issues like leg cramps, occasional gas or performance issues.
I appreciate, and to be honest, adore women and the female form. I have always respected women and I am happy you noticed that it shows in the writing.
Me: awww
I love that you love women… What's not to love? lol we're like a rollercoaster… WelI, I am. :p
I agree. Life is damn funny 😀 (I said damn! ha! )
Ok…. Have some candy for energy… Actually I like the answers to my silly questions best when people are on a sugar high. 😛
I just made up a word writosis please make up a definition and use the word in a sentence *giggle*
Scott: Def: "writosis" a writers disease where the author gets so involved in a character they become the character in real life.
Scott's life was rather dull until he had a bout of writosis and suddenly he started trying to become the next Iron Man. Sadly he fell to his death after tying pots and pans to his body and trying to fly off his roof.
Me: lol It sounds like a fatal condition. Be careful!
If you had to choose between writing while wearing a unicorn onesie or gladiator sandals what would you pick and how would it help with your writing process?
Scott: Well obviously I'd choose the unicorn onesie since it has the phallic symbol coming out of the top. I write at night so sitting in pajamas would fit also. I have a weird process to doing things and I think it is different, but it works.
Me: bwahahaha *snort* I'd pay to see you in a unicorn onesie 😀
Tell me a story please or make up a poem or limerick with this phrase….
On the corner of Love and Beware…
On days when things need change,
Sometimes you need to rearrange.
The routines in your daily life,
From everyday causes of strife.
Taking a chance to try the new,
from the things that you normally do.
The people that we may meet,
Either at work or on the street.
Intriguing us with how they act,
The attraction they cant hold back.
Following your heart to take a chance,
Maybe this will bloom into romance.
You never know unless you try,
Because emotions make us laugh or cry.
Life changes with a simple stare,
On the corner of Love and Beware…
S.L. Carpenter
Me: awwwww. Scott? That's so beautiful…..You brought me flowers and chocolate and a poem! It's a good thing you're married or I might have to sweep you off your feet. *sigh*
😀 We're almost done… but I can't let you go without a quickie.
I like quickies.
The Book Tart Quickie….
How big is your TV?  

  That's a rather personal question. It's not the size but how you view it.

What's the tallest building you've ever been up? 

Rooftop restaurant at Hilton in St Louis.

What's the longest you've ever grown your hair? 

Actually had it past my shoulders. Back in the day when I had all of it.

What's your favorite animated or cartoon program? 

Ren and Stimpy

Are you a good cook?

 Not really. I can cook Top Ramen.

Which fictional character do you wish was real? 

Tough one. Maybe Dexter. He has the right ideas in taking care of bad people.

How many remote controls do you have in your house?

9 and probably more in the couches.

Have you ever tried spam? (the meat product)  Yep. My mom used to use it cooking.
What was the last show you watched or DVR'd? 

THE FOLLOWING

What are you wearing now? 

A tutu, sunglasses and a football helmet. You never know what may happen and a tutu is the perfect outfit for any occasion. Actually, Jeans, polo shirt, and Oakland A's hat.
Me: <g> I LOVE this! *points up* You are a great playdate!
Scott hon! Thank you so much for hanging with me here at The Book Tart. I AM going to stalk you and get a pic this year. NO running. 😛
Scott: As long as I get a copy I'm all for it. I want a pic of you too.
Me: In our matching tutus 😛
(((hugs))) Kat
♥ ♥ ♥ ♥ ♥ ♥ ♥ ♥ ♥ ♥ ♥ ♥ ♥ ♥ ♥ ♥ ♥ ♥ ♥ ♥ ♥ ♥ ♥
S.L. Carpenter
My name is S.L. Carpenter and I'm a writer and an artist, a husband and a father, a slave to the wife and an inspiration to other people I don't know. I call California home and have been here my whole life. I know…poor me.
I've been writing my special brand of insane little stories for many years, but it's only been in the last decade that I've managed to persuade folks to publish them. I expanded my backlist to include single titles, anthologies and several books co-written with my writing partner (and webmistress) Sahara Kelly. My most recent books are available at Samhain Publishing.
If you want to keep in touch with what's happening, the best way is to subscribe to my newsletter here or follow me at:
Website: http://www.slcarpenter.net/
My Art: My Deviant Art Gallery
Writing Partners:Partners In Passion
Newsletter: S.L. Carpenter's NEWS FLASH!
Stalk Follow Him
♥ ♥ ♥ ♥ ♥ ♥ ♥ ♥ ♥ ♥ ♥ ♥ ♥ ♥ ♥ ♥ ♥ ♥ ♥ ♥ ♥ ♥ ♥