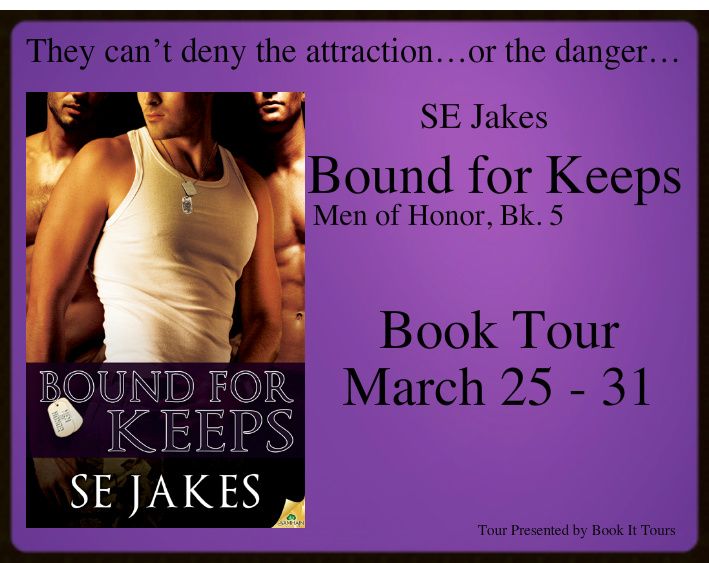 Yay! I'm delighted to share an excerpt from SE Jakes newest story in her Men Of Honor series. Take a look at Bound For Keeps and enter to win a book from SE Jakes' backlist.
(((hugs))) Kat
The Queen of Tarts
Bound For Keeps
MEN OF HONOR #5
Release date: February 19, 2013 |
Publisher: Samhain|
Genre: Romance, Erotic Romance, M/M
SE Jakes (Author)
ISBN-13: 978-1-61921-378-4 |
Format: eBook
They can't deny the attraction…or the danger…
Since losing their beloved third to cancer, Keith Masters and Johnny Lou Reed haven't thought about filling the void in their lives with anyone else. Until a stormy Christmas Eve, when a half-frozen, newly discharged Army Ranger shows up on their doorstep—with no memory of who he is or how he got there.
The former Marine in Keith is suspicious that he can't turn up any information about Shane anywhere, not even an address. Direct questioning will have to wait until they've gotten the boy well.
Shane knows it's only a matter of time before Keith and Reed figure out his past. And when they learn the depth and the darkness of the secrets he holds, he could get them all killed.
In the heat of the dark winter nights, the three men discover a passion that heals the gaping wounds in their hearts. And Shane wonders, despite the danger hot on his heels, how he will ever bear to leave…
♥ ♥ ♥ ♥ ♥ ♥ ♥ ♥ ♥ ♥ ♥ ♥ ♥
Bound For Keeps
Excerpt from Chapter two
2013 © SE Jakes
"What the fuck was that?"
Reed looked up from his computer screen to see Keith scowling at the door. "Probably just the wind."
"Wind doesn't sound like that."
"Animal?" Reed suggested, and Keith peered out the window because yeah, the last thing they needed was a deer running through the cabin looking for shelter from the storm.
"Don't see anything. Wait…shit." Keith still moved like a military man, because once a Marine, always a Marine. He opened the door swiftly and Reed came over in time to see a man's body crumpled on their porch.
The fierce storm blew snow and hail inside as Keith dragged the unconscious man inside. There was no telling what he looked like beyond Caucasian—his hair was covered with snow and he was bundled up, but it was no match for Mother Nature's wrath.
"Get those clothes off him—I'll get blankets," Reed barked, and Keith rolled his eyes like, duh, as he'd already laid the boy down by the fire and had begun stripping the wet clothing off the most likely hypothermic patient.
Reed raced to the bedroom for extra blankets and towels, cranked the heat up in the house and grabbed his medical bag. He'd started out as a medic in the Army and had finished getting his medical degree while still in the service. He'd been out for years now, in a private practice in this small town when he'd settled in with Keith and Bobby.
Bobby.
The grief ripped through his chest, the pain still so fresh it could bring him to his knees.
You couldn't save him, but you can save this one.
That got him moving forward. He tossed Keith the blankets as they both knelt over the young man. Now that Keith had brushed some snow off, he could see the light brown color of the boy's hair. Lifted his lids to check his pupils and was met with green eyes that didn't focus. He was almost as tall as Reed, was in decent shape but much thinner than someone with his frame should be.
He'd also recently been in a fight. There were bruises on his knuckles and a large bruise on his side—Reed didn't probe, as the man's skin would be too sensitive from the hypothermia. Broken or badly bruised, his ribs would still be a bitch to heal.
"Grab me the antibiotic and saline—wrap that in a warm towel," Reed told Keith, who did so quickly, then returned to searching the man's clothing while Reed started the warm drip and the antibiotics after he readied an IV.
"Any ID?" he asked as he put the stick-on thermometer on the unconscious man's forehead and the stethoscope in his own ears and prepped to listen to his chest.
"No, but his name's Shane Wills and the address is a PO box, according to the junk mail he had stuffed in his pocket." Keith put the envelopes aside on a table so they wouldn't get lost. "He's got some cash, no credit. Nothing else in his pockets."
"Weird." Reed sucked his bottom lip as he continued checking Shane over. His temp was ninety-five, and he'd begun to shiver so hard Reed couldn't keep him still. "Hey Shane—you're safe. Can you open your eyes for me? Shane?"
At the sound of his name, the young man's eyes flickered open for a long second and then closed again. They'd been dulled with pain and fever, and Reed was worried.
"I'll check outside for a bag," Keith offered as the storm's intensity increased. "I'd hate to think he had family worried about him on Christmas Eve."
They'd planned to have a quiet dinner in so they'd had no worries about the storm. They'd weathered far worse.
Reed pulled the stethoscope out of his ears. "He's pretty sick on top of the hypothermia—we can't move him tonight in this weather safely. I've got enough antibiotics to get him through—tomorrow, we can see about checking him into the hospital. Forget going outside—take your clothes off."
Keith's brow shot up, and Reed just muttered something about him being a horny bastard.
Keith didn't argue, but he was already stripping down to his boxers. Probably knew that was the way things would go from the beginning—he was practically an honorary doctor after spending so much time with Reed.
Reed stripped too, stoked the fire and laid the comforter down while Keith crawled under the blankets and rolled Shane so Keith was pressed against his naked, shivering body, Shane's back to his chest. Reed quickly got under the blanket as well and pressed his chest to Shane's.
"He's freezing," Keith grumbled, but Reed noted he'd reached up to feel the boy's forehead like he could will his temperature back up. His dark eyes were intense, and for that moment, it was the first time Reed and Keith met, on the steps of this very house on a Christmas Eve what seemed like ages ago.
"You still look the same," Keith murmured, reading his mind as always.
"Bullshit." And still, the man could make him blush.
They'd been together for eight years today, had been in love for most of that time, although for sure it had started with lust.
Nights like tonight reminded them that they were lucky to have one another. Made them miss Bobby too, although Reed suspected that would be an ache that neither man would ever be able to shake.


♥ ♥ ♥ ♥ ♥ ♥ ♥ ♥ ♥ ♥ ♥ ♥ ♥
More SE
SE Jakes writes m/m romance.  She believes in happy endings and fighting for what you want.
Stalk Follow her
You can contact her the following ways:
You can email her at authorsejakes@gmail.com
You can post to her Facebook page: Facebook.com/SEJakes
You can Twitter her: Twitter.com/authorsejakes
You can post on her Goodreads Group:  Ask SE Jakes
You can follow her Tumblr page:  sejakes.tumblr.com
Truth be told, the best way to contact her is by email or in blog comments.  She spends most of her time writing but she loves to hear from readers!
♥ ♥ ♥ ♥ ♥ ♥ ♥ ♥ ♥ ♥ ♥ ♥ ♥

Tour Schedule
3/25 The Book Tart
3/27 In Love With Romance
3/28 Under The Covers
3/30 Day Dreaming Book Reviews
3/31 My Secret Romance