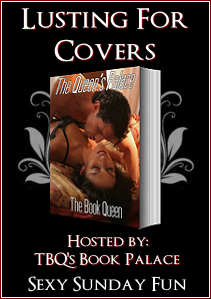 Thank you to The Book Queen for the Lusting for Covers meme!
I am kinda hit and miss with my lusting for covers posts. I'm sorry! *wails* I love looking at covers and now that I have the wish list option it's even more fun to scroll through all the new books and highlight the pretty… I just keep getting overwhelmed with life. *sigh* I am slowing down for the rest of the month on posts so that I can focus on getting ready for  the Romantic Times Book Convention *squee!*
BUT I did find a really cool cover I wanted to share. I love the silhouettes, the white liquid in the middle (I think it's melted ice cream?) Anyway, Katja Millay's  young adult novel The Sea of Tranquility grabbed my attention and the synopsis kept it. This story came out in eBook last November and will be released in print on June 4th. The reviews on it are amazing. I think I NEED it. 😉
(((hugs))) Kat
The Queen of Tarts
Make sure you look at the bottom of the post to see who else is Lusting for Covers
Release date: Jun. 4, 2013 |
Genre: Young Adult, Romance
ISBN: 1476730946 |
 ISBN-13: 9781476730943 |
Format: Paperback and eBook
I live in a world without magic or miracles. A place where there are no clairvoyants or shapeshifters, no angels or superhuman boys to save you. A place where people die and music disintegrates and things suck. I am pressed so hard against the earth by the weight of reality that some days I wonder how I am still able to lift my feet to walk. Former piano prodigy Nastya Kashnikov wants two things: to get through high school without anyone learning about her past and to make the boy who took everything from her—her identity, her spirit, her will to live—pay. Josh Bennett's story is no secret: every person he loves has been taken from his life until, at seventeen years old, there is no one left. Now all he wants is be left alone and people allow it because when your name is synonymous with death, everyone tends to give you your space. Everyone except Nastya, the mysterious new girl at school who starts showing up and won't go away until she's insinuated herself into every aspect of his life. But the more he gets to know her, the more of an enigma she becomes. As their relationship intensifies and the unanswered questions begin to pile up, he starts to wonder if he will ever learn the secrets she's been hiding—or if he even wants to.
The Sea of Tranquility is a rich, intense, and brilliantly imagined story about a lonely boy, an emotionally fragile girl, and the miracle of second chances.
Lusting for Covers is a weekly meme, held on Sunday, that allows bloggers to share their current cover obsession with fellow book lovers.
Choose your own book cover that you've fallen in "lust" with in the past week. It can be new, old, a reprint, or even a book that is not yet out– it's all up to you! If you find a cover that catches your eye, then showcase it on your blog, and let others see the pretty covers out there.
(OPTIONAL): Besides posting the picture of the book cover you chose, it's nice to provide the book summary, title, author, or a website link for the book. It's not required, but it can help you readers' to add more books to their own list! A brief "Why I choose this cover" is also appreciated, but not required.
This meme is hosted by TBQ
You're Next! comment with your link 😀