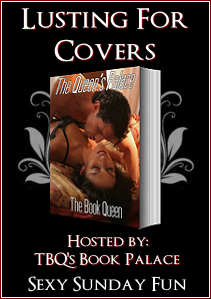 Thank you to The Book Queen for the Lusting for Covers meme!
I am a Beach Book Tart for another week… I'm on a work trip in the Caribbean and I got sunburned today! meep! Anyway I am behind on so much  and didn't do my Lusting For Covers last week. *shakes head pitifully*
I'm still no where close to caught up but I'm trying! Sooo Here is a cover that caught my eye. Megan Mulry's If The Shoe Fits comes out June 1st, 2013 and it looks like a delicious contemporary romance. I'd so wear those shoes! And I love the colors on this cover… Plus the synopsis mentions a British Aristocrat. 😀
(((hugs))) Kat
The Queen of Tarts
Make sure you look at the bottom of the post to see who else is Lusting for Covers
If the Shoe Fits
Release date: Jun. 1, 2013 |
 Genre: Romance
ISBN: 1402270003 |
ISBN-13: 9781402270000 |
Format: Paperback and eBook
Second in a sexy, playful new series of women's fiction imagining what it might be like for a modern American woman to fall in love with a British aristocrat, from new author Megan Mulry. Sarah James is an accomplished American woman who heads her own chic shoe company. Devon Heyworth is the rakish, ne'er-do-well younger brother of the 19th Duke of Northrop. When the two meet at the Duke's wedding they embark on a whirlwind weekend romance. And what begins as a casual fling at a royal wedding quickly proves to be far more meaningful. But when a string of misunderstandings threaten to tear them apart, their meddling aristocratic relatives join forces to reunite the star-crossed lovers.
Lusting for Covers is a weekly meme, held on Sunday, that allows bloggers to share their current cover obsession with fellow book lovers.
Choose your own book cover that you've fallen in "lust" with in the past week. It can be new, old, a reprint, or even a book that is not yet out– it's all up to you! If you find a cover that catches your eye, then showcase it on your blog, and let others see the pretty covers out there.
(OPTIONAL): Besides posting the picture of the book cover you chose, it's nice to provide the book summary, title, author, or a website link for the book. It's not required, but it can help you readers' to add more books to their own list! A brief "Why I choose this cover" is also appreciated, but not required.
This meme is hosted by TBQ
You're Next! comment with your link 😀