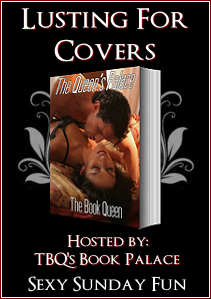 Thank you to The Book Queen for the Lusting for Covers meme!
I'm just home from the Caribbean. Brrr! well… lol It's not THAT cold! But we have snow here (I live in the mountains.)
I think maybe I have ocean blue on my mind. I fell in love with the colors and the water drops on the girl on Anna Scarlett's cover for Degrees of Wrong. Then I read the synopsis and I'm hooked. (line and sinker! lol)
Oh! Have you noticed Samhains' wickedly clever warnings? I love the snark and it definitely gets my attention.
I WILL read this book. It's out in paperback July 2nd… I think I might cave and by the ebook sooner though.
(((hugs))) Kat
The Queen of Tarts
Make sure you look at the bottom of the post to see who else is Lusting for Covers
Release date: Jul. 2, 2013 |
(August 28th, 2012 E)
ISBN: 1619212706 |
 ISBN-13: 9781619212701 |
Format: Paperback and eBook
This time, the straight-and-narrow path could be the road to ruin.
Dr. Elyse Morgan's mission: find the cure to the HTN4 virus. The compensation, courtesy of the United Nations: a lab stocked with hi-tech goodies, limitless resources and enough chocolate to make her rear look like a cellulite farm. Bonus: she gets to live.
Rescued (kidnapped) and secreted (imprisoned) on an undersea warship, Elyse adjusts to her assumed identity as a cadet with the finesse of a toeless ballerina. Her sulfuric temper and blatant insubordination capture the unwanted attention of the ship's captain, the gorgeous, infuriating, engaged Nicoli Marek.
Elyse would rather perform her own autopsy than become the other woman, but Nicoli—who's as full of himself as he is of secrets—regards his impending marriage as a mere political transaction. And Elyse as fair game.
As Elyse's suspicions about the UN's true agenda mount along with her attraction to the relentless, chronically shirtless captain, she must choose between the murky path to everything she's ever wanted, or the squeaky-clean path of self-sacrifice—which could mean taking the secrets of the virus with her to the grave.
Warning: Features a strong, chocolate-loving heroine who takes no prisoners on the way to saving the world from an epidemic and winning a captain's heart.
Lusting for Covers is a weekly meme, held on Sunday, that allows bloggers to share their current cover obsession with fellow book lovers.
Choose your own book cover that you've fallen in "lust" with in the past week. It can be new, old, a reprint, or even a book that is not yet out– it's all up to you! If you find a cover that catches your eye, then showcase it on your blog, and let others see the pretty covers out there.
(OPTIONAL): Besides posting the picture of the book cover you chose, it's nice to provide the book summary, title, author, or a website link for the book. It's not required, but it can help you readers' to add more books to their own list! A brief "Why I choose this cover" is also appreciated, but not required.
This meme is hosted by TBQ
You're Next! comment with your link 😀