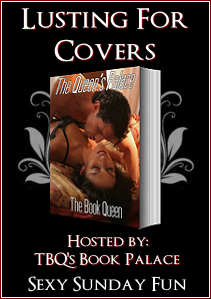 Thank you to The Book Queen for the Lusting for Covers meme!
I love Julie Garwood! I have been a romance reader since the mid 1990s and I adore her historical romances. Her contemporary romances have been fun too… some more than others. 😛 This one looks yummy!
I love a guy in a dress shirt and the cover for Julie Garwood's upcoming contemporary romance Hotshot has the hot guy, dress shirt and a badge! Check it out *points down* it will be available August 6th, 2013.
(((hugs))) Kat
The Queen of Tarts
PS.  Make sure you look at the bottom of the post to see who else is Lusting for Covers
Release date: Aug. 6, 2013 |
Genre: Romance
ISBN: 0525953019 |
 ISBN-13: 9780525953012 |
Format: Hardcover and ebook
#1 New York Times bestselling author Julie Garwood returns with a novel of family drama, suspense, and—of course—romance.
Peyton Lockhart and her sisters have inherited Bishop's Cove, a small, luxurious oceanfront resort, but it comes with a condition: The girls must run the resort for one year and show a profit—only then will they own it.
A graduate of a prestigious French culinary school, Peyton has just lost her job as a food critic. Out of work and in a bad place personally, a year doing something completely different sounds wonderful.
There are countless challenges and too many people who want to stop the sisters from succeeding. Among them are Peyton's contentious cousins, who are outraged that they didn't inherit the resort, as well as a powerful group of land developers who have been eyeing the coveted beachfront property.
It's soon apparent to Peyton that their efforts are being sabotaged, but she refuses to let the threats scare her—until she's nearly killed. She calls on her childhood friend and protector, Finn MacBain, now with the FBI, and asks for his help. He saved her life once; he can do it again.
Julie's previous two titles, The Ideal Man and Sweet Talk, both debuted at #2 on the New York Times bestseller list.
Preorder this ebook from: Amazon | Barnes & Noble
Lusting for Covers is a weekly meme, held on Sunday, that allows bloggers to share their current cover obsession with fellow book lovers.
Choose your own book cover that you've fallen in "lust" with in the past week. It can be new, old, a reprint, or even a book that is not yet out– it's all up to you! If you find a cover that catches your eye, then showcase it on your blog, and let others see the pretty covers out there.
(OPTIONAL): Besides posting the picture of the book cover you chose, it's nice to provide the book summary, title, author, or a website link for the book. It's not required, but it can help you readers' to add more books to their own list! A brief "Why I choose this cover" is also appreciated, but not required.
This meme is hosted by TBQ
You're Next! comment with your link 😀