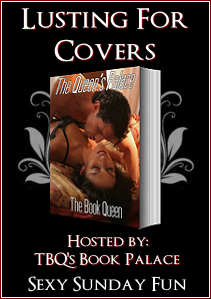 Thank you to The Book Queen for the Lusting for Covers meme!
This book had me at cupcakes! Well, *blush* the guy's profile and the gray-scale lighting and his red eyes grabbed my attention. As did the snarky title, I mean, Sleeping With The Entity? bwahahaha
So that grabbed my will o' the wisp mind and the synopsis hooked it.
A baker of cupcakes and a vampire. Can he have his cake and eat it too? I need to know! 😉
This cover worked for me. lol I have put this book in my shopping cart. It's a first novel by Cat Devon  which her website says is a pseudonym for an award-winning author… I'm very curious. I am a Kat after all. Anyway Sleeping With The Entity comes out June 4th and The Entity Within is out July 2nd. Take a look at the first cover and tell me what you think, 😀
(((hugs))) Kat
The Queen of Tarts
Make sure you look at the bottom of the post to see who else is Lusting for Covers
Release date: Jun. 4, 2013 |
Genre:  Romance
ISBN: 0312591462 |
ISBN-13: 9780312591465 |
Format: Mass Market Paperback
Sleeping with the EntityCat Devon Meet Daniella Delaney. She's all ready to open her shop, Heavenly Cupcakes, in one of Chicago's sleepier districts. But she's having a hard time convincing the local business association—namely Nick St. George—that she's a good addition to the neighborhood. Daniella hopes that her famous red velvet cupcakes will be enough to melt any man's heart. But Nick is no ordinary man. He's got fangs. As leader of the Vamptown clan, Nick has no intention of letting Daniella breathe new life into his old haunts. But something about her leaves Nick hungry…for more. He can't control her mind like other humans, a trait that makes Daniella irresistible. Could it be that, for the first time in centuries, Nick has met his match? Love is always a force to be reckoned with. But can this vampire have his cake and eat it too?
Lusting for Covers is a weekly meme, held on Sunday, that allows bloggers to share their current cover obsession with fellow book lovers.
Choose your own book cover that you've fallen in "lust" with in the past week. It can be new, old, a reprint, or even a book that is not yet out– it's all up to you! If you find a cover that catches your eye, then showcase it on your blog, and let others see the pretty covers out there.
(OPTIONAL): Besides posting the picture of the book cover you chose, it's nice to provide the book summary, title, author, or a website link for the book. It's not required, but it can help you readers' to add more books to their own list! A brief "Why I choose this cover" is also appreciated, but not required.
This meme is hosted by TBQ
You're Next! comment with your link 😀