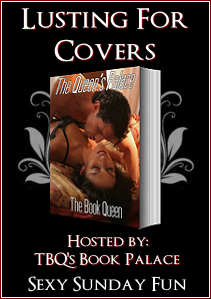 Thank you to The Book Queen for Lusting for Covers meme! It totally gives me an excuse to look at books and books and more books… I was sitting at my hair stylist's house tonight as I waited for the bleach to process and then for the color to do it's thing, I looked at books. So many jumped out at me and I noticed (not for the first time) that I really like YA covers. But I decided to save my young adult fiction pic for next week and share a romance cover.
Romance novels are my first love. 😉 I read almost anything but I enjoy it so much more with a romance plot. The book I'm sharing for my Lusting For Covers is by an author I've never read before. Walking In Fire by Cathryn Cade has a yummy male  torso shot and I like the tattoo. But what really clinched the deal were the words Hawaiian Heroes. That was unusual enough that I read they synopsis and now I'm sold. I haven't read that many books set in Hawaii and I want to know about Malu and Melia. I plan on getting Walking In Fire on March 5th and I'll keep you posted.
How do you feel about chest shots on book covers? Do you prefer there to be a full face or half or headless?! 😛 What about the synopsis, did it intrigue you too?
What covers are you Lusting after?
(((hugs))) Kat
The Queen of Tarts
Make sure you look at the bottom of the post to see who else is Lusting for Covers
Release date: Mar. 5, 2013 |
ISBN: 1609289439 |
ISBN-13: 9781609289430 |
Format: Paperback and ebook
Born to defend his people, he will sacrifice everything…for her. Hawaiian Heroes, Book 1 Nawea Bay, a remote Hawaiian paradise, is just the haven Melia Carson needs to escape the chill of heartache. Instead, she finds herself swept up in a tropical heat wave, fueled by her unexpected attraction to a handsome native she meets on a snorkel tour. He's big, powerful, hot enough to melt her defenses—and he's not all he seems. How else could he survive an injury that should have killed him…and why does she dream of him garbed in ancient native dress and wreathed in flames? David "Malu" Ho'omalu is on the Big Island to find and destroy a cache of dangerous designer drugs before they can be sold to his people. Fending off amorous female tourists is part of the job, but one look in Melia's blue eyes, and his instincts scream that she is his. As Melia surrenders to the desire burning between them, she discovers more than a fiery heritage that defies modern logic. She discovers a man who would descend into the molten heart of the volcano to protect his island. And her…if she can find the strength to trust her heart to him.
Warning: Hot, hot Hawaiian hero with volcanic passion on his mind. Better pack a heat-proof bikini for this island paradise.
Lusting for Covers is a weekly meme, held on Sunday, that allows bloggers to share their current cover obsession with fellow book lovers.
Choose your own book cover that you've fallen in "lust" with in the past week. It can be new, old, a reprint, or even a book that is not yet out– it's all up to you! If you find a cover that catches your eye, then showcase it on your blog, and let others see the pretty covers out there.
(OPTIONAL): Besides posting the picture of the book cover you chose, it's nice to provide the book summary, title, author, or a website link for the book. It's not required, but it can help you readers' to add more books to their own list! A brief "Why I choose this cover" is also appreciated, but not required.
You're Next! comment with your link 😀