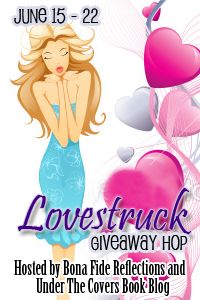 Ok…. My second blog hop! Thank you to Under The Covers Book Blog and Bona Fide Reflections for organizing this giveaway hop with so many great blogs and websites that celebrate reading! Thank you for stopping by The Book Tart. My site is new, but I am happy to share. I love to read and chat about books. I am especially excited about the New Fiction Release database. You can take a look at the print titles for each month and narrow the list down by date too. My geeks are working on the ability to add e-book editions soon.
I just realized I was supposed to share with you what character or series I am lovestruck by…who has me completely smitten. It's a really great idea for a post. It's just that I am away from home right now and my stacks and mountains of books don't travel well. Aack! So, as I was packing I grabbed the starting book and the most recent book in a series that popped into my mind first. And of course, as I was on the plane I was rethinking and wishing I had brought more books with me to share other favorites characters and series. Honestly, I don't have an ultimate favorite! It really depends on my mood <g> But, do to circumstances beyond my control (Ha!) and the fact that my entire library wouldn't possibly fit in my suitcase, I am going to share with you the characters that first came to my mind.
I am smitten by Eve Dallas and Roarke from J.D. Robb's In Death series. I have been reading these books since I was a teenager and picked up Naked In Death in 1995… I can do math… Ummmm… 1995-2005…2012… Success! 17 years ago 😛 Da-yamn! 35 full length novels not to mention the novellas. This is the only series that I have read that many books about the same characters and I still pre-order the upcoming titles and look forward to catching up with Eve and Roarke and company. J.D. Robb is the pseudonym for Nora Roberts and these books are a bit of a departure from her traditional romance. Yes, there's romance and passion, but these books follow one heroine's journey and they are set in the future! These books kind of defy category… There is mystery and romance and fantasy… They are futuristic. I like sci-fi  so I got a kick out of seeing how she envisions the world in 2058. Ballistic guns aren't legal, they use laser guns. Prostitution is legal. Plastic surgery has advanced (Body sculpting! sign me up) People vacation at resorts in space! Food is prepared by auto-chefs and real coffee is expensive, and Eve drives a crappy police issued car. And vending machines warn you on your food choices. :p
"Vending Machine: "This product has no known nutritional value and may cause irritability or wakefulness in some individuals. Please enjoy your selection and your day."
Eve: "Up yours."  ―  J.D. Robb, Betrayal In Death
I love Eve. She's tough and and brave and addicted to caffeine and chocolate! (and fighting a candy thief in her office) When we are introduced to Eve, we know that she's an orphan and a loner, she has a lot of baggage and wounds. But you know that Eve is a fighter and she's worked hard to make sure her past does not define her. She doesn't make friends easy and is very closed off. She is sworn to protect and serve and she stands for the dead as a homicide detective. As the series has progressed Eve has opened up to love and in the process let others into her life and she has grown stronger.
"For once, he slept first. She lay in the dark, listening to him breathe, stealing a little of his warmth as her own body cooled. Since he was asleep, she stroked his hair. "I love you," she murmured. "I love you so much, I'm stupid about it." With a sigh, she settled down, closed her eyes, and willed her mind to empty. Beside her, Roarke smiled into the dark. He never slept first"  ―  J.D. Robb, Ceremony In Death
Now Roarke… *sigh* yummm. he is a handsome, charismatic, Irish, multi-gajillionaire. He's damaged too and has found a kindred spirit in Eve and recognized her for the treasure she is. He adores Eve and loves all of her. He trusts her to do her job and take resonable steps so she can come back home safely… And often he get's to accompany her as a civilian consultant because he's very smart and wily with technology. Seeing them work on a case together is a blast. Oh! and he enjoys buying gifts for Eve, and she's learning to accept them. 🙂
"What a woman you are," he murmured, and she heard the emotion in it, the way the Irish thickened just a bit in his voice. And saw it in those vivid eyes when he drew back. "That you would think of this. That you would do this." He shook his head, kissed her. Like the breath, long and quiet. "I can't thank you enough. There isn't enough thanks. I can't say what this means to me, even to you. I don't have the words for it." He took her hands, brought them both to his lips. "A ghra. You stagger me." He framed her face now, touched his lips to her brow. "You're the beat of my heart, the breath in my body, the light in my soul."  ―    J.D. Robb Indulgance In Death
Eve and Roarke complete each other <g> They were fine on their own, but they are better and stronger together.  I have enjoyed watching them get to know each other better and see their relationship deepen and how they have learned to compromise and build their partnership. Watching them support each other as they deal with some heavy personal baggage has just made their relationship stronger. Also, seeing these two loners build a home and become a couple is a pleasure. I LOVE romance! In many romance stories (NOT all!) after the characters fall in love and become a couple you are left to imagine their future. I have a good imagination and that's fine, but I appreciate that there are over 70 stories about Eve and Roarke and their journey together. These books have only covered approximately 2 years of their life, so you don't miss much! Every book in the series isn't a 4 or 5 star read, but I always enjoyed them.  The cast of characters has also grown as Eve's life has become fuller. She let's other people into her world. Some, like Roarke's butler Summerset, not by choice! I adore visiting the cast of characters I've grown to love including her long time friend, Mavis, her partner, Detective Delia Peabody and the E-team geeks like McNab and Feeney. These stories make me laugh out loud at the snarky humor, sometimes cry and become a teeny-weeny bit jealous that Eve has Rourke instead of me. :p This series is on my keeper shelf and I love curling up with a new In Death book and visiting with Eve and Roarke.
"But Roarke doesn't feel weird about it. He's full of it, the love, I mean. And when he loves me, things that never worked in me did – do. It was easier when they didn't work, but it's better when they do. You know?"  ―  J.D. Robb, New York To Dallas
This Lovestruck contest runs from June 15th-June 22nd. The winner will be chosen randomly using Rafflecopter and will be announced June 23rd here and by email. The winner will have 48 hours to respond.
I am giving away a few In Death books. If the winner is from the United States I will ship a NEW box set of the first 3 books in the In Death series, Naked In Death, Glory In Death and Judgement in Death, valued approximately $24.Or the equivilant value in e-books from the In Death world. If the winner chosen is an international winner, I will send you digital copies of the first 3 books. I am willing to substitute later books in the series (of equal value) if you already own some of them <g>
To enter, please comment with what character or series first comes to mind that you love, love, love! I can't wait to get suggestions for series I might have missed. And don't forget to visit the 130 sites participating in this fun blog hop.
Lovestruck Giveaway Hop