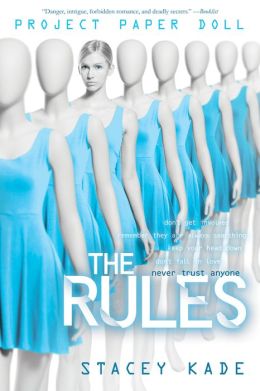 *Kermit Flail* Oh! Oh! Stacey Kade has a new Young Adult book out this week! The Rules Book Birthday is April 23rd. Go get it. 😀 Click HERE for my vlog review!
I adore Stacey. I met her at the Romantic Times Booklovers Convention in 2007. (I think) She had just released her first novel and I fell in love with her energy and her stories. I own all of her books now. Including those she wrote way back then as Stacey Klemstein. (I know, lol so long ago! 😛 ) They are signed and will be worth heaps someday cause she is completely awesomesauce and more people are discovering that too.
(((hugs))) Kat
The Queen of Tarts
PS. Don't forget to enter my Countdown to RT for a chance to win a $25 gift card and a tote bag with Stacey's autograph! Click HERE
♥ ♥ ♥ ♥ ♥ ♥ ♥ ♥ ♥ ♥ ♥ ♥ ♥ ♥ ♥ ♥ ♥ ♥ ♥ ♥ ♥ ♥ ♥
Me: Stacey! Stacey! Stacey! *squee!* You're here! Come on in hon and make yourself at home. I am just a teeny tiny bit excited to help you get the word out about The Rules. Oh! Sit! Sit on my cozy virtual couch and let's catch up.
Can I get you anything? Coffee, tea, water, soda…. French fries? 😀 Are you as much a fan of French fries as Ariane is?
Stacey: I pretty much love potatoes in any form. So, yep, Ariane gets her love of French Fries from me!
Me: I love fries too *snaps fingers and fries magically appear* There! *munch*
What can you tell me about The Rules, book one in your Project Paper Dolls series? I LOVE the science fiction elements in your world building.
Stacey: Thank you! Oh, gosh, let's see, what can I say? THE RULES is the first book in the trilogy about Ariane. Ariane is a human/alien hybrid created in a lab, trying to blend in among the full-blood humans so she isn't caught and returned to the lab. And there are rules she has to follow to do so. Kind of impossible ones, actually. Especially #5. Don't fall in love!
But the story's setting is contemporary. That was really important to me. I liked the idea that all of this could be happening, right now, in this world.
I mean, come on now, you know that the government has whatever they found at the Roswell crash site locked up in some kind of secure facility, somewhere, right?
(*Cue the sound of the FBI knocking on my front door*) 😀
Me: *looks at door* ummmm *whispers* shhhhh 😛
I LOVE the possibilities in science fiction and that maybe they aren't really that impossible…. Ariane rocks!
Soooo Stacey… Sci-fi/fantasy fan from way back?  Do you remember what sparked your loving of far off places and far out things?
Stacey: So funny that you should ask that. I don't actually remember a time when I hadn't seen Star Wars or Star Trek. My dad is HUGE fan of both, so I
grew up in a household where that was what we watched and talked about.  I'm still fascinated by it (obviously) and not just the fictional stuff. I was so excited to read that they've found two more earth-like planets in a potentially habitable zone with the Kepler project. (Yes, I'm a nerd. I know.)
Me: *Holds up hand in Spock greeting* Live long and prosper! Greeting fellow Nerdling. 😀
Now it's the time for the really serious part of this chat… *bounces on couch*Not!
I just made up a word vorslub please make up a definition and use the word in a sentence *giggle*
Stacey: Vorslub. V. Moving (usually walking) in a way as to not attract attention but doing it in a really obvious way.
Example: "Did you see Katie trying to steal the last piece of cake? She was totally vorslubbing it."
Me: *snort* Vorslub! I think I do that sometimes. lol
I LOVE Madlibs and like to ask my author friends for random words and pop the into silly paragraphs… here goes… Make your answers as silly or sane as you like.
| | |
| --- | --- |
| NOUN (PLURAL) | Trees |
| ADJECTIVE | Rough |
| NOUN (PLURAL) | Shoes |
| VERB | Dangle |
| NOUN | Ming Vase |
| VERB ENDING IN "S" | Darts |
| ADJECTIVE | Squishy |
| ADJECTIVE | Moldy |
| VERB | Baste |
| NUMBER | 7 |
| ANIMAL | sloth |
| ANIMAL | Porcupine |
Motivational Posters MADLIBS
From MadTakes.com
TREES are the most ROUGH SHOES used by mankind.
Teamwork is the ability to DANGLE together toward a common MING VASE. It is the fuel that DARTS SQUISHY people to attain un-SQUISHY results.
The most MOLDY thing we can BASTE is the mysterious.
I am more afraid of an army of 7 SLOTH(s) led by a PORCUPINE than an army of 7 PORCUPINE(s) led by a SLOTH.
Me: bwahahahaha Dangle together! attain un-squishy results! *snickers*
I'm trying to imagine the motivational poster picture for some of these sayings that are a little too deep for me. 😉 ummmm A ginormous Ming Vase dangling from a string above me motivating me to exercise my squishy bits so I don't get squashed? lol
How could you compare your writing process to a photo bomb?
Stacey: Ha! Well, sometimes people show up when I'm not expecting them. Characters I hadn't anticipated meeting are suddenly on screen and talking. They're usually fairly minor characters, but fun. Matty and the twins are a couple examples of that. As is Mrs. Vanderhoff. 😀
Me: *claps* ooohhh! Mrs. Vanderhoff (and her casseroles) photo bombed you! Ha!
Tell me a story please or make up a poem or limerick with this phrase….
There once was a girl who knew….
Stacey: There once was a girl who knew too much. But she was too tired to talk about any of it. 😀 (Sorry, I'm just back from the fabulous TeenBookCon in Houston. I think I left my brain there.)
Me: *passes more french fries* it's ok darlin' Pillow? This couch is pretty cozy. And I think you are in the tired silly faze of the burnout after conventions… So it's the perfect time to ask you short questions. (tired, slap happy answers are my favorite!)
The Book Tart Quickie….
*looks around for the drum roll* huh
1. What type of music do you like? All kinds
2. Do you like scary movies? Nope. Too scary. Me Neither!!
3. How long can you balance on one foot? I don't know. Fifteen seconds? Long enough to shave one leg, lol.
4. What's your favorite saying? (Mine might be Oh My Goodness, Yes, for reals) Mine is not printable without blocking out some of the letters. 😀 I'm a minister's daughter, so I've always been fascinated by the BAD words. *snickers*
5. Do you like clowns? Uh, no. Does anyone? hmmmm You know… I don't think so. lol
6. What's your a favorite Movie quote? "Who are you calling scruffy?"
7.
What's the most unusual name you've ever come across?
Dayleigh.
8. Is there anything you wished would come back into fashion? I miss flannel. And Doc Martens. And pretty much everything we wore in the Grunge era. 😉
9. What are you wearing right now? Jeans, black t-shirt, bright pink fleece.
10. What was the last thing you ate? DQ mini-blizzard with Reese's Peanut Butter Cups. *drools* Yum!
Me: Stacey, darlin' thank you so much for hanging with me at The Book Tart. I will be stalking errr looking for news on the sequel to The Rules cause I needs more! And I get a hug at The Romantic Times Book Convention. No hiding! 😛
Stacey: Thank you so much for having me, Kat! Looking forward to seeing you at RT! 😀
(((hugs))) Kat
Release date: Apr. 23, 2013 |
Genre: Young Adult,
Speculative Fiction
ISBN: 1423153286 |
 ISBN-13: 9781423153283 |
ASIN: B00BNMAX6U
 Format: Hardcover and eBook
The Rules
1.     Never trust anyone.
2.     Remember they are always searching.
3.     Don't get involved.
4.     Keep your head down.
5.     Don't fall in love.
Five simple rules. Ariane Tucker has followed them since the night she escaped from the genetics lab where she was created, the result of combining human and extraterrestrial DNA. Ariane's survival–and that of her adoptive father–depends on her ability to blend in among the full-blooded humans, to hide in plain sight from those who seek to recover their lost (and expensive) "project."
But when a cruel prank at school goes awry, it puts her in the path of Zane Bradshaw, the police chief's son and someone who sees too much. Someone who really sees her. After years of trying to be invisible, Ariane finds the attention frightening–and utterly intoxicating. Suddenly, nothing is simple anymore, especially not the rules.
♥ Buy this hardcover from: Amazon | Barnes & Noble | Book Depository | Books-A-Million | Chapters | IndieBound
♥ Buy this ebook from: Amazon | Barnes & Noble
♥ ♥ ♥ ♥ ♥ ♥ ♥ ♥ ♥ ♥ ♥ ♥ ♥
More Stacey
As an award-winning corporate copywriter, Stacey Kade has written about everything from backhoe loaders to breast pumps. But she prefers to make things up instead.
She lives in the Chicago suburbs with her husband, Greg, and three retired racing greyhounds, Joezooka (Joe), Tall Walker (Walker) and SheWearsThePants (Pansy). When she's not reading or writing, you'll likely find her parked in front of the television with her Roswell DVDs, staring rapturously at Jason Behr.
The Ghost and the Goth is her first YA novel. (Now she has four!) You can find her (far too often) on Facebook and Twitter as well as http://www.staceykade.com.
♥ ♥ ♥ ♥ ♥ ♥ ♥ ♥ ♥ ♥ ♥ ♥ ♥ ♥ ♥ ♥ ♥ ♥ ♥ ♥ ♥ ♥ ♥