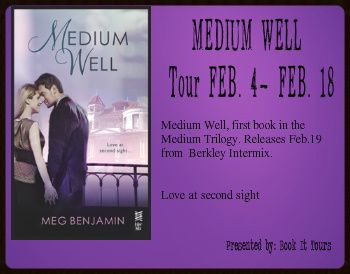 I am delighted to welcome Meg Benjamin to The Book Tart. She lives in Colorado too! *Squee!* We chat about her new Medium trilogy and Timothy Olyphant *sigh* and her madlibs is ridiculously fun! Settle in and enjoy… but don't drink and read this at the same time. Protect your computer from inadvertent spraying. *snicker* Still laughing about her madlibs!
(((hugs))) Kat
The Queen of Tarts
♥ ♥ ♥ ♥ ♥ ♥ ♥ ♥ ♥ ♥ ♥ ♥ ♥ ♥ ♥ ♥ ♥ ♥ ♥ ♥ ♥ ♥ ♥
Me: Meg! Welcome to The Book Tart! Come on in and get comfy. My virtual red couch is so cozy… Let me have your coat and hat and scarf… We're both in Colorado and I'm just about over the snow! *wails* I mean, I know we need the moisture. But but! It's cold! *sigh* Can I get you anything? Tea? Coffee? Hot Chocolate?
Meg: How about a beer? It's Colorado, after all.
Me: lol Of course! We do have some yummy micorbrews 🙂 *Hands Meg her drink and settles in on the couch* So how are you? You have a very
busy book schedule coming up! *bounces on couch* How do you juggle everything?
Meg: I'm actually really excited about being so busy after a couple of single book years! My Medium trilogy releases are spread out over the entire year—Medium Well comes out on February 19, Medium Rare is August 20 and Happy Medium is December 17. When Berkley gave me the contract, Medium Well was finished but I had to whip Medium Rare and Happy Medium into shape, so that took some time. Then there's Bolted, my contribution to the Promise Harbor Wedding series for Samhain that'll be released on April 2. That was fun to do because I was working with three other authors who are also friends: Kelly Jamieson, Sydney Somers, and Erin Nicholas. We did a lot of mutual brainstorming and consultation. There's nothing like mutual reinforcement to keep you going! So yeah, it's been a busy year. But also lots of fun.
Me: *googly eyed* Wow!
Can you tell us a bit about your new Medium series? And what's in store for the town of Konisburg too?
Meg: My Medium series is set in the King William District in San Antonio (where I used to live). King William is one of the oldest neighborhoods in town and it's full of historic houses that really look like they might be haunted. My main characters are all part of the same family, all of them powerful mediums who have no idea in the beginning of their stories what a medium is or what they can do. In Medium Well, my hero is a real estate salesman with a special gift for selling historic houses who discovers that the carriage house he's supposed to sell was the site of some really nasty murders and some really nasty ghosts. In Medium Rare, my heroine takes up residence in a house she inherits from her grandmother, only to discover it comes with a resident "spirit guide." And in Happy Medium, my house-renovating hero has to deal with a ghost who's up for a little spiritual nookie, and not in a good way either. And of course all three have their Significant Others, who turn out to have a few supernatural encounters of their own.
I'm also working on another Konigsburg book now, this one all tied up with barbeque, which is sort of a religion in South Texas.
Me: 😯 I love paranormal romance and that sounds really fun! *munches a cookie* Can you tell me about some hijinks your writing group, The Nine Naughty Novelists, get up to? How was New Orleans and how naughty are all of you? *wide eyed*
Meg: We are one naughty group, I'm telling you! New Orleans was our first group retreat, but it won't be our last, I'm sure. While we were there, we decided on our newest group project, a collection of short stories called Nine Nights In New Orleans. We're posting a new story each Thursday on our blog and we'll be putting the anthology together later this year (mine was up a couple of weeks ago—it's called "Ash Wednesday"). The Promise Harbor Wedding series is sort of an offshoot of NNN too since the four of us are all Naughties.
Me: Yay! I love your short story projects. 😀
Ok hon, it's silly time! Go wild!  Here, have a cookie first.
How could you compare writing to dancing the Macarena and what about Timothy Olyphant?
Meg: Well writing is a lot of drudgery with occasional high points when the adrenaline kicks in—I guess that's sort of like the Macarena. What
about Timothy Olyphant? Well let's see. Rylan Givens is absolutely my favorite alpha male—smart and ironic, with the occasional moment of absolute idiocy (e.g., the "lost hat" episode and his relationship with Ava). Hey, perfect is boring.
Me: *snort* Luv it!
I just made up a word lutzive please make up a definition and use the word in a sentence. 😛
Meg: Lutzive [loot*siv] adjective 1. Dreamy, wistful.
Hephzibah cast a lutzive glance at the moon as she thought of her night with Percival.
Me: Nice! I like it. hmmm I'm casting a lutzive gaze on Timothy Olyphant. 😉
I've put together an abundance of words beginning with A. Would you rather be thought of as Authentic, Absurd, Attractive, Adroit, Amiable, Astute, Audacious, Admirable or Addictive? You can only pick one and explain your answer (silly I know, but more fun for me :P)
Meg: Well, I probably should choose Authentic or Attractive or even Amiable. But I'm going with Addictive. That's sort of the way I hope readers feel about my books—you can't read just one, y'all. Once you've tasted a Meg Benjamin, you need to keep on chewing.
Me: <g> I Applaud your Addictiveness! 😉
We're gonna play a game of Madlibs… nope, not telling what it is. You can make your answers as naughty or nice as you'd like 😀
| | | |
| --- | --- | --- |
| NOUN | Heroine | |
| PART OF THE BODY | Nape | |
| ADJECTIVE | Shapely | |
| AJECTIVE | Curving | |
| ADVERB | Quickly | |
| NOUN | Lace | |
| ADJECTIVE | Slender | |
| NOUN | Bodice | |
| NOUN | Buttons | |
| NOUN | Stocking | |
| ADJECTIVE | Sinuous | |
| ADJECTIVE | Satin | |
| ADVERB | Slowly | |
| PART OF THE BODY | Calf | |
| ADJECTIVE | Ripe | |
Me: Oh Boy! lol I maybe should have told you the title *chuckle* It's from the Adult Madlibs Valentine's book and it's called *snort*
The Ba-hahah Bad Boy! This is gonna be fun 😀
Adult Mad Libs
The Bad Boy
You know this type of HERO well. He wears leather from head to NAPE, he rides a SHAPELY motercycle, his wallet is always CURVING, and he's QUICKLY self-involved. You know he isn't the right LACE for you, but you just can't help the SLENDER way you feel about him. What's a good BODICE to do? He may not be BUTTON material, but what the STOCKINGS, you might as well have a SINUOUS time while it lasts. Just remember to keep things casual and SATIN. If you find yourself getting too attached, end it SLOWLY. And whatever you do, don't give him the opportunity to break your CALF! That, after all, is a bad boy's RIPE specialty.
hahahah *gasps for breath* ha! What IS a good bodice to do? It should support you right? *chuckles* And definitely do have a sinuous time with a hero who wears that much leather. 😛
It's time for The Book Tart Quickie
Puppy or kitten?: 

Kitten (cat person here)

Sweet or sour?

Sour (or salty)

Favorite lipgloss/lipstick?:

Sephora It Girl

Favorite snack food?: 

Popcorn

Last book your read?: 

The Buzzard Table by Margaret Maron

Do you sing in the car?:

Of course. Doesn't everybody?

Zombies or vampires? :

Vampires. Zombies aren't sexy.

Last tv show you watched (or tivo'd)?.

Leverage

Ring tone on your phone?

Nothing special. Robot sound for my Web developer son.

What are you wearing right now?

Jeans and T-shirt. That would be true almost always
Thank you so much Meg for hanging out with me here at The Book Tart! Come back anytime. You don't live that far away. 😀
(((hugs))) Kat
Queen of Tarts
PS. Don't forget to enter Meg's book tour giveaway! *points down*
Medium Trilogy Book One
Release date: Feb. 19, 2013 |
ASIN: B007TCDVLM |
Format: eBook
Real estate agent Danny Ramos has always had a knack for selling homes, but when his boss saddles him with a neglected carriage house, Danny discovers that his abilities are more than simple intuition…

On his first visit to the house, Danny is confronted with visions of a violent murder. His assistant, Biddy Gunter, doesn't seem affected, and Danny starts to think he's going crazy—until he gets a visit from his mother, who suggests that Danny's uncanny talent to sell old houses may stem from his family inheritance: psychic empathy.
When Biddy reveals to Danny her own strange dream about the carriage house ghosts, they team up to investigate and discover both the house's dark history and their own unexpected attraction. But as the hauntings turn from unsettling to downright dangerous, Danny and Biddy need to figure out how to rid the house of its ghostly inhabitants, before their budding romance meets an untimely end…
Read an excerpt.
♥♥♥♥♥♥♥♥♥♥♥♥♥♥♥♥♥♥♥♥♥♥♥♥♥
The Medium Trilogy takes place in one of the most historical and romantic neighborhoods in San Antonio–the King William District.
Three Ramos siblings, Danny, Rose, and Ray, all have King William connections. Danny sells historic homes at Vintage Realty. Rose lives in a King William mansion she inherited from her grandmother. And Ray is renovating another mansion so that he and his partner can flip it for a profit. But all three have a hidden talent–so well hidden, in fact that they it's a secret even from them. They're all descendants of the Riordan family: legendary mediums and sworn enemies of the ancient ghosts known as the Old Ones.
Medium Well, the first book in the Medium Trilogy, is Danny's story, released by Berkley Intermix on February 19.
♥ ♥ ♥ ♥ ♥ ♥ ♥ ♥ ♥ ♥ ♥ ♥ ♥ ♥ ♥ ♥ ♥ ♥ ♥ ♥ ♥ ♥ ♥
More Meg
Meg Benjamin is an author of contemporary romance for Samhain Publishing and Berkley InterMix. Her books have won an EPIC Award for Contemporary Romance, the Romantic Times Reviewers' Choice Award, and the Holt Medallion among other honors. Meg lives in Colorado with her DH and two rather large Maine coon kitties (well, partly Maine Coon anyway).
Stalk Follow her
Contact Meg at meg@MegBenjamin.com
Website: http://www.megbenjamin.com/index.html
Writer's Group: Nine Naughty Novelists
TOUR SCHEDULE:

Meg is giving one lucky commentor on her book tour a $15 gift card!
For more chances to win follow the tour, tweet, and comment. Let the fun begin!