I love Jenn Bennett's urban fantasy Arcadia Bell series! The Maid of Tarts gave me the first book for my birthday a year ago and I devoured Kindling The Moon and fell completely in love with the characters and Jenn's world building. I even vlogged about it last spring. Click HERE to see
Jenn's novella Leashing The Tempest came out this week and it's so good! It also helps with the wait till book 3 😉 If you haven't read the Arcadia Bell books yet, her novella is an easy entry. If you are addicted like me? It's a perfect treat.
Curl up and listen in on our chat about Christmas and Cady and maybe you'll learn a new way to eat cupcakes!
(((hugs))) Kat
The Queen of Tarts
PS. There's a great contest after our chat.
♥♥♥♥♥♥♥♥♥♥♥♥♥♥♥♥♥♥♥♥♥♥♥♥♥
Me: Hi Jenn! Come on in and get comfy on my virtual couch. I am beyond delighted to have you here. *locks door* There's no where do need to be right? 😛 ok, ok, *sighs and unlocks door* But I am so happy to have captured you a bit here at The Book Tart. Lol I ADORE Cady and Lon and Jupe and Kar Yee… I could go on, but I'm being a rude hostess… Can I get you anything? It's festive here so I have cupcakes with holiday
sprinkles, chocolate (always) and cookies too. Oh, a drink? Coffee, tea, hot chocolate?
Jenn: Hello, Miss Book Tart! Coffee, please. Mmm, cupcakes with sprinkles? I'll take one. Would you like to see how I eat cupcakes? I tear off the bottom half of the cake and stick it on top of the frosting, making a cupcake sandwich. No frosting on nose—win!
Me: 😯 I have never ever seen that before. *tries it* it IS like a cake sandwich. Brilliant!
*hands Jenn her drink and takes another bite of cupcake-wich * Soooo Are you all holiday-ed out yet or do you love it? I do love Christmas music actually and movies… I'm just scrambling still on gifts and Christmas is 5 days away!
Jenn: I adore Christmas and never get sick of it. Only bad part is when it's all over, and you have to take the tree down.
Me: I agree…. 🙁
But on to happier subjects! Presents for me! me! me! Your new novella, Leashing The Tempest, feels like a gift to me, like Happy Christmas to Cady friends 🙂 Thank you! I love the present. No takesies-backsies. 😛 It also feels welcoming to those who haven't met Cady and crew  *snicker* like my word association there?
Jenn: I'm so pleased you liked it! I tried to write it so that it could be read as a standalone for newcomers to Arcadia Bell while remaining satisfying to current fans. I also wanted it to flesh out Kar Yee a little more. I wish she got a bit more page time, but there's only so much room, you know?
Me: It was super nice to see more of Kar Yee lol I <3 her!
Please tell us a bit about how this gift came to be and what's next for Cady… I've heard hints about books 3 and 4 and I am desperately hoping this novella isn't a one-off and that you will give us more short stories to make the wait between books less painful… *hopeful*
Jenn: My publisher, Pocket Books, contracted me to write LEASHING THE TEMPEST earlier this year. It was the first time I'd written a short piece, so I was a little nervous. And they were strict about only wanting a specific word count. I ended up going over (oops!), but 65 pages isn't a true "novella." It's more of an almost-novella, or a long short story. I've actually wanted to write some free short stories set in Arcadia's world and slap 'em up on my blog. But now I've got a second series on my plate, which will put me at 3 book releases in 2014, so . . .
Me: What else are you working on? *singing* With a rebel yell they cried More! More! More! lol
Jenn: Billy Idol, nice! So, yeah. I just sold a new paranormal romance series to Berkley/Penguin! It takes place in 1920s San Francisco, and the first book—BITTER SPIRITS—is about a bootlegger who gets involved with a spirit medium after a bizarre haunting in Chinatown. The worldbuilding in the series centers on women with supernatural connections to spirits, ghosts, death, and the afterlife. The men are all human—criminals, as well. Each book will focus on a different couple. If you like Arcadia and read either paranormal romance or historical romance, YOU WILL LOVE THIS SERIES. Truly! You might even love it if you don't read romance. Fair warning, though: explicit sex and tear-jerking romance ahead. First book releases next winter, and the second a few months later—no year-long wait between books, like Arcadia, thank you, Berkley!
Me: Historical paranormal romance? I am so there! *bounces on the couch* AND Sex AND tear-jerking romance? Wants it now! lol Yes, thank you Berkley for the wham bam releases ma'am! lol as a reader I definitely am very thankful when that happens. 😉
You have lived all over the world! Have you adopted any holiday traditions that you incorporate into your celebration. Or anything particularly fun you've participated in (or seen! Lol)
Jenn: My mother comes from Swedish stock, so I break out a traditional straw goat for Christmas every year and eat my weight in Swedish gingersnaps. When my brother and I were kids, we lived in Germany, and our parents followed the German tradition of putting your shoes outside the door for Saint Nicolaus to fill with candy. I think I liked that more than the actual wrapped presents, because it seemed like such a miracle! Wish I could leave my shoes outside now and wake to find them filled with candy.
Me: OOhhh! Shoes full of candy? I wish that too! Santa? Are you listening? shoes full of CANDY!
How could you compare writing to a classic horror movie and what about demons?
Jenn: I'm a plotter: everything lives in my head for several weeks, then I plot all the scenes before actually sitting down to write. So I plan ahead, and know what's coming. Sort of. Because, like a good classic horror movie, no matter what you THINK you know might be coming, you're always surprised when something else jumps out at you mid-book.
Demons? What about demons? They're just like humans, and sometimes better behaved.
Me: lol Nice
I just made up a word neoquaffism please make up a definition and use the word in a sentence. 😛
Jenn: Neoquaffism: the renewed interest in microbrewery beers over the last decade. Sentence: Oh, these hipster beer drinkers and their bloody neoquaffism—just drink a Guinness, you snobs!
Me: "*snorts hot chocolate* ouch!
We're gonna play a game of Madlibs… nope, not telling what it is. It's better this way 😀
| | | |
| --- | --- | --- |
| ADJECTIVE | gnarly | |
| LIQUID | microbrew beer | |
| COLOR | chartreuse | |
| CELEBRITY | Lil' Wayne | |
| NUMBER | 13 | |
| ADJECTIVE | moist | |
| NOUN | beer mug | |
| LARGE   NUMBER | a shit-ton | |
| ADJECTIVE | snuggly | |
| ARTICLE   OF CLOTHING | crotchless panties | |
| BOY'S   NAME | Fernando | |
Make your own Christmas List Madlibs HERE
Santa,

I only want a couple things for Christmas,

here is my list :

A gnarly bottle of microbrew beer.

A pair of bright chartreuseboots.

Some tickets to see Lil' Wayne perform.

13 moist tooth-brushes.

A beer mug covered in a shit-ton of sparkles.

A pair of snuggly  crotchless panties.

And, most of all, Santa, I want to kiss Fernando.
Me: rotflol I think you might be on the naughty list! 😀 I want a sparkly beer mug too! And now the ABBA's song Fernando is In MY HEAD! damnit Jenn! <g>
It's movie night the week of Christmas… What movie does Jupe pick to watch with Cady and Lon and why?
*singing* The stars were bright Fernando….
*grabs a pillow and screams into it* Distract me!
Jenn: Funny you should ask, but it's actually part of a scene in the next Cady book, BINDING THE SHADOWS (May). It's BLACK CHRISTMAS (1974). Why? Sorority girls.
Me: *meep* "If this movie doesn't make your skin crawl… it's on too tight."
Ok, that preview pushed Fernado out of my head. lol Thank you Jupe! I knew I could count on him. 😀
It's time for The Book Tart Quickie
Ring tone on your phone?: The standard "sci-fi" tone on iPhone.
Fictional villain you'd like to meet? The Grinch
Spicy or mild?:

Medium spicy, not stupid spicy

.
Favorite snack food?: Anything salty, but buttered popcorn is my weakness.
Best/worst gift you've received?: Worst: a pair of ugly sandals, courtesy of my ex.
Chocolate or vanilla?: Both, please.
Demonic ability you'd LEAST like to have? : Lon's empathy. No thanks!
Last tv show you watched?.

Mindlessly? TOP CHEF. With fervor? WALKING DEAD and BOARDWALK EMPIRE.

Do you sing along with the radio? Pfft, I sing without it, mostly to my pugs.
What are you wearing right now? Lounge pants and a T-shirt featuring Oscar the Grouch that says "I'm not impressed."
Me: Thank you Jenn for playing here at The Book Tart. Merry Christmas darling and thank you so much for sharing Cady's story. I am so looking forward to book 3 and the next and the next. 🙂
Jenn: Absolutely my pleasure! Thanks for inviting me to your pad! Hey—what's that over there? *stuffs pockets with remaining cupcakes and runs for the door*
Me: Jenn! I had a to go box! lol well, enjoy your cupcakes sandwiches 😀
(((hugs))) Kat
The Queen of Tarts
PS. Don't forget to enter the contest at the very bottom of the post *points down*
Release date: Dec. 17, 2012 |
Genre: Urban Fantasy
ASIN: B007QUUVCO |
ISBN-13: 9781451695076
Format: eBook
Dating a demon, defeating evil, running a tiki bar: Arcadia Bell is a great occult mage in many respects. But then there's the challenge of her boyfriend's precocious teenage son…Arcadia "Cady" Bell may have saved the Hellfire Club's children from a local bogeyman, but she and her Earthbound demon boyfriend, Lon Butler, now face a more disturbing problem: his teenage son's new demonic abilities. Jupe Butler can persuade you to do anything—or so he thinks. To test the limits of his newfound power, Cady invites the co-owner of Tambuku Tiki Lounge to be the teen's guinea pig during an afternoon boat cruise. But when an angry storm whips the Pacific into a frenzy and Jupe puts them all in serious danger, will Cady's magic trump a teenager's excess confidence?
More Jenn:
Jenn Bennett is an award-winning artist and author of the Arcadia Bell urban fantasy series from Pocket Books. Born in Germany, she's lived and traveled extensively throughout Europe, the U.S., and the Far East. She lives near Atlanta with one husband and two very bad pugs.
Get weekly Facebook updates from Jenn by liking her fan page, or follow her on Twitter for daily dribbles about her current writing projects, the book industry, and miscellaneous obsessions.
Stalk Follow her
Website: http://www.jennbennett.net

Jenn is generously giving away a copy of
KINDLING THE MOON
or
SUMMONING THE NIGHT,
or if readers already have those,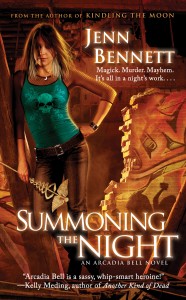 any urban fantasy/paranormal mass market
paperback of their choosing
(international: anywhere that Book Depsitory ships,
listed here:
http://www.bookdepository.com/help/topic/HelpId/3/Which-countries-do-you-deliver-to#helpContent )
I'm throwing in a second prize of Jenn's new novella
(I'll pick a winner for every 5 unique commenters~ up to 5 winners! )

Contest open 12/20/12-12/27/12
♥♥♥ To Enter use the Rafflecopter and Jenn and me if you've read
Cady before and what's you'd order at a Tiki Bar! ♥♥♥
You can get etra entries by like us on Facebook and following us on twitter etc. too but those are optional.