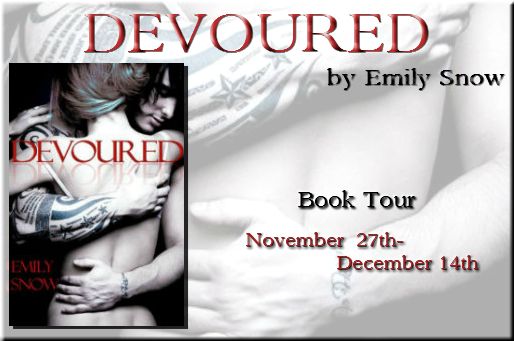 Do you like rock stars? *sigh* How about a story that pulls at your emotions and will warm you up this winter? Devoured is an erotic romance that grabbed me by the heart strings and made me care about the characters. I wanted to shake them a few times! 😛 I am definitely waiting for the sequel and can't wait to see what happens next.
Click HERE for my review
Settle in for some gingerbread cookies listen while I chat with Emily, (who is completely awesomesauce!) about rock stars, books, zombies and other fun things. lol
She is generously giving a commenter on The Book Tart a copy of Devoured and there's a bigger book tour contest. Don't forget to enter.
♥♥♥♥♥♥♥♥♥♥♥♥♥♥♥♥♥♥♥♥♥♥♥♥♥
Me: Hi Emily 😉 It's so wonderful to mee
t you! Come on it and take a seat on my virtual couch. I am excited to chat with you about Devoured *melt*… Oh! You are visiting The Book Tart during The Merry Ménage hop!  It's my very first co-hosted blog hop with Taryn of My Secret Romance and Dawn of Daydrmzzz and me! Sooo we definitely need to talk holidays 😛 Can I get you something to drink? Coffee, tea, soda or something seasonal… Do you ever have eggnog in a month not December? I was just thinking about that and I can't imagine drinking it in say…. August! Lol
Emily: It's awesome to meet you  too, Kat! Thanks so much for having me over. I'm definitely a coffee type of girl, but I have a confession to make: I've never tried eggnog! Maybe I'll pick some up this season!
Me: *gasp* No eggnog?! lol Here's some coffee <g> Honestly, I only have 1 or 2 cups of eggnog during the holidays… It's kinda an odd drink really. Hmmmm I'm not even sure what's in it. *shrug*
Sooo tell me a bit about yourself hon. *plops down on couch and takes a sip from my apple cider* Are you an only child? What's your favorite color? Did you always want to be a writer? Do you like zombies? What's your favorite animal?  *gasps for breath* ummmm what can I say… I'm nosy! Lol
Emily: *Takes a giant sip of coffee*
I'm from a really small town in Virginia (seriously, we only have three traffic lights) and I have one ass-kicking sister. My favorite color is pink (during my first year of college I wore pink EVERY day) and I wanted to be on Broadway when I grew up. And zombies? LOVE them. That girl who's bitching because Warm Bodies won't be released until next year? Yep, that's me.  *Sighs*
And my favorite animal is a baby owl. Have you seen what a baby owl looks like? OMG sooooo cute!
Me:  Warm Bodies! *squee!* I can't wait either!
in case y'all have missed the funness lol Check out the Warm Bodies preview based on the BOOK of the same name 😀
Pink everyday? And baby owls? awwww adorable!
Speaking of adorable your hero Lucas in Devoured is not adorable… He's HOT and sexy and lol ok,ok… not a good segueway *snort* Can you tell us a bit about your Devoured series and what we can look forward to next year? A rock star boyfriend is one of my daydreams <g>
Emily: *Drops voice to a whisper*
It's one of my daydreams too, but don't tell my husband. He already thinks I'm having a virtual affair with Lucas.
But on a serious note, Devoured was inspired by Little Red Riding Hood. I asked myself what would have happened if the wolf (Lucas) wanted to devour Red (Sienna) for an entirely different reason. Before I knew it, I had written a book. Aside from the newly released novella, All Over You, there's one more Lucas and Sienna book. It's called Consumed, which is going to be released mid-January.
But just between you and me . . . *Winks* . . . Kylie has been bugging me to write her book (she's got a bit of a history with one of her brother's band mates) so I think that's next.
Me: Good! I want Kylie's story!
You *nudges Emily's shoulder with mine* have a book birthday coming up! Have a cookie! *points to plate of Christmas cookies and bites a leg off my gingerbread man* Tell us about Tidal pretty please… It's on my wish list 🙂  *whispers* Santa… are you listening… I've been good-ish lol
Emily: *Grabs a cookie and sighs* You know I'm on a diet, right? *munches cookie* Can't. Resist. Cookies. *massacres gingerbread man and sits on hands * Don't let me have another. If I ask for one, smack my hand, okay?
Tidal is the story of an actress, Willow, who gets out of rehab and is given a new role—a second chance. When she goes to Hawaii to train for and shoot her new movie, she finds herself falling in love with her surf instructor, Cooper—a guy who refuses to let her fail again. It's a new adult novel, and I've fallen head over heels in love with it. I've laughed and cried and my poor husband thinks I'm crazy.
Also, I've got connections and Santa and I are old friends. I could probably convince him to drop a copy off in your inbox if you ignore my earlier remark about smacking my hand . . .
*Reaches for another cookie*
Me: *pushes cookies toward Emily* Have more! You'll need your strength cause it's about to get silly in here. 😀
How could you compare writing a novel to working in Santa's workshop?
Emily: Well, Santa has elves to fetch him things and so do I.  *grins and bounces in seat* Except  . . . my elves are six foot three men. And they're hot. And they're naked. I know what you're thinking and the answer is YES. They make great cookies.
Amazing cookies, actually.
Me: I'm coming to visit your workshop!
Let's play! Lol it's for a holiday mad libs and you can make your choices as sweet or as sexy as you want 😉
| | | |
| --- | --- | --- |
| NUMBER | Two | |
| NOUN (PLURAL) | Elves (of the Sexy Variety) | |
| VERB ENDING IN "ED" | Stripped | |
| NOUN (PLURAL) | Clothes | |
| VERB | Kiss | |
| NOUN | Emily | |
| NOUN | Bra | |
| NOUN | Candy Cane | |
| OCCUPATION | Forensic Scientist | |
Me: *chokes on cookie*
ok <g> Here's goes!
Holiday Festivities  Mad:)Take
              On December Two every year, we celebrate Christmas. All the Elves (of the sexy variety) get Stripped up in Clothes and Kiss all over the Emily. Many people love to eat their favorite Bra or Candy Cane much to their Forensic Scientist`s dismay.
Me: *giggle* Kiss all over the Emily! ;D
I just made up a word YAPMETER *snort* please make up a definition and use the word in a sentence.
Emily: YAPMETER (Noun): A small device used to determine when someone (husband) is talking too much that has the ability to mute said person.
Sentence: Emily's husband wanted to discuss her Kindle spending for the month so she pulled out her Yapmeter and he silently left the room.
Me: Bwahahaha *catches breath* A Yapmeter could come in handy!
Summarize Devoured, twitter style in 140 characters or less. Go!
Emily: Rock star convinces woman who turned him down 2 years before to work for him after he buys her grandma's house in a foreclosure sale.
Me: Good Job! 4 characters left over 😛
What is the first sentence on page 29 of your first novel?
Emily: I stop ogling a couple seconds after he regains his composure, granting me that smile that's likely dropped panties across the world.
Me: I've put together a Selection of words beginning with S. Would you rather be thought of as Scholarly, Spirited, Shrewd, Saucy, Strong-willed, Sexy or Sweet? You can only pick one and explain your answer (silly I know, but more fun for me :P)
Emily: Spirited. Because if I'm spirited—enthusiastic and totally determined—I feel like I'm already most of the other S-words, too. 
Me: Spirited! I like that 😀
It's time for The Book Tart Quickie
Favorite tv show?:

Supernatural

Ring tone on your phone?:  

The Hunger Games whistle

Favorite Christmas song?: 

Jingle Bell Rock

Did you join the madness and do Black Friday Shopping?!:

Hell no!

What are you wearing right now?

Skinny jeans, a t-shirt, and black boots

Favorite villan?

Hannibal Lecter

Are you ready for the holidays?

Yes! I have been since last month!

Ebook or print?

Both

Favorite music album…right now  🙂

Seether's "Finding Beauty in Negative Spaces"

Favorite holiday treat?

Cookies. And Candy Canes. And wine.
Me: Thanks Sweetie for stopping by The Book Tart and chatting. I can't wait for the sequel to Devoured and to see what you come up with next.
Emily: Thanks again for having me, Kat! You rock so hard! *gives you a giant hug*
(((bigger hugs))) Kat
The Queen of Tarts
PS. Don't forget the contests! *points down* 😀
More Emily
A native of Southwest Virginia, I'm the 26-year-old author of the forthcoming DEVOURED series   (2012) and CONFESSIONS OF A FRAT GIRL(2013). I love books, sexy bad boys, and really loud rock music, so naturally, I write stories about all three.
Stalk Follow her
Website: http://emilysnowbooks.blogspot.com/
Release date: Oct. 9, 2012 |
ISBN: 1480077658 | ISBN-13: 9781480077652 |
ASIN: B009NVL81W
Format: Paperback & ebook
Sienna Jensen had no plans to return home when she graduated college last spring—after all, her dreams lie in California. But when she discovers her grandmother's Nashville home has been foreclosed, and the new owner has started the eviction process, Sienna has no other choice but go back to Music City. And she comes face to face with the flawed, gorgeous man she never thought she'd see again. The man who now holds the deed to her grandma's estate. When millionaire rock star Lucas Wolfe finds the outspoken redhead glaring at him from across a courtroom, he's both infuriated and intrigued. He still can't get the night Sienna almost spent with him out of his mind, and the chemistry between them is as undeniable as it was two years ago. He craves Sienna more than ever. And just like everything Lucas hungers for, he's determined to have her. Now, Lucas will do whatever it takes to lure Sienna into his bed, even if that means making a deal with her: ten days with him, playing by his rules, and he'll hand over the deed to her grandmother's home. Though she agrees to the arrangement, Sienna is conflicted. Because of her duty to her family. Because of promises she's made to herself and a past that still haunts her. And as Lucas's game of seduction continues, and Sienna is introduced to his dark, erotic world and even darker background, she realizes that at any moment, she could be devoured.

Emily is giving one lucky commentor
on The Book Tart
a digital copy of Devoured!
The contest will run from today till December 13th
(nope, NOT Friday The 😛 it's a Thursday)
To enter use leave us a comment and tell us if you are a zombie fan and what your fav color is <g>
Emily is also giving away $100 gift card for this book tour!
Use the Punchtab box below to enter for the $100 giveaway
*sigh* The box keeps disappearing! If there is NOT a Punchtab box click HERE to go enter at My Secret Romance for the $100 gift card