Soooo, I'm not normally a huge Chick Lit fan… Well, honestly, I just haven't read much of it. But Emily Shaffer's debut novel That Time Of The Month caught my eye and I fell so much in love I just ordered a print copy for my collection. <g> I blazed through this book and was laughing and wincing in familiarity at some scenes. I recently figured out how to highlight in my kindle (now that I figured it out it's easy lol but I was hightlighting individual words before I realized I could expand to the passage) I was highlighting almost every page. There are so many bits that made me happy. I LOVE this book. Click HERE for my review.
I am thrilled to introduce you to Emily.
Me: Emily! Come in, come in! *shoves books and dv
ds to the end of the couch and mutes the movie Guys and Dolls* Take a seat on my virtual couch. Pardon my mess… *sigh* not that you have much choice :p I look at organized people in awe and despair and my piles of stuff! Lol Though, I mostly know what's in my piles…. Ummm *blush* It's so nice to meet you. Can I get you anything? Coffee, tea, water, Dulce de Leche? This is virtual so the rules don't necessarily apply :p
Emily: Hi Kat!  Thank you so much for having me.  If drinks are on the house, I'll take a diet soda (I know, I should pace myself, right?)
Me: *Hands Emily a soda and pops top on mine* I am a huge caffeine fiend, so I support your choice. 🙂 Ok, let's get to it….
Your first novel That Time Of The Month is a delight! I adore Ellie and could relate to her. Her internal monologue constantly made me laugh
out loud in recognition and empathy. Oh! I totally agree with her about One Tree Hill. And I got a huge kick out of her lists. I make a lot of check lists and to-do lists myself.  Can you tell me a little bit about your journey to becoming a writer? Have you always told stories?
Emily: I have written stories my entire life, and even when I wasn't literally writing them down, I was making them up in my head.  "Make Believe" was always my favorite game, because the adventure could go whichever way I wanted it too…and that is why I love writing.  I get to write the stories just the way I want them.  For years, writing was something that I kept in the back of my mind as something I would like to do one day.  I finally had to turn "one day" into "today" and I started working on my first novel and never looked back.
Me: I enjoy your voice and style of writing 🙂 Do you have something more planned for Ellie? *begging* Please? Please? What are you working on now?
Emily: Thanks!  There is definitely more in the works for Ellie.  I am currently working on a sequel called That Time of the Year which picks up about two months where That Time of the Month leaves off.  I don't want to give anything away, but all the characters are back, and I am having a great time writing for them.
Me: *couch Kermit flail* Yay! That makes me so happy!
So… *grabs can of Pringles and munches* want any? I've been playing on your website http://emilyanneshaffer.wordpress.com/ and have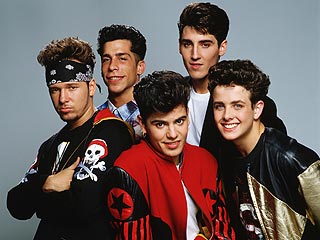 whiled away a fun hour. We are almost the same age. I just turned 33. 🙂  I loved Saved By The Bell, New Kids on the Block and stirrup pants. *grimace* looking back, that was NOT a good fashion statement for me :p I read that you are obsessed with NKOTB too… and that while on their cruise you got up close and personal. *squee!* Share!
Emily: I didn't even realize what a huge NKOTB fan I was until I randomly decided to go to a show on their first reunion tour.  I went in expecting a fun little blast from the past, and I came out re-devoting my life to loving Jon Knight.  Sometimes you have to let the 13-year old inside take over.  The cruise has turned into an annual girls trip for me and three of my girlfriends.  That has honestly been the best part of the whole New Kids thing.  I've reunited with a childhood friend that I had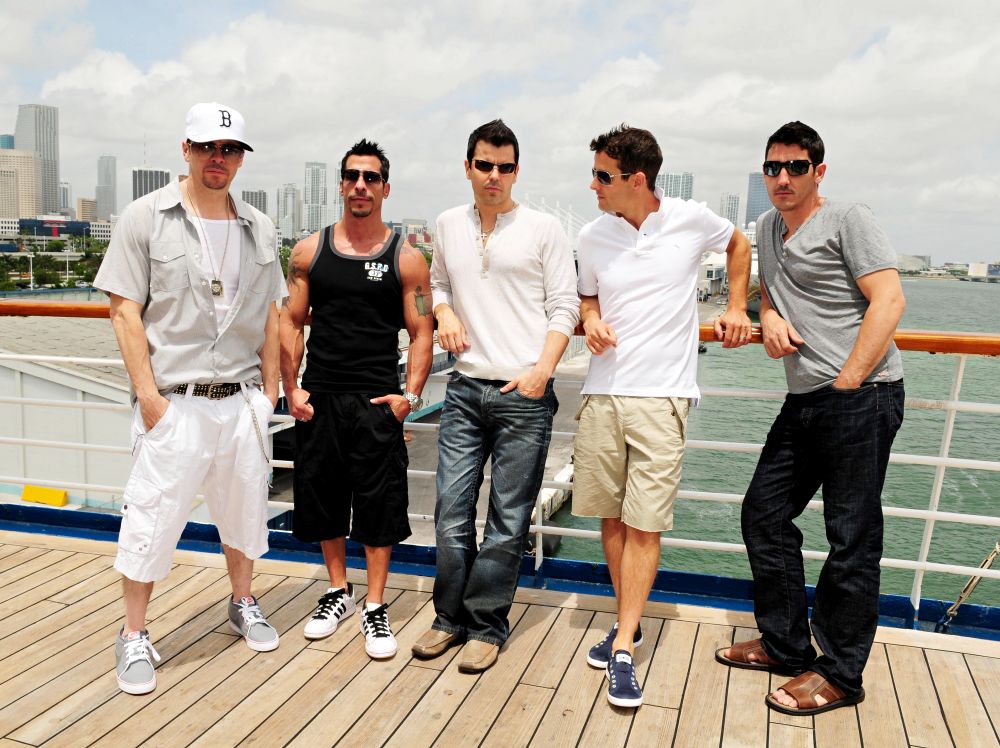 n't seen since I was 11, and the cruise is our way of having a get together every year (with food, drinks, sun, sand, and cute boys no less!)  It is pretty fun to see a bunch of 30-something ladies turn into giggly school girls during a 4-day floating slumber party, and the topper was definitely when Jon Knight gave me a kiss on the cheek. 
 If you are ever presented with a situation in which your teen idol crush can give you a smooch, take it, take it immediately.
Me: *sigh* I added it to my list 🙂
Oh! *un-mutes tv* I love musicals. Have you seen Guys and Dolls with Marlon Brando? Who'd a thunk, he can sing. And of course ol' blue eyes himself, Frank Sinatra. *sigh* lol I love this song *singing* ask me how do I feel from this chemistry lesson I'm learning? Well Sir, all I can say is if I were a bridge I'd be burning! *mutes tv again* Such a great song <g> Do you have a favorite musical… or two?
Emily: I LOVE musicals.  If you ever take a ride in my car, you will quickly notice that the station never switches from Sirius channel 72 "On Broadway".  It's hard to pick a favorite, but if I go with the musicals I have watched the most, it would be Seven Brides for Seven Brothers and Meet Me in St. Louis.  If I go with which musical album I listen to the most, it would be Jesus Christ Superstar and West Side Story.
And my favorite song from Guys and Dolls is Adelaide's Lament "La Grippe, La Grippe, La Post Nasal Drip"….I love that line.
Me: "With the wheezes, and the sneezes, and the sinuses really a pip!" lol I love that song too 🙂 I have the VHS of Meet Me in St. Louis! lol I really need to update all of my collection to DVDs, but I do still have a video tape player :p
Ok, hold onto your pillow, it's gonna get silly in here.
It's time for The Book Tart Quickie
1.       Tv show you watched most recently?: Real Housewives of NYC (not a guilty pleasure, cause I do NOT feel guilty for loving it)
2.       What are you wearing right now?  black yoga pants and a faded t-shirt that has a vintage movie store rental ad on it
3.       Favorite villian?:  Captain Hook…there is an elegance to his evil.
4.       Snack food craving?:  Brownies with lots of peanut butter chips mixed in
5.       Laptop or PC?:Laptop all the way
6.       Chocolate or vanilla?:What's vanilla?
7.       Lace or satin? :Lace
8.       Tv or movies?  Movies…old ones
9.       Ebook or print? I still prefer print, but I am slowly coming around to the world of e-books (especially now that I have one)
10.  Fictional character you'd like to meet?   Sydney Carton…A Tale of Two Cities might be my favorite book, and his character is so self-sacrificing for love and justice.  I'd love to talk to him (before he loses his head).
Me: Yay! You are a good sport 🙂 And that was just the warm up…
I just made up a word, shaldorp, please tell me what it means and use it in a sentence. :p
Emily: Originally of English origin, it is a type of archway prominent in the gardens of the aristocracy.
 "The Viscount saw Tallulah standing under the shaldorp, and he knew the image would stay in his mind forever". 
Me: *giggle* Nice! I want to stand under a shaldorp
Is your writing influenced by the musical preferences of your family and what about Ramona Quimby?
Emily:  Ramona Quimby had a huge influence on my childhood.  I mimicked many of her antics (squeezed out an entire tube of toothpaste just
to see how it felt….wore my pajama pants under my regular pants to school to feel like a firefighter)…and like Ramona, those incidents didn't work out well for me.  I like to think a little of Ramona's "why not" spirit lives in me and bleeds through to my writing.
My family prefers every type of music.  There are definitely those particular artists or songs that really bring on the sense memories (for example:  Rosanna by Toto and You Don't Bring Me Flowers by Barbara Streisand and Neil Diamond….I am almost back in childhood when I hear those…I can even remember what I was wearing).  If I am wanting to write a certain type of scene that might require a certain mood, music can definitely help me.
Me: Your heroine, Ellie, writes a lot of lists. Make a list of your top that time of the month <g> pms sanity saving necessities. I would hope it includes chocolate!
Emily:
1.  Frozen Reese's peanut butter cups
2.  Cheddar and Sour Cream Ruffles,
3.  Pride and Prejudice (the Colin Firth version, of course)
4.  My sloppy over-sized gray hoodie
Me:  *nods emphatically* That's a good list
Tell me a story please…
There was a sock monkey named Pie…
Emily: ….he was terribly vain and ill-tempered, and spent hours in front of the mirror.  He was constantly trying to get his bright red wide mouth a little brighter, and a little wider.  One day, Pie was looking into his 50x magnification mirror and noticed a flaw on the edge of his huge smile…there was a little piece of string poking out.  Grabbing the tweezers, he tried to remove the offending blemish, and proceeded to unravel his entire smile.
Moral of the story:  Probably something about loving yourself the way you are, but I think it should be "quit being so superficial ya dumb sock monkey".  
Me: rotflol Love! Love! Love!
Summarize That Time Of The Month, twitter style 140 characters or less. Go!
Emily: Girl loses job, girl eats pie, girl meets boy…girl loses boy, cat, friend, shoe, dignity, mind…at least she still has pie, right?
Me: you still have 7 characters left lol Good job!
Thank you Emily for playing with me here at The Book Tart 🙂 I can't wait for your next story!
Emily: Thank you for having me…it's been fun!
Emily's Bio:
I am a Tennessean by birth, and have lived pretty much everywhere. My Dad always says that when I was born, and the doctor tried to slap me to make me cry, that I stood up on the table and slapped the doctor instead…and from then on, I never did anything that I didn't want to do.
Luckily, what I want to do is write…and not carjacking or vandalism.
Like my main character, Ellie, I love making random lists…so here are some random facts about me:
I'm nearsighted in one eye and farsighted in the other. The world looks like a fun-house mirror if I don't wear my glasses or contacts.
I was almost kicked out of Graceland for using flash photography in the peacock-mirrored front room, and my tour group shunned me the entire rest of the tour. That made for a lonely trip through the Jungle Room.
I was once mistaken for a member of Hanson…granted, they all had long hair at the time, but still….not what you wanna hear as a girl.
When I wrote That Time of the Month, I really saw it as though it was a movie. I can see every scene, every character and what they are wearing, every piece of pie, perfectly in my mind. I'm currently writing the sequel, That Time of the Year. I love the story and characters so much, that I am tempted to turn the series into a trilogy.
Connect with Emily!
Buy the Book!
Click HERE for contest
October 8 –  The Book Tart – Review & Interview
October 9 – Samantha March – Q&A & Excerpt
October 11 – Mrs Mommy Booknerd's Book Reviews –  Guest Post and Interview
October 14 – Lost In Literature  – Review
October 15 – Change the Word – Review
October 16 – Change the Word – Q&A
October 17 – Lost In Literature  – Guest Post
October 19 – Chick Lit Plus – Review
October 21 – Joanne Phillips – Guest Post & Interview
October 22 – Jersey Girl Book Reviews – Review & Guest Post
October 23 – Whoopeeyoo – Review& Guest Post
October 24 – The Autumn Review – Guest Post
October 25 – So Many Books, Here's Mine – Review & Guest Post
October 26 – A Cozy Readers Corner Reviews – Review
October 27 – Storm Goddess Book Reviews – Review & Interview
October 29 – The East Village – Review