I am so excited today t
o introduce you to my friend Nicole Flockton ! She is celebrating her first book birthday! Her yummy debut romance Masquerade is out tomorrow *singing* Happy book birthday to you, happy book birthday to you! Happy book birthday dear Nicole… Haaaappppy book birthdayy tooooooooooo you! And many more!
Please join me in welcoming Nicole to my virtual interview couch and have some virtual cupcakes or mini chocolate chip muffins, cause she is a fan of those too. Really, who isn't? They're so tiny and cute!
Click HERE for my review
Dont' forget to scroll down and enter the Rafflecopter for a chance to win Nicole's book and a beautiful mask 🙂
Me: Hello my darling Nicole, welcome to my kingdom of Tartlandia. We have a ceremony that we need to do before we can relax on my virtual couch. Stand still… *pulls out my royal scepter* I proclaim you Auss
ie of Tarts… you may kiss the bride, Wait! Wrong finale <g> Tweet tartly but sweetly, read much and spread stories far and wide. Yay! Take a seat on my interview couch and get comfy. Can I get you anything to drink? Coffee, tea, water, soda, strawberry daiquiri? *waves scepter* Your wish is my command. *giggles* This scepter thing is a bit of a power rush. :p It does make me feel all queenly. Do you feel different now that you are an honorary member of Tartlandia?
Nicole: *sniff* I'm sorry I'm just so overwhelmed to receive this Title, I've never been a tart of anything! Give me a second. Okay, I'm good. I accept this Honor and I will tweet tartly but sweetly. Now if we're talking drinks I'll have a Mojito thanks! 🙂
Me: *snicker* See that you do tweet tartly :p *passes Nicole her drink*
We met a few months ago on Twitter and I'm very glad we did. I love meeting people who share my passion for fiction and am delighted to help spread the word that your first novel, Masquerade, is here! *squee!* How long have you been on the journey to becoming a published author?
Nicole: I played around with writing for a couple of years after I had my daughter, then I had my son and once I joined a critique group in 2006 I had to become serious because I'd committed to a group and well I could't keep going without presenting them with work!  I submitted my first partial Manuscript in 2008. So four years from first submission to receiving a contract.
Me: I just read Masquerade and my stomach is still knotted a bit. You made me care about Sophie and Alex and I was wrapped up in their drama. *sigh* I love romance… It's my favorite genre and you have written an emotional roller coaster of a story. Can you tell me a bit about writing Masquerade? The medical scenes felt real to me. Was the research a pain? 🙂
Nicole: Wow, thank you for those words, it's what every author wants to hear, that our words have penetrated our readers souls. Masquerade started as an initial idea of someone gate-crashing an exclusive New Year's Eve ball. Then it blossomed into the story it is now. With regards to the medical scenes, thank you for saying they felt real. I watched an Australian show called "All Saints" which was based in a hospital and also Grey's Anatomy, so they were in my mind's eye when I wrote this book. I'm extremely fortunate that the mother of one of the girls in my critique group is a nurse. I always got my critique back from Kym with notes from her mum about how things would be done. I also looked up some things on the INTERNET too. But I never self-diagnose LOL!
Me: <g> no, self-diagnose can get'cha in trouble :p
What are you working on now? Do you have stories planned for any of the secondary characters in Masquerade? I am very curious about Sophie's best friend Phoebe and also Dawn, one of the night nurses and the hospital. But really, I'm curious about whatever story you choose to tell. I loved the characters and heart in your first novel and definitely want more.
Nicole: Funny you should mention those two characters!  I'm currently working on proposals for those two ladies.  When I first wrote Dawn I imagined her as a much older woman, but as I was going through my edits, I approached my editor saying I wanted to change her character a bit, make her younger and add a little more to her. My editor liked that idea a lot so I did.
Me: Yay! I do want to know what's in store for both of them!
Oh! *grabs a plate of mini cupcakes and pops one into my mouth* want one? I got them especially for your visit 🙂
Nicole: Don't mind if I do!  You know I'm a sucker for mini cupcakes 🙂
Me: I'm curious- I know you are Australian *sigh* It's that yummy accent! lol But are you living Down Under now or are you a transplant?
Nicole: Yep I'm Aussie through and through!  I currently live in Houston Tx. Have been in Houston since 2009. I'm initially from Perth, Western Australia.
Me: Ok, hold onto your pillow. My daiquiri just kicked in. It's torture the author time *hiccup*
silly time.
What's the style of a favorite pair of your shoes and how do they help or hinder your writing process?
Nicole: Well I was in California in July for Nationals and after a fund few days at Disneyland we headed for LA.  Of course when in LA you visit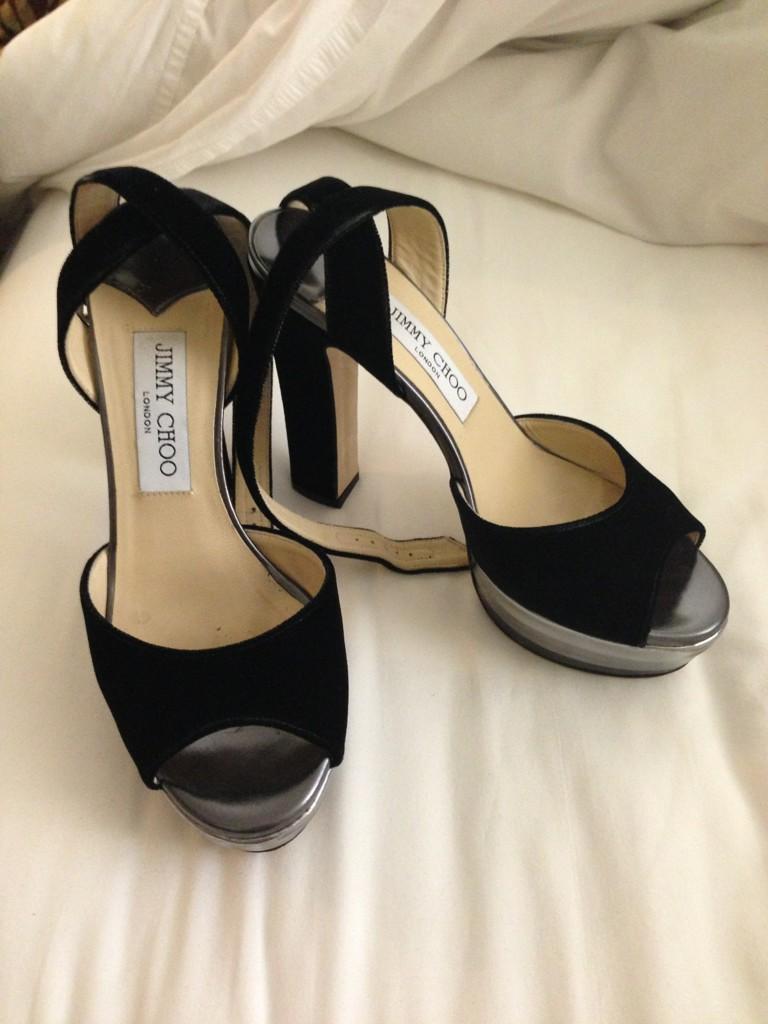 Beverly Hills. My wonderful husband bought me a gorgeous pair of Jimmy Choo sandals. So they are my writing reward shoes.  So I look at them and write more so I can sell more stories and by more Choos!
Me: pretty!
I just made up a word Kaloolon, please create a definition and use the word in a sentence. :p
Nicole" Kaloolon – a form of tart, National Dish of Tartlandia
The Royal House of Tartlandia feasted their eyes on the freshly baked Kaloolon as it sat cooling on the table.
Me: Yummy! I'll ask the chef to bring us some kaloolon 🙂
Please write me a little story or song or poem or something-something starting with….
Long ago and far away in the halls of Adelaide
Nicole :
Lockers slammed and children yelled
As chaos reigned and trees were felled
All in a day in the far away halls of Adelaide
Umm poetry isn't my strong point LOL
Me: I approve it! *royal nod of head*
Where are you going? Our fun's not done 🙂 We have time for
The Book Tart Quickie
Last book you read?:

"Blame it on Texas" by Christie Craig

Tv show you watched most recently?:

"The Big Bang Theory"

Favorite snack food?:

 Chocolate mini cupcakes 😉

Superpower you'd like to have?:

 A clean house with one single thought

Chocolate or vanilla?:  

Oh chocolate of course!

Night owl or morning person? :  A combination of both, I go to bed late and get up early to run
Tv or movies?

TV

Ebook or print?

Both

Bath or Shower?

Both

Favorite superhero?:   

Thor!
Me: Thank you hon for playing with me here at The Book Tart! Don't forget you are the Aussie of Tarts now and are expected to drop in from time to time and share more stories 🙂
Nicole: Thank you so much for having me here at The Book Tart! I've loved every minute of it.
Me: (((hugs))) Kat
The Queen of Tarts
♥♥♥♥♥♥♥♥♥♥♥♥♥♥♥♥♥♥♥♥♥♥♥♥♥♥♥♥♥♥♥♥♥♥♥♥♥♥♥♥
Nicole's Bio
On my very first school report my teacher said 'Nicole likes to tell her own stories'.
It wasn't until after the birth of my daughter and after having fun on the community board of eharlequin.com that I finally decided to take the plunge and write a book.
I joined the fabulous Romance Writers of Australia and evenutally linked up with a great group of girls and we formed "WINKGirls"
The stories I write are contemporary romances with either a medical setting or in the boardrooms of high powered business. It's fun and unique to take two characters and create unique situations for them.
Apart from writing I'm busy looking after my very own hero – my wonderfully supportive husband, and my two fabulous kids. I also enjoying watching sports and, of course, reading.
Buy Masquarade
Click HERE for an excerpt
Website: http://www.nicoleflockton.com/
Facebook Page: https://www.facebook.com/NicoleFlockton?ref=hl
Twitter: https://twitter.com/NicoleFlockton
Goodreads: http://www.goodreads.com/author/show/6479388.Nicole_Flockton
 Contest
Prize A digital copy of Masquerade (INT)
A prize pack with a beautiful mask and fun book-y swag 🙂 (USA)
To enter leave a comment telling us your fav dessert…
(hmmm I think about food a lot!)
You can get more entries my liking us on Facebook, following us on twitter etc.
but they are optional 🙂
Contest open fron Oct. 21st-Oct. 28th