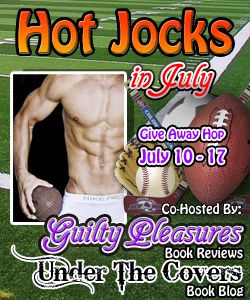 Yay! A blog hop celebrating hot, muscle-y, athletes. Really what's NOT to love? <g> Thank you to  Guilty Pleasures and Under The Covers for hosting this sport themed hop and giving me an excuse to share my favorite JOCK romances.
Thank you for stopping by little corner of the web. The Book Tart is three months old and still learning to keep her head from wobbling! I started this site to celebrate my love of fiction and to have a database for me (and you too, hopefully) to scroll through all the new fiction releases by date. Take a look at my New Fiction Release and play around
You can select a month and view the new books by their release dates! A wish list function is in the works and the ability to add ebook editions too.
The prize from The Book Tart is for a $10 gift card from Amazon or Barnes and Noble (winner's preference) in hopes that the winner will purchase a book from my favorite sports series written by Susan Elizabeth Phillips, The Chicago Stars series.
This contest in open to international entries and runs from July, 10th, 12:01 am EST to July 17th, 11:59 pm EST. To enter please leave me a comment and tell me who your favorite athlete is. The winner will be chosen using Rafflecopter on July 18th and notified via email and in this post. The winner will have 48 hours to respond before another winner is chosen. Good Luck!
Don't forget to visit the other great websites participating in this blog hop. They are listed at the bottom of this post.
I have to be honest here and tell you… I am not really a sports fan. *gasp* I know… I just never really got into it. I used to take a book to baseball games and would only look up when the crowd was cheering and by that time the moment I should have caught was over! Now when I (rarely) go to a baseball game I leave my book in my purse. And football? I've always thought the terms were extremely funny. There's an old joke about football having a quarter back and a half back but no 3/4 back.
I do admire the physical aspect of all sports and the players' skill and coordination… And their bodies! *sigh* I do appreciate muscles.
No one was more surprised then me that I adore a fiction series set around a FOOTBALL team! But I love Susan Elizabeth Phillips. (BTW she has a new book out today!) I have devoured every book of hers since I picked up Fancy Pants from the used bookstore I used to haunt as a teenager. Her Chicago Stars series starts with It Had To Be You and  the heroine is Phoebe Somerville, a damaged, brave, quirky, warm woman with a sex pot exterior that she exaggerates to protect herself. I LOVE Phoebe and enjoyed the fact that she was not a sports fan either. The hero is Stars' head coach Dan Celebow and he is so not happy when Phoebe becomes the new owner of his team. The sparks between the two of them are hot  and the dialogue, which SEP excels at, is extremely entertaining. Oh! The way you are introduced to Dan is a bit squicky… But I think that scene is to show he has baggage too. So when you get to it (and you'll know!) keep reading. He grows on you. I enjoy the entire Chicago Stars series and love that SEP lets us visit Phoebe and Dan a little bit throughout the 7 book series, which stars a variety of football players and family members.
Here's the blurb:
The Windy City isn't quite ready for Phoebe Somerville—the outrageous, curvaceous New York knockout who has just inherited the Chicago Stars football team. And Phoebe is definitely not ready for the Stars' head coach, former gridiron legend Dan Calebow, a sexist jock taskmaster with a one-track mind. Calebow is everything Phoebe abhors. And the sexy new boss is everything Dan despises—a meddling bimbo who doesn't know a pigskin from a pitcher's mound.
So why is Dan drawn to the shameless sexpot like a heat-seeking missile? And why does the coach's good ol' boy charm leave cosmopolitan Phoebe feeling awkward, tongue-tied…and ready to fight?
The sexy, heartwarming, and hilarious "prequel" to This Heart of Mine—Susan Elizabeth Phillips's New York Times bestselling blockbuster—It Had To Be You is an enchanting story of two stubborn people who believe in playing for keeps.
I'm traveling right now and don't have my book with me
But here are some fun quotes from It Had To Be You that I found on the web.
Phoebe Somerville outraged everyone by bringing a French poodle and a Hungarian lover to her father's funeral. She sat at the gravesite like a fifties movie queen with the small white poodle perched in her lap and a pair of rhinestone-studded cat's-eye sunglasses shielding her eyes.
Phoebe is my kind of girl! And her poodle's name is Pooh <g>
"I have complete faith in Coach Calebow. Everybody tells me that he's a wonderful football strategist and a great motivator of men. Besides, he's sooo cute."
"I guess we're oil and water."  "I'd say we're more like gasoline and a blowtorch."
"Sleep is highly overrated" "For you, maybe, but not for those of us who are real human beings instead of cleverly designed androids programmed to stay awake all the time."
"I must have your promise, Coach, that you won't hurt her." "I promise." "You spoke a bit too quickly for my taste. I don't quite believe you." "I'm a man of my word, and I promise that I won't hurt her.When I murder her, I'll do it real quick, so she won't feel a thing." Viktor sighed. "That's exactly what I was afraid of."
Remember to leave a comment telling me who your favorite athlete is or an athlete you think is hot <g> or even your favorite fictional athlete.
Oh! I have another contest running right now, Celebrate July runs all month and the winner will recieve 4 books plus fun swag.