Oh. My. Goodness! I loved this chick lit! *Kermit Flail* Unmasking Maya by Libby Mercer is a delight! I will post a vlog on Saturday. I love Maya and her courage, creativity and spunk… and her internal dialogue. I adored Derek and all his geeky goodness. *melt*
I also have bonded a bit with the author Libby over our shared dorkiness. <g>
Use the Rafflecopter and tell us something geeky or dorky about yourself to be entered to win a kindle copy of Unmasking Maya. I loved it so much I'm giving away!
(((hugs))) Kat
The Queen of Tarts
♥ Author Guest Post ♥
by Libby Mercer
Confession Time: 5 Geeky Things About Me
Thanks so much for having me here today, Kat! Derek Whitley, the love interest in my newly released novel, Unmasking Maya, is a dork. He's a hottie, of course, but as the owner of a tech company, he's definitely got some seriously geeky qualities. For this post, I thought I'd share with you some of the geekiest things about me.
Mama's Family has got to be my all-time favorite comedy show. But what's even dorkier than that? When Mama, otherwise known as Vicki Lawrence, passed through St. Louis on a book tour, my sister and I dressed up as Mama and Iola when we went to her book signing.
I wear black shoes with white socks entirely too often. What can I say? I have a lot of white socks, so when my laundry starts piling up, they're my only option. The good news is that because I usually wear long-legged jeans, more often than not, the world is unaware of my fashion faux pas.
I sometimes take LSAT (Law School Admission Test) prep tests just for fun – but only the analytical reasoning bits. I've included a sample question in this post to show you what they're like. And in case you're wondering, I took the actual LSAT a few years ago but ended up not applying to schools.
When it comes to online dating, any guy who sends me a message with spelling errors or glaring punctuation or grammatical mistakes will get an automatic rejection. Here's hoping this little quirk of mine hasn't turned away my soul mate!
Growing up, my siblings and I were such huge fans of the movie, Hairspray, that we not only learned all the dances, we also recreated a bunch of our favorite scenes with the neighborhood kids. And we filmed it on our camcorder, so it haunts us to this very day.
I hope you enjoyed this rare glimpse at my geeky side! And now, as promised, here's the sample LSAT analytical reasoning question:
Among the inventory at a certain vintage furniture store are seven lamps. Each lamp has either a ceramic or wood base, and each lamp comes with either a brown, red, or green shade.
▪   More lamps have a ceramic base than a wood base.
▪   Every red lamp shade is paired with a ceramic base.
▪   No lamp with a wood base has a brown shade.
Question
Which statement about the seven lamps CANNOT be true?
Five lamps have red shades.
Five lamps have a ceramic base.
Five lamps have brown shades.
Four lamps have a wood base.
Four lamps have green shades.
Scroll down past my book blurb for the answer.
♥♥♥♥♥♥♥♥♥♥♥♥♥♥♥♥♥♥♥♥♥♥♥♥♥♥♥♥♥
Release date: December 12th 2012|
Libby Mercer (Author)
ASIN | B00AN7CCV0
Defamed, Disgraced and Displaced…
Fresh from a career-killing scandal, New York fashion girl, Maya Kirkwood, arrives in San Francisco to reinvent herself as a fine artist. She's offered the opportunity to create an installation at the Silicon Valley headquarters of a hot new tech company. Fabulous, right?
Not so much.
She can't stand Derek Whitley – wunderkind software genius and CEO of the company. Hot as he may be on the outside, inside the man is a cold, unemotional, robotic type. Way too left-brained for her right-brained self.
As Maya and Derek get to know each other, however, their facades begin to crack. She catches her first glimpse of the man behind the superhuman tech prodigy, and he starts to see her as the woman she used to be. But is this a good thing? Once that last secret is revealed, will it bring them closer together or will it tear them apart?
♥ Buy this ebook from: Amazon |
♥♥♥♥♥♥♥♥♥♥♥♥♥♥♥♥♥♥♥♥♥♥♥♥♥♥♥♥♥
Meet Libby Mercer
Born and raised in the Heartland of America, Libby Mercer's adventurous spirit kicked in after graduating from high school and she's since lived in Boston, NYC and London. San Francisco is the city that she currently calls home. For several years, Libby worked in fashion — first as a journalist and then as a shopkeeper, and for a while she dabbled in design. Fashioning a Romance was Libby's first published novel and Unmasking Maya is her second. Her third novel, The Karmic Connection, is scheduled for release in 2013.
Stalk Follow her
Libby's Books!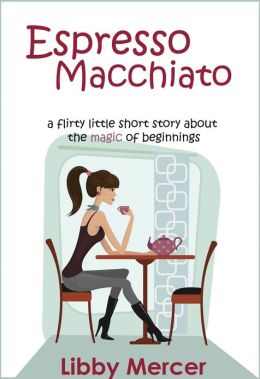 The correct answer to the LSAT sample question is D.
Thanks so much for reading my post. If you feel so inclined, I would love to know what your geeky things are. We all have them, no?
 ♥
Libby