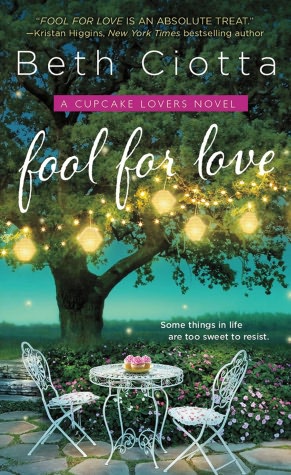 I am ecstatic to have the beautiful Beth Ciotta visting The Book Tart today! Tomorrow is the official release date of Fool For Love, the first novel in her new contemporary romance series The Cupcake Lovers. (click on the title to see the full synopsis)
I was lucky enough to get a review copy of Fool For Love and read it in one sitting. I am in love with the characters and the town of Sugar Creek. If you enjoy contemporary romances with well drawn, relatable characters, emotion, humor, heart and heat you will love this story too.
I wanted to chat with ya'll and tell you how much I enjoyed this book in person <g> So I made a vlog! And I bought myself cupcakes in honor of Beth's book birthday. Yum!
After the vlog I have an interview with Beth and a great contest! I wanted to celebrate the release of Fool For Love by giving it to 2 lucky winners plus a prize pack to the US winner. (details at the bottom of this post)
Me: Hi Beth darling! Welcome to The Book Tart. Come in, come in. Have a seat. *moves books off my virtual couch* There. Can I get you some tea or coffee? And I have cupcakes! We will play tea party like when we were little girls 
our cups and food are pretend but our imaginations are full. My favorite cupcake flavor varies depending on my mood and the moon. But right now, it's red velvet *sigh* with cream cheese frosting. What's your favorite right now?
Beth: Hi, Kat! *cozies up next to the vibrant red head in the cool cupcake dress* I'll have a cup of java, please, and I can't believe it. You just named my recent favorite cupcake! Ah, great minds and all that. 
Me: *Passes Beth a cup of coffee while munching cupcake*
I have to tell you that I LOVED Fool For Love. Adored it really. I want to be best friends with Chloe. The opening scene where she is contemplating murder by kitchen appliances sold me. Lol She's my kind of girl. And Devlin *blush* well, yum!
Beth: I'm over the moon thrilled that you enjoyed the story, Kat. It was so much fun to write. I identified with Chloe on many levels, especially her restless spirit, but if I had to pick a best friend in Sugar Creek, I have to admit I'd glom onto to Daisy Monroe. Every day would be an adventure! As for Devlin, I'll arm wrestle ya for him!  
Me: *snort* I'm better at thumb wrestling!
I'm so curious about the Cupcake Lovers Club. I want to belong to a club that meets once a week with friends and eats delicious desserts and supports a good cause to boot! Where did the idea for The Cupcake Series, the Cupcake Lovers Club and the town of Sugar Creek come from?
Beth: I had pitched a couple of stories to Monique Patterson at St. Martin's Press. Those particular stories didn't grab her, but my style of writing did. She told me that she had been wanting to launch a romance series about a cupcake club with a small town/community feel. She asked if that appealed to me and if it did, what could I do with it? My mind immediately began to churn. My first thought was: I need to know the background of this cupcake club, how they originated. Out of nowhere, a thought occurred. Here's an unedited snippet from my original notes:
THE CUPCAKE CLUB—Founded in 1942 by local women whose husbands and sons were off fighting in WWII.  Once a week they'd get together at one of the member's houses to enjoy the host's featured cupcake, to swap recipes and to share news and letters from loved ones as well as providing companionship and a joyful outlet for one another.  Soon they started spreading that joy by sending care packages overseas, featuring their homemade cupcakes. That became a tradition as did participating in fundraising events to help various causes. 
After that, the feel of the story, the direction of the series, fell into place for me. The town, the characters, the overall arc all grew out of the club concept. Before I knew it I had five pages of notes and a fully fleshed concept—which Monique, I'm thrilled to say, loved.  
Me: I'm so glad she did and you were able to take the idea and write a delightful, yummy story! After I finished reading your book, which, by the way, I couldn't help sharing some of the great lines from the story on twitter. I love your way with words and the dialogue. lol ummmm…. Where was I? Oh! Yes *nods head* ok, There was a thread that seemed to run through the story- an attitude of valuing life and seizing the day, a sense of 'derring-do' (I love that expression!) Fool For Love has definitely reminded me that life is precious and to savor each new experience. I went kayaking this summer for the first time and I loved it! I was wondering if you have an experience you'd like to share? Have you gone on a hot air balloon ride or stepped out of your comfort zone?
Beth: You tweeted fave lines? Dang. I missed that! Dialogue, by the way, is my favorite part of writing. Sometimes I think I missed my calling and should be writing for TV or movies. But I digress! Derring-do. Isn't that a great word? I remember the first time I heard it. An older woman, writer, was telling me a story and she used that word in passing. I had no idea what it meant and had to ask. Now it's one of my all-time favorite words! As for the 'message' theme, you nailed it, Kat. How wonderful that you tried something new and savored the experience. Woot! As for me, no, I have not been in a hot air balloon. It's something I've always wanted to experience and, although I'd have to conquer my fear of heights, it's definitely on my 'To Do' List. I'm pretty sure I can garner the courage as I've faced that fear before—stepping out of my comfort zone to walk mountain paths high up in the Swiss Alps, and also to ride a mule along very narrow paths from the top of the Grand Canyon to it valley, five miles down. I was channeling some derring-do then, let me tell you!  
Me: How many cupcakes have you eaten in the planning and writing of this series? <g> You have included some delicious recipes at the end of the book. I got a kick out of that and really want to try the Harvest Cheater Cupcakes with the whoopee pie filling. Mmmmm and it sounds easy-peasy too
Beth: Most of my cupcake encounters were virtual—a lot of research—however friends of mine, who are excellent bakers, whipped up some original recipes and shared them with me. Some of those are featured in the back of FOOL FOR LOVE. As someone who tasted and loved the Harvest Cheater Cupcakes (made by Beth Bliss, my friend and supervisor at the Brigantine Library, by the way), I have to urge you to bake a batch, Kat. Double yum! That said, I'm thinking I need to do a day tour of some famous cupcake bakeries in New York City in prep for upcoming books in the series. Sample the delights. Want to join me? *waggles wicked brows*    
Me: oooooohhhh! I wanna go on a tour of cupcake bakeries
I am an excellent cupcake eater :p (and have the hips to prove it!)
I can't wait to visit Sugar Creek, Vermont again and I am hoping Rocky's story is next. All of the secondary characters were so relatable and real that I want to know what happens with them… except for the one I love to hate :p (readers, you'll know who it is when you read it! Lol) I am looking forward to the next installments of this series and can't wait to visit everyone again. That's one of the things I love most about sequels is getting to peak in on characters I've already fallen in love with and see how their lives are progressing. You have three sequels planned right now for The Cupcake Lovers series right now *squee!* I can't wait!
Beth: Rocky's story is indeed next, Kat. I just finished writing THE TROUBLE WITH LOVE and let me tell you . . . well, no. I can't tell you. You'll have to read it. Let's just say it's intense. Although how can it be anything but, with Jayce Bello involved. I know you know what I mean! And yes, all of the characters return. The romance bug bites a couple more folk and the Cupcake Lovers move forward with their plans for a recipe book—although not without a few glitches. Right now I'm contracted for four books in the series, but hopefully there'll be even more. Lots of tales are simmering in Sugar Creek! 
Me: Oh! You have another series starting this fall too! This must be a mad, crazy, busy time in your life right now 
Can you tell us a bit about your other new series? I am so thrilled… for me! lol well, for you too, but mostly for us readers because we get more Beth to love. 😛
Beth: Busy times indeed, but I'm loving it! In addition to CUPCAKE LOVERS, I'm launching a new steampunk romance series, THE GLORIOUS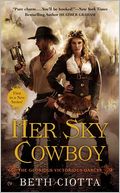 VICTORIOUS DARCY. The 1st book—HER SKY COWBOY—comes out November 6th. Here's a blurb about the overall series:
 In celebration of Queen Victoria's Golden Jubilee (1887), an anonymous benefactor promises fame and fortune to the first man or woman who discovers and donates a technological 'invention' of historical significance to her majesty's British Museum in honor of her beloved deceased husband, Prince Albert.
Jules Darcy, Simon Darcy, and unbeknownst to them, their sister, Amelia Darcy set off in search of three different 'lost' legendary inventions. Whilst on their quest, all three fall prey to a sizzling romance and forever love.  In the end, one sibling will bring glory to the British Empire, another scandal, while the third becomes an unwitting accomplice in a plot to assassinate the Queen. Will love or technology save the day?  Will the Darcys prevail or perish? Passion and adventure abound in these humorous steampunk–ish tales.
Me: November can't come soon enough for me! The Glorious Victorious Darcy's sound so fun. And I will be counting down the months till the 2nd Cupcake Lovers book comes out in March 2013… I'm know I'm greedy! lol Three books within 7-8 months is actually a LOT. Thank you
I've been saving some foody descriptions to express how much I enjoyed Fool For Love. Here goes… It's a delectable, delicious, dreamy, steamy delight and I want more, like yesterday! lol I know! I know! The book is not even officially out yet. I just want you to know that I will be impatiently waiting for The Trouble With Love that comes out *wail* next spring.
Beth: Can I just say, you've made my week? No, year! Your enthusiasm is inspiring, Kat. Thank you!
Book Tartalicious Quickie
Lace or satin?:  

LACE

Blue or Red?:   

RED

Star Wars or Star Trek? BOTH?

lol

Me too 😛

Inny

or

outty

?:

INNY

Bath or shower?: 

SHOWER

Jammies

or naked?:

JAMMIES

Cursive or print?:

PRINT

Half-full or half-empty?:

HALF-FULL

Piercings?:  

TWO IN EACH EAR

 Do you talk to yourself?:

ONLY IN MY HEAD
Me: Thank you Beth for stopping by The Book Tart, let me give you a big huge hug! *squeeze*
Beth: Hugging you right back, Kat! This has been a pleasure and a blast. Cheers and cupcakes, my friend!
Meet Beth
Storytelling comes naturally to award-winning author Beth Ciotta. Dubbed "fun and sexy" by Publisher's Weekly, Beth specializes in writing Romantic Comedy with a Twist of Suspense and is published in contemporary, historical, steampunk, and paranormal romantic fiction.  "I can't think of anything more fulfilling than writing stories where everyone (except the villain, of course) gets a happy ending!"
Beth lives in NJ with her husband, two zany dogs, and a crazy cat.  A retired professional performer, Beth now pours her artistic passion into her writing. To learn more about her colorful life, visit her website at www.bethciotta.com
Fool For Love Contest
US and INT
International Prize
♥Fool For Love ebook
US prize pack
 ♥Fool For Love print or ebook (winner's choice)
♥Retro cupcake apron (it's new, I just modeled it for the pic)
♥ a signed promo postcard from Beth Ciotta
♥ a beautiful cupcake necklace donated by Beth Ciotta! Thanks Hon!
One lucky winner will receive the items in the picture (except the Fool For Love book- I'll send you a new one! lol That one's mine :p)
To enter use the rafflecopter form to leave a comment telling me your favorite cupcake flavor and if you've read Beth before. That's it! There are other ways to earn entries, but they are not mandatory. The contest runs for 2 weeks, from August 27th-Sep. 10th. I will contact the winners at the end of the contest via email and announce it on this post. The winners will have 48 hrs to respond before another winner is chosen.