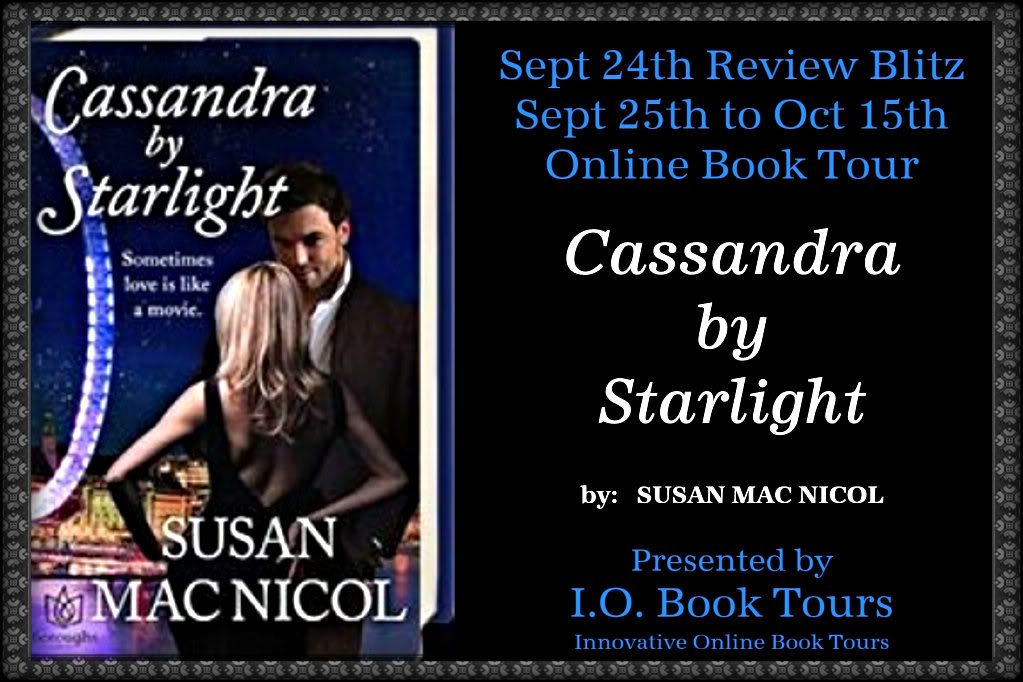 I've been on a contemporary romance kick and this book caught my eye. I *whispers* ummm *cough* read gossip sites *cough* ;p I like to follow Hollywood so this story line where the hero is an actor sounds fun and like one of my fantasies. Take a look at the excerpt. <g> I've added Cassandra by Starlight to my TBR list and wanted to share. Oh! At the bottom of this post is a rafflecopter for a chance to win a copy of this ebook 🙂
Cassandra by Starlight
Release date: August 13, 2012
Publisher: Boroughs Publishing Group
Genre: Contemporary Romance
Susan Mac Nicol (Author)
ISBN 978-1-938876-01-1
Format: ebook
Length: 268 Pages
A London woman is swept off her feet into the glamorous yet surprisingly dangerous world of an up-and-coming star of stage and screen.
TO CATCH A RISING STAR
Unconventional though she may be, Cassandra Wallace leads the life of an average Londoner, from blind dates to rush hour traffic. Then, along comes Bennett Saville. Charming, erudite, the up-and-coming actor is like the hero of a romantic movie. He sets Cassie afire like he has the stage and screen, and defies the tragedy that brought them together. From the tips of his Armani loafers to their scorching hot first kiss, he's perfect. Only, he's ten years younger and from the upper class, and those emerald eyes invite dangerous secrets. The world is full of hungry leading ladies, and every show must have its villain. Yet a true romance will always find its happy ending.
Cassandra by Starlight
Copyright © Susan Mac Nicol
Chapter 1
The day the sky fell changed Cassie Wallace's world forever. She woke up that morning with the expectation that this day would be like any other. She also had a slight hangover from the abundance of wine she'd drunk the night before to try and get through a blind date organized by her work colleague, Sarah.
The evening had been a total disaster. Not only had the man been an absolute misogynist, one of the cardinal male sins on Cassie's unwritten list, he'd also had a habit of leering at her chest every time he spoke as if he thought it might talk back to him.
She'd smiled politely whilst thinking she'd like to take his smarmy public school tie and shove it down his throat. When she'd finally left at around eleven, she hadn't been able to get away fast enough.
She stood in her bedroom, checking her outfit in the mirror and sighed.
Was it too much to ask to find a decent man just to share things with and have a good time? They all seemed to be absolute idiots and in the old but true cliché, only interested in one thing.

_______________________________________
BIO:
Sue Mac Nicol was born in Headingley, Leeds, in the United Kingdom. When she was eight years old her family emigrated to Johannesburg, South Africa. One day, after yet another horrific story of violence to friends, they decided it was time to leave. In December 2000 they found themselves in the Arrivals area at Heathrow and have stayed in the UK ever since, loving every minute of it.
In between her day job as a regulatory compliance officer for a financial services company in Cambridge and normal daily life, the inspiration for the Starlight series was born; Sue's characters, Cassie and Bennett, finally made their debut onto the flickering screen of a laptop and gave her the opportunity to become a published author—a dream she's had since being a young girl old enough to hold a pencil.
Sue is a member of the Romance Writers of America and the Romantic Novelists Association in the UK. She lives in a town house in the rural village of Bocking, Essex, with her husband of twenty eight years, Gary (who believes he deserves a long service award for putting up with her for so long), two children, Jason, 24, and Ashley, 19, and a mixed collie mongrel called Blu.
Susan Mac Nicol Online:
Website  http://www.boroughspublishinggroup.com
Blog  http://www.boroughspublishinggroup.com/blog
Facebook  http://www.facebook.com/boroughspublishing
Twitter  http://www.twitter.com/BoroughsPubGrp
Tour
 9/25  M-N's Amazing Book Reviews First Chapter
 9/25  Queen of All She Reads   Guest Blog, and Giveaway
9/26  Books, Books and More Books Review, First Chapter, and Giveaway
9/27   The Book Tart First Chapter and Giveaway 
 9/28  Harlie's Books First Chapter and Giveaway
 9/28  Free Book Dude  Guest Blog
 10/1  SnifferWalk  Review, First Chapter, and Giveaway
 10/3  Identity Discovery  Guest Blog
10/4  Books, Books, and More Books Review, Interview,and Giveaway
 10/4  The Bunny's Review First Chapter and Giveaway
10/5  Steamy Reading  First Chapter
10/5   Paranormal Romantic Suspense  First Chapter
10/8  Once Upon A Book  Review, Interview, First Chapter, and Giveaway
10/9  Kaisy Daisy's Corner Review and Giveaway
10/10  Storm Goddess Book Reviews & More   Interview and Giveaway
10/11 smartmouthtexan Guest Blog, First Chapter, and Giveaway
10/12   Just Another Rabid Reader First Chapter and Giveaway
10/22  Book Lovin Mamas Review, Interview, and Giveaway