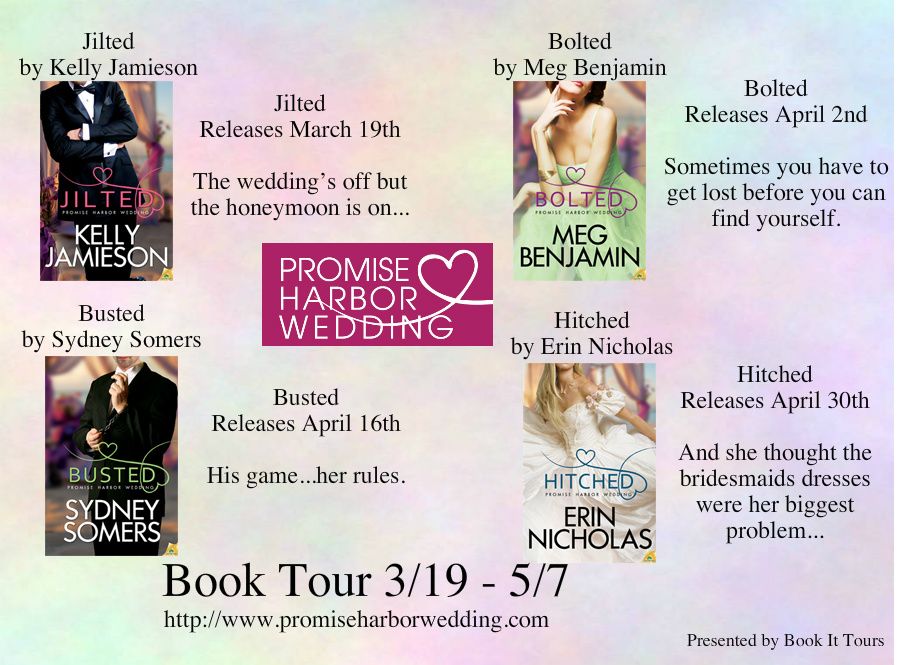 Erin Nicholas gets to wrap up the Promise Harbor Wedding series with Hitched. I adore weddings and this series is on my TBR mountain. Take a look at the teaser excerpt and add it to your stack too.
(((hugs))) Kat
The Queen of Tarts
PS. Make sure you have entered the contest for a chance to win a $50 gift card!
♥ ♥ ♥ ♥ ♥ ♥ ♥ ♥ ♥ ♥ ♥ ♥ ♥
Hitched
Excerpt
2013 © Erin Nicholas
They landed at nine p.m. local time. Not that local time mattered. Gavin's system was so screwed up with changing three time zones out and back in the space of twenty-four hours that he knew he'd be feeling the effects for days. On top of that, it was right before the summer solstice, so it never got completely dark. Nine o'clock at night looked like two in the afternoon.
Allie was still asleep. He'd also slept, as well as could be expected on the plane, for several of the ten hours of the flight.
As he deplaned, he shook hands with Major, the pilot who had traded the spontaneous flight to the east coast for a year of free veterinary care for his ten mushing dogs, six cats, four horses and seven goats. In addition to his regular fees. "I'll be out to check on Eddie soon," Gavin said.
Major chuckled and lit up a cigarette. "It was the most interesting trip I've had in a long time," the older man said. His eyes flicked to where Allie lay curled in her seat. "Good luck, boy. Looks like you have your hands full."
Gavin turned to look at Allie. He couldn't believe she was here. Hands full? Maybe. Okay, probably. But he knew what it was like to have his hands empty of her…he wasn't doing that again.
He carried her to his truck, loaded her bags in back and headed for home. They pulled in just before eleven thirty.
Gavin tried to rouse Allie to walk into the house, but she was having none of that. Instead, she seemed to melt into him when he picked her up off the truck seat. Not that he minded. She weighed next to nothing and he liked the feeling that he was taking care of her. He knew Allie. She was a do-er. She took care of people. She always had a plan, went non-stop and gave one hundred and ten percent to everything. For her to fall into this deep of an unconscious state with him meant she was either completely exhausted or she completely trusted him. Or both. Whichever it was, she needed him and needed to be here.
He deposited her on the big king-sized bed in his bedroom. He had a guest room on the main level, but Allie wasn't sleeping under his roof in any bed other than his. And he was going to be right beside her.
He was damned tired of seeing her in that wedding dress though.
With a deep breath, he realized he needed to change her clothes. For one, she'd be more comfortable and for another, he couldn't very well burn the dress with her still in it.
"Allie? Babe, let's get you out of this thing," he said, pulling her up to sitting.
She pulled back, trying to lie down.
"No, no, come on," he said, tugging her upright.
He reached behind her and lowered the zipper on the dress. The bodice gaped and slipped forward on her arms. Gavin stoically kept his eyes from dropping lower than her face. This wasn't sexual. That wasn't what was happening here. He was going to undress her, put her in one of his T-shirts and tuck her in. Period.
The dress hadn't dropped away from her breasts completely, so he also unhooked her bra and then rose to grab a T-shirt from his dresser. She'd flopped back onto the pillows, the bodice loose, but still covering her when he returned to the bed. He slipped the T-shirt over her head and then pulled it down as he pulled the dress and bra down. He didn't see any bare body parts—but he knew they were there. And his body reacted.
Gavin stubbornly ignored the tightness behind his zipper and slipped the dress and bra out from under the shirt, pulling the dress the rest of the way off her hips and down her legs. He left her panties on and tossed the dress to one side. He was going to roast marshmallows over the fire he made with that dress tomorrow.
Then he stripped off his own clothes except his boxers and managed to get the comforter and sheets pulled down from under Allie. She sighed contentedly, burrowed down into the pillow and he slid in next to her, flipping the covers over them both.
The big windows were covered with blackout shades, making it feel like it was nighttime in the bedroom at least. But there was enough light from the light in the hallway that he could lay and watch Allie's profile. She was here. He finally let his body and mind relax enough to absorb that fact. He and Allie were in his bed together in Alaska.
This was where she belonged. With him. And finally it was going to happen.
His actions and reactions had been fueled by emotion—panic, fear, love, determination—for the past twenty-six hours. Now everything just drained out of him. It was over. He'd gone to her. He'd done the right thing. He'd rescued her.
Everything was good now.
Gavin felt his body start to sink into the mattress and he reached to pull Allie against him. She wiggled close, her butt right in his groin, her legs against his, her back to his chest.
His body hardened as his heart softened.
Everything was very good now.
♥ ♥ ♥ ♥ ♥ ♥ ♥ ♥ ♥ ♥ ♥ ♥ ♥ ♥ ♥ ♥ ♥ ♥ ♥ ♥ ♥ ♥ ♥
TOUR SCHEDULE: