I've been anticipating Nalini Singh's novella Rock Courtship for a few weeks…Really since the moment I read the last page of Rock Addiction I needed more. Fortunately she didn't make me wait too long!  David and Thea's is finally here! Soooo don't look for me. I'll be curled up devouring this novella. 😉
(((hugs))) Kat
The Queen of Tarts
♥♥♥♥♥♥♥♥♥♥♥♥♥♥♥♥♥♥♥♥♥♥♥♥♥♥♥♥
Rock Courtship
Nalini Singh
(Author)
Release date: September 30th 2014
Series:
(Rock Kiss #1.5)
||
Publisher: TKA Distribution |
Genre: Contemporary Romance |
ISBN: 9781625175397 |
Format: eBook and print |
New York Times bestselling author Nalini Singh's new contemporary romance novella is pure hard rock and scorching heat…
What happens when the Gentleman of Rock decides to play dirty?
A drummer for the hottest rock band on the planet, David has a single, powerful weakness: Thea, the band's publicist and the woman who steals his breath away with her every move.
Only problem is, Thea doesn't date clients–or musicians. Emotionally scarred by a cheating ex, she's not about to risk her heart with a man who has groupies buzzing around him like flies. Even if his sexy smile ties her up in knots.
What she doesn't know is that David is a one-woman man…and he's madly in love with her. David's determined to prove he's worth the risk, and willing to court her, step by exquisite step. Thea's about to discover just how long and hard this handsome drummer can play.
♥ ♥ ♥ ♥ ♥ ♥ ♥ ♥ ♥ ♥ ♥ ♥ ♥ ♥ ♥ ♥ ♥ ♥ ♥ ♥ ♥ ♥ ♥
♥ ♥ ♥ ♥ ♥ ♥ ♥ ♥ ♥ ♥ ♥ ♥ ♥ ♥ ♥ ♥ ♥ ♥ ♥ ♥ ♥ ♥ ♥
Excerpt
Rock Courtship
by Nalini Singh
"Beer—whatever you have on tap," David said to the grizzled bartender and grabbed a stool, his eye on the rugby game in progress on the TV screen bolted above the bar.
He'd hardly taken a sip of his beer, the dark liquid bitingly cold, when he felt a presence at his back. Instincts honed by a childhood in one of the toughest areas of New York had him focusing on the mirror behind the bar to check out the situation before he turned. A big, bald, and heavily muscled male with a spiderweb tattoo on his neck was standing behind and just to the side of David, a smirk on his pockmarked face.
Belly heating, David turned with a slight smile. "Problem?"
The bald man bared his teeth and, laughing, looked to a table to his right. "Hear that, boys?" he called out to his friends. "The pussy rock star here wants to know if there's a problem."
Laughter and shouts from that particular table, while the rest of the men in the bar went quiet. David didn't move, taking a measure of the players without letting it show. "Always know your opponent" had been one of the first things his father had taught him—Vicente Rivera didn't believe in turning the other cheek; he believed in teaching his sons how to put bullies on the ground and keep them there.
"Yeah, there's a problem," the bald guy said, shoving at David's shoulder. "This is a real bar for real men. Not pussies."
♥ ♥ ♥ ♥ ♥ ♥ ♥ ♥ ♥ ♥ ♥ ♥ ♥ ♥ ♥ ♥ ♥ ♥ ♥ ♥ ♥ ♥
Don't miss book 1!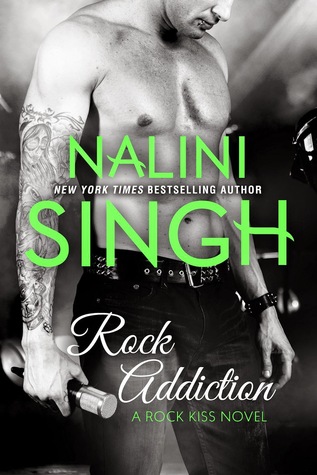 ♥ ♥ ♥ ♥ ♥ ♥ ♥ ♥ ♥ ♥ ♥ ♥ ♥ ♥ ♥ ♥ ♥ ♥ ♥ ♥ ♥ ♥
More Nalini
NEW YORK TIMES AND USA Today bestselling author of the Psy-Changeling and Guild Hunter series Nalini Singh usually writes about hot shapeshifters and dangerous angels. This time around, she decided to write about a hot and wickedly tempting rock star. If you're seeing a theme here, you're not wrong.
Nalini lives and works in beautiful New Zealand, and is passionate about writing. If you'd like to explore her other books, you can find lots of excerpts on her website. Slave to Sensation is the first book in the Psy-Changeling series, while Angels' Blood is the first book in the Guild Hunter series. Once Rock Addiction is out, swing by the site to check out the special behind-the-scenes page, complete with photos of many of the locations used in the book.
♥ ♥ ♥ ♥ ♥ ♥ ♥ ♥ ♥ ♥ ♥ ♥ ♥ ♥ ♥ ♥ ♥ ♥ ♥ ♥ ♥ ♥ ♥

♥ ♥ ♥ ♥ ♥ ♥ ♥ ♥ ♥ ♥ ♥ ♥ ♥ ♥ ♥ ♥ ♥ ♥ ♥ ♥ ♥ ♥ ♥

Blitz Tour CONTEST
What:
$50 Gift Card

When: Now- October 5th

How: Use the rafflecopter 🙂
♥