I LOVE the Abby Sinclair books! I bought the first one, A Brush of Darkness last year because the synopsis grabbed me, an enchanted ipod? a miniature unicorn living in her underwear drawer?! lol So, it got my attention and held it. I devoured Abby's first adventure with the fairies and discovering her gift and read the second A Sliver of Shadow last spring… It ends on a cliff hangar!!! argh! 😛 So, the 3rd book in this series is out today and I LOVED the book. Click HERE for my review. If you like strong, developed, interesting world building, complicated characters and lots of snark, pick up Allison Pang's books 🙂
A Trace of Moonlight
Copyright 2012 © Allison Pang
Chapter 1
Chapter 1
The fog eddied from the darkness to cocoon me in a soft haze. Something niggled at the back of my mind as I glanced down at my bare feet. They were swallowed below my calves by the mist, but the crunch of sand under my toes felt familiar. The hiss of waves slapped against the edge of a nearby shore.
The rolling scent of brine slipped past on a tattered breeze. Drawn toward the sound of water, I pressed forward, an uneasy chill sending clammy fingers skittering over my skin.
Wrapping my arms around my shoulders, I realized I was naked.
And yet a moment later, a silk dress draped over my limbs, falling to midcalf. It should have felt strange, to know the merest of thoughts took shape here . . . but it didn't. My feet brushed the edges of the wet sand and I paused. I could see nothing beyond the darkness, but the warmth of the water lured me, beckoning with a soft whisper.
Flickers of memory flared up and slid away, the barest hint of scales and a cradle of blue luminescence taking form, but I shook my head and the thought swirled out of reach. Ridiculous idea, anyway. I'd never even seen a mermaid.
Another step and the foam crested past my ankles.
I hesitated.
_______________________________________
Meet Allison:
A marine biologist in a former life, Allison Pang turned to a life of crime to finance her wild spending habits and need to collect Faberge eggs. A cat thief of notable repute, she spends her days sleeping and nights scaling walls and wooing dancing boys….Well, at least the marine biology part is true. But she was taloned by a hawk once.  She also loves Hello Kitty, sparkly shoes, and gorgeous violinists.
She spends her days in Northern Virginia working as a cube grunt and her nights waiting on her kids and cats, punctuated by the occasional husbandly serenade. Sometimes she even manages to write. Mostly she just makes it up as she goes.
Play With Me
 TRADING CARD ART
Click HERE to see these on Allison's page and get more details
Artwork by the marvelous Darchala, as per usual
Melanie, Phin, Abby and Brystion (in his incubus form)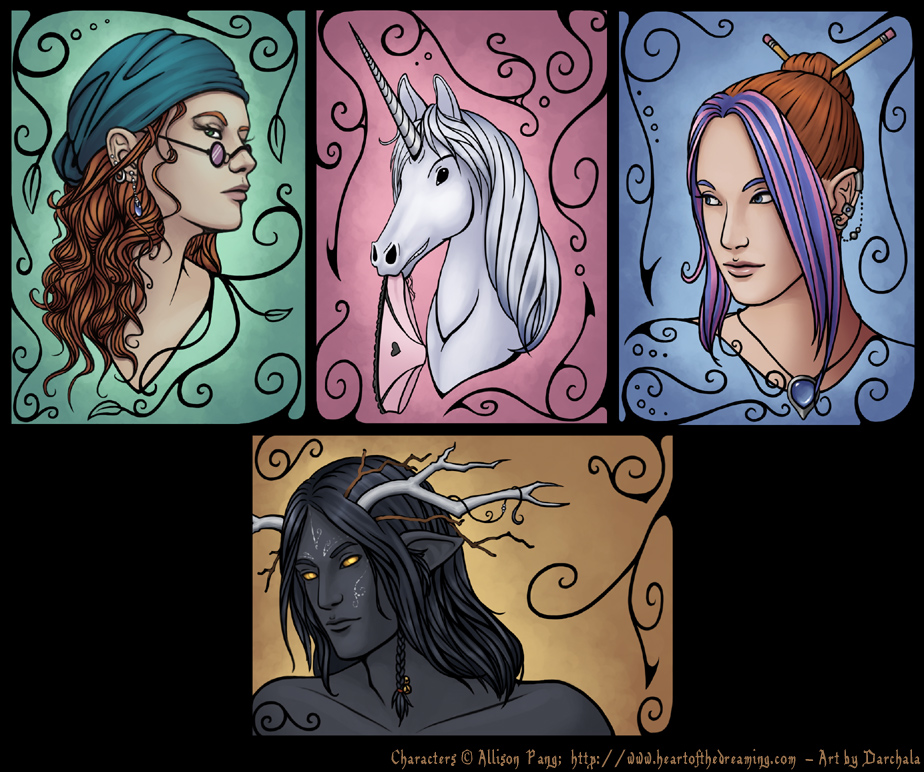 Moira, Nobu, Talivar and Brystion in human form!
Tour
October 29 Guest blog and review
Tynga's Reviews
October 30 Promo and review
The Book Tart
October 31 Interview and review
Fangs, Wands & Fairydust and Winged Effigy
November 1 Interview
Juniper Grove
November 1 Promo
My Miscellaneous Bookshelf.
November 2 Interview
Books & Other Spells.
November 2 Promo
Bookin' It Reviews ~
November 3 Promo and review
Snowdrop Dreams of Books
November 4 Interview
Simply Infatuated
November 4 review
LilyElement Book Reviews
November 5 Promo
Mimmi's Musings
November 5 Promo and review
Booked & Loaded
November 6 promo
SMARTMOUTHTEXAN
November 7 Promo
V's Book Life
November 7 Review
A Bibliophile's Thoughts on Books
November 8 Interview
November 9 Interview and review
The Reading Diaries
November 10 Interview and review
Never Judge a Book by its Cover
November 11 Interview
Under the Covers Blog
November 11 review
Book Briefs
November 12 Promo and review
Starry night book reviews
November 13 Review
Butterfly-o-Meter Books
November 14 Interview and review
The Speculative Salon:
November 14 Promo and review
On the Broomstick
Contest!!