The Book Tart is beyond thrilled to welcome the delightfully smexy Smutketeers for today's stop on their hop. The girls each have recent releases… or out soon in Robin's case 🙂
To celebrate all the smutty goodness and Halloween too, the girls want to share about their new titles and give away treats.
Take a look at R.G. Alexander's newest book, Wicked Release
Robin's brand spankin' new holiday treat, FrankenDom (10/29)
Eden's re-release of her Edge series
Crystal's 2nd Revved Up title, All Tangled Up
They are giving away three $10 gift cards + some of their books!
Use the rafflecopter at the bottom of this post and enter 🙂
For more treats. not tricks, visit The Smutketeers and enter for a
$100 Amazon Gift Card!!!
(((hugs))) Kat
The Queen of Tarts
PS. Check out my contest page, there's lots of treats to be had this Halloween
RG Alexander
Wicked Release
Wicked Release is the third book in the Wicked series, following Wicked Sexy and Wicked Bad, and it continues the Abbott family storyline…as well as leaving a mystery to be solved and a return of some familiar lovers in Wicked Dangerous, coming in January 2013.
When you've waited centuries for release…will three be the magic number?
Cursed for hundreds of years by a rejected suitor and an ultimate betrayal, Sarah Blackwood has had plenty of time to plan vengeance…and escape. When she sensed a magic that called out to her own, she instinctively drew it to her, desperately hoping it would be her way out.
She never expected what happened next.
Con and Lorie have always known their Triad was incomplete. They didn't realize the woman they'd been waiting for had been born over three hundred years too early, or that a twist of magical fate would bring them together at last.
Sarah has sworn vengeance on all the families involved in her imprisonment, including the Abbotts. Will she use her unique abilities to destroy them all, or will the two men she can't seem to resist convince her–with a little help and a lot of kink–that love is the best revenge?
Warning: Explicit Menage Sex. Sex in the grass and sex in a chair. One magical mirror sees sex everywhere. A little spanking, a little kink and the dirtiest magical threesome in the land.
Order now from KINDLE / NOOK / ARe / SMASHWORDS
Oh! I am eagerly waiting for this book! *points down* I adore RG's Shifting Reality Series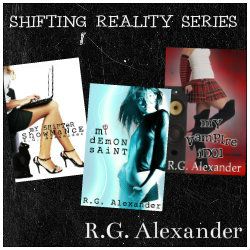 My Vampire Idol
My Vampire Idol is the third book in the Shifting Reality series, following My Shifter Showmance and My Demon Saint.
When a vampire who's determined to lay low meets an exhibitionist with a dangerous secret and a large family…well, you'll see.
Coming November 8th 2012
Keep an eye on RG's site for more news http://rgalexander.com/
♥ ♥ ♥

♥

♥ ♥ ♥

♥

♥ ♥ ♥

♥

♥ ♥

♥

♥ ♥

♥

♥ ♥ ♥

♥

♥ ♥

♥
Robin L. Rotham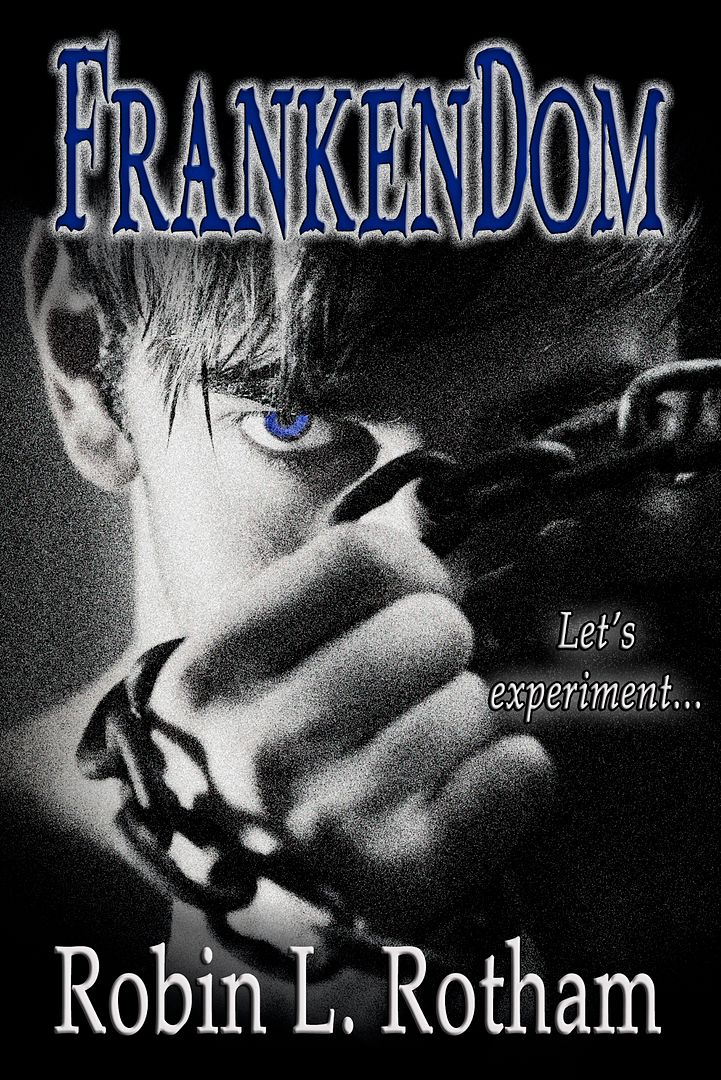 FrankenDom (Releases 10/29) !!!
A scientist with an obsession. A protégée with an agenda. And a surgeon with needs too long denied…
Vascular surgeon Dr. Rachel McBride knows she'd be insane to pass up a prestigious fellowship for the chance to work on Julian Kilmartin's cutting-edge research project. The reclusive neurologist has been the object of her submissive daydreams since residency, and time and distance have only strengthened the dark compulsion.
To complicate matters, a former lover who was all too aware of her attraction to Julian is also on the team. Charmingly obnoxious Dr. Colin Carter was Julian's protégée back in the day, and nothing appears to have changed…or has it? There's an earnestness to Colin now, an urgency she's never seen in him—and he claims her desire for Julian was reciprocated but deliberately left unfulfilled.
When she takes the chance and travels to eastern Europe, Rachel discovers that research is only part of her job description—and submission is only the beginning of the sexual excesses Julian and Colin will demand from her.
But when the unthinkable nature of Julian's research project is finally revealed, Rachel is ready to run from the men she thought she knew. Securing her cooperation will take a touch of coercion, a bit of bondage, and all the erotic torture two deliciously deviant doctors can apply.
Reader Advisory: You should assume any Robin L. Rotham book contains BDSM elements, anal play, and every possible ménage à trois permutation plus occasional spares. Additionally, FrankenDom contains mad scientists, real dungeons, whips, chains, spanking, a variety of taboo fantasies, mild puppy play, electrical devices in uncomfortable places, humor, and an intimidating ratio of sadists to masochists.
Visit Robin Site HERE
"Robin L. Rotham is the new Queen of hardcore BDSM! FRANKENDOM is gorgeous, brilliant, sensual, frightening-the ultimate, kinkily twisted retelling of the classic Frankenstein. Be afraid. Be very afraid."
~Eden Bradley, author of The Dark Garden
♥
♥ ♥ ♥

♥

♥ ♥ ♥

♥

♥ ♥ ♥

♥

♥ ♥ ♥

♥

♥ ♥ ♥

♥

♥ ♥ ♥

♥
Eden Bradley
I'm so excited to share with you Eden's great news! Her Edge series, written as Eve Berlin, has been re-released!!!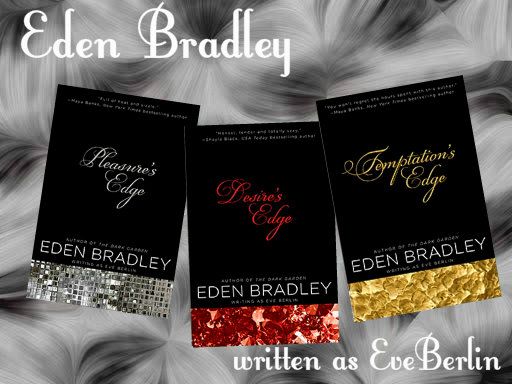 PLE ASURE'S EDGE, Book One
How do you know…
For beautiful erotica author Dylan Ivory, being in control is everything. Growing up in a dysfunctional home, she raised her younger brother–right up to the day he died in a motorcycle accident. Since then, she has lived a life of perfect order, leaving nothing to chance. Then she met the man who was everything she was not…and everything she wanted.
How far you can go
Alec Walker is a writer of dark psychological thrillers–and a man who lives for thrills. From motorcycles to snowboards to swimming with sharks, there's no end to his lust for excitement. His tastes extend into the bedroom as well, and into The Pleasure Dome, the local BDSM club where he lets no rules bind his desires. The only thing he truly fears is love, and allowing someone else to really know him… 
Unless you go over the edge?
While researching a book on sexual extremes, Dylan interviews Alec–and longs to taste the temptation he offers. But he's a self-proclaimed dominant and she refuses to surrender control. Slowly and seductively, though, Alec shows her that by letting go and submitting to his every desire she can experience the ultimate pleasure. But to keep the woman who for the first time brings himto his knees , can Alec take the ultimate risk and surrender his heart?
* Barnes & Noble *  Amazon
DESIRE'S EDGE, Book Two
As a lawyer, Kara Crawford knows how to keep a secret, especially after being spurned by an ex for revealing her sexual needs. Kara doesn't expect to find anyone who can fulfill her, until she experiences one of the most incredible nights of her life with a man she's always admired from afar.
…can set you free….
Dante De Matteo knew Kara back in high school, and he never imagined her darkest fantasies would align so perfectly with his. The lovers don't expect their passion to last more than a night, but when Dante's new job turns out to be at Kara's law firm, they find themselves confronted daily with the sparks of their blistering chemistry.
…but only if you give yourself completely.
As intense desire draws them closer, deep-rooted fears threaten to pull them apart, unless they can learn to embrace both the pain and pleasure of love…
TEMPTATION'S EDGE, Book Three
What happens when you let yourself fall…
Mischa Kennon isn't one to take it lying down, at least not until she meets sexy Connor Galloway , a green-eyed Irishman with an air of authority she finds hard to resist. While performing duties as maid of honor to her best friend, Mischa indulges in a casual relationship with Connor. She's surprised by the thrill of his dominance, and lusts for more feisty battles before surrender.
…over the edge
It's all fun and games in the BDSM Pleasure Dome Club, until Mischa realizes Connor could master her heart.
…and into temptation?
If she gives in to desire, will it be too much to handle, or will it open her to a kind of love she never thought possible?
* Amazon * Barnes & Noble
♥
♥ ♥

♥

♥ ♥

♥

♥ ♥

♥

♥ ♥

♥

♥ ♥

♥

♥ ♥

♥

♥ ♥

♥

♥ ♥

♥

 
Crystal Jordan
The reality show Revved Up has made Kasen's Kustom Automotive a national sensation. For garage co-owner Jesse Kasen, the only fly in his ointment is Lola Adams, the show's producer. The little Georgia peach is a blonde bombshell. All he can think about when she's around is what she'd look like all tangled up in his sheets.
Lola might use her sexuality to get what she wants, but it's her knowledge of cars, courtesy of her auto-racing family, that got her the producer spot on Revved Up. Jesse is hot and the star of all her recent steamy fantasies. Too bad he's off limits—she won't risk her professional reputation on a fling.
Jesse sees one solution to their problem—burn off this attraction in bed and get on with business. Lola agrees because she has to know what it's like to touch him, but she demands discretion. One sex-filled weekend in his secluded cabin, no strings attached. But one weekend might not be enough.
* Amazon * Barnes & Noble
Meet R.G.
Best-selling, award-winning romance author R.G. Alexander aka Rachel Grace has been called "a true storyteller" who creates "complex, humorous and heartbreaking characters" and vast and expansive worlds. She has written in the paranormal, sci-fi fantasy, and contemporary erotic romance genres for Samhain Publishing, Ellora's Cave Publishing, and Berkley Heat.
Since her first story released in February 2008, RG has penned over 23 stories, served on the board for the Passionate Ink Chapter of Romance Writer's of America, is a current moderator for the award-winning writer's forum Romance Divas, and has been on several character and worldbuilding panels at The Romantic Times Convention. She is a founding member of a successful group blog of erotic romance authors known as The Smutketeers, who graced the cover of RT Book Reviews in 2011, and were mentioned in a scholarly article for promoting positive feminine sexuality.
She has a appeared several times on Dissident Radio's shows Breaking Taboos and Rebel Goddess.
Email: r.g.alexander@hotmail.com
Play With Me
Buy Books At:
______________________________
Meet Robin
When I complained of being bored the summer before 7th grade, my mother (who worked at a boookstore at the time) handed me a stripped copy of Victoria Holt's The Shivering Sands–and I was hooked. I became a voracious reader, bringing home stacks of romantic novels from the library every few days.
At 14, I tried to write my first two romances. The first was about a federal agent masquerading as a bank robber, and a smart-mouthed customer who drove a custom baby blue Trans Am named Shark. He stole Shark as his getaway vehicle and she dove in beside him. That was as far as I got–I could never see beyond their flying down the highway bickering as they were chased by bad guys.
The second was a hot mess of a Gothic paranormal erotic involving an 18yo governess and the 16yo eldest son of the house, who made quite innappropriate advances toward her via astral projection while she slept. I wrote 100 pages front and back IN PENCIL before I hit the I HATE point and shoved it under my bed. When I retrieved it 2 years later, the lead was so smeared I couldn't read it. The End.
It took finding my own hero to reignite my passion for romance writing. More than 25 years later, I bought a used laptop on eBay and wrote my first erotic romance. My latest release, Carnal Compromise, spent 10 days at #1 on Samhain's bestseller list.
Mr Robin and I have been married for 15 years; we live on a farm and have three wonderful kids. I love to hear from readers, so don't be timid about saying hi!
Website: http://robinlrotham.com/
Play With Me
BOOKS AVALIABLE AT:
______________________________
Meet Eden /Eve
Best-selling and award-winning author Eden Bradley writes dark, edgy erotic fiction. Her work has been called 'elegant, intelligent and sensual'. Her debut novel, THE DARK GARDEN, has been praised as 'a masterpiece', and was a Romantic Times Top Pick, as was her erotic novel, FORBIDDEN FRUIT. Her novel THE LOVERS was called '…the thinking woman's erotica…'.
Eden sold four novels and a novella to Bantam, as well as a novella to Berkley, before her first novel even hit the shelves, and Bantam contracted two more novels from her the moment her debut book was released. Several of her novels and novellas have been translated into German, Romanian, French and Japanese.
Eden has appeared regularly on Sirius Satellite's Playboy Radio show, Night Calls, and has participated in round-table podcast and radio discussions. She is also a regular guest at the West Coast In the Flesh readings. Eden has conducted a number of workshops and served on panels on writing craft and writing sex at several chapters of Romance Writers of America, at the RWA Nationals Conference, at the Romantic Times Convention and at library and independent writer's groups.
Eden has published a number of articles on writing and has written both print and e-books for Bantam/Delta, Harlequin Spice, HQN, Berkley Heat, Samhain Publishing, Magic Carpet Books, Phaze Publishing, and New Age Dimensions Publishing. Eden also writes erotic romance for Berkley Heat as Eve Berlin. Her debut Heat novel, PLEASURE'S EDGE, won the 2010 Holt Medallion Award for best Erotic Romance.
Website: http://edenbradley.com/
Play With Me
BOOKS AVALIABLE AT:
______________________________
Meet Crystal:
Crystal Jordan began writing romance after she finished graduate school and needed something to fill the hours that used to be eaten away by coursework. She spent far too many years in school and now has degrees in History and Library Science…but swears that both of them help enormously with her writing and research.Her family sprawls from Texas to Illinois and from California to the United Kingdom. She has three brothers, several rather adorable nieces and nephews, a quirky grandmother who pushed her into writing in the first place, an indispensable best friend codenamed the Mad Madam M, and her very own hero, the Professor Moriarty (who codenamed himself after Sherlock Holmes's arch-nemesis. Who wouldn't love a man who loves a good villain?).
Never one to stay in one place very long, Crystal has lived and worked all over the United States. Currently, she serves as a librarian at a university in the California Bay Area.
In 2006, Crystal sold the first story she ever finished to the e-publisher, Cobblestone Press. Since then, she's sold paranormal, futuristic, contemporary, and erotic romance to Samhain Publishing, Harlequin Spice Briefs, The Wild Rose Press, and Ellora's Cave.
Then, the day before the 2007 RWA National Conference, she got The Call to be a part of Kensington Aphrodisia's Sexy Beast anthology. After a whirlwind month, she had an agent and an additional two-book deal with Kensington.
And she lived happily ever after.
Play With Me
Books Available at:
Smutacular Blog Tour
-Oct 26th-Under the Covers 
-Oct 27th–The Book Tart
-Oct 28th In Love With Romance
(We will also be at Samhain Yahoo Group on 28th from 8-10 central)
 -Oct 29th– Bitten By Books
-Oct 30th-Harlie's Book Blog
-Oct 31st–My Secret Romance