Yay! Day 1 of the Sweet, Sexy, Sorching hop. Come play with us 🙂 The blogs participating are on the bottom of this post. Click around and find out which of us has the "Guess Who" questions (ummm HINT lol it's NOT me today) Then visit each blog and take a look at that day's author. We are posting excerpts and info showcasing an author who's playing the Sweet, Sexy Scorching Game.
Today it's all about Eve Berlin AKA Eden Bradley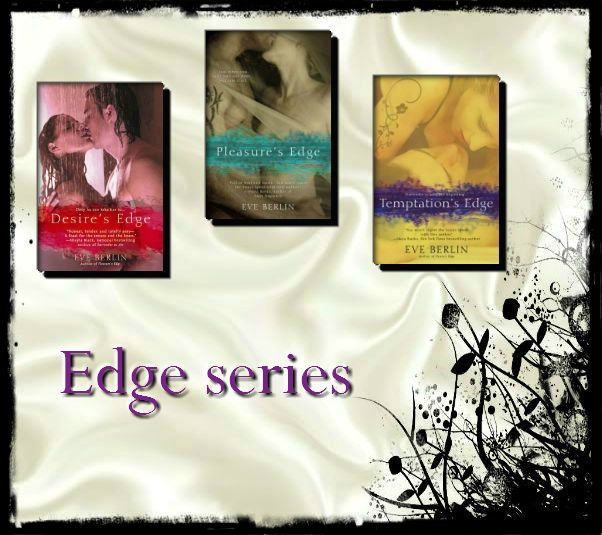 How do you know…
For beautiful erotica author Dylan Ivory, being in control is everything. Growing up in a dysfunctional home, she raised her younger brother—right up to the day he died in a motorcycle accident. Since then, she has lived a life of perfect order, leaving nothing to chance. Then she met the man who was everything she was not…and everything she wanted.
How far you can go…
Alec Walker is a writer of dark psychological thrillers—and a man who lives for thrills. From motorcycles to snowboards to swimming with sharks, there's no end to his lust for excitement. His tastes extend into the bedroom as well, and into The Pleasure Dome, the local BDSM club where he lets no rules bind his desires. The only thing he truly fears is love, and allowing someone else to really know him…
Unless you go over the edge?
While researching a book on sexual extremes, Dylan interviews Alec—and longs to taste the temptation he offers. But he's a self-proclaimed dominant and she refuses to surrender control. Slowly and seductively, though, Alec shows her that by letting go and submitting to his every desire she can experience the ultimate pleasure. But to keep the woman who for the first time brings him to his knees, can Alec take the ultimate risk and surrender his heart?
Excerpt from Pleasure's Edge

Eden Bradley/Eve Berlin Bio
Best-selling and award-winning author Eden Bradley writes dark, edgy erotic fiction. Her work has been called 'elegant, intelligent and sensual'. Her debut novel, THE DARK GARDEN, has been praised as 'a masterpiece', and was a Romantic Times Top Pick, as was her erotic novel, FORBIDDEN FRUIT. Her novel THE LOVERS was called '…the thinking woman's erotica…'.
Eden sold four novels and a novella to Bantam, as well as a novella to Berkley, before her first novel even hit the shelves, and Bantam contracted two more novels from her the moment her debut book was released. Several of her novels and novellas have been translated into German, Romanian, French and Japanese.
Eden has appeared regularly on Sirius Satellite's Playboy Radio show, Night Calls, and has participated in round-table podcast and radio discussions. She is also a regular guest at the West Coast In the Flesh readings. Eden has conducted  a number of workshops and served on panels on writing craft and writing sex at several chapters of Romance Writers of America, at the RWA Nationals Conference, at the Romantic Times Convention and at library and independent writer's groups.
Eden has published a number of articles on writing and has written both print and e-books for Bantam/Delta, Harlequin Spice, HQN, Berkley Heat, Samhain Publishing, Magic Carpet Books, Phaze Publishing, and New Age Dimensions Publishing. Eden also writes erotic romance for Berkley Heat as Eve Berlin. Her debut Heat novel, PLEASURE'S EDGE, won the 2010 Holt Medallion Award for best Erotic Romance.
Website: http://edenbradley.com/
Blog: http://www.smutketeers.com/
Twitter: https://twitter.com/EdenBradley
Facebook: http://www.facebook.com/AuthorEdenBradley.EveBerlin
Kindlegraph: http://www.kindlegraph.com/authors/EdenBradley
Email: eden_bradley@yahoo.com
BOOKS AVALIABLE AT:
Amazon –  Barnes & Noble –
Eden is giving away a pdf of Pleasure's Edge to one lucky commenter! Be sure to follow the hop to all the stops to try and figure out the 'Guess Who' post. If you would like to be in the drawing for the grand prize, please make sure you fill out the Rafflecopter form. It only needs to be filled out once from one blog each day to be entered. Thank you and good luck!!