Tracey Sinclair is a darling who shares my love of snark and Supernatural and has never given up on The Book Tart even when I let the blog go mostly dark… I adore her and her  Cassandra Bick Chronicles and I'm so happy to share a fun excerpt from her new release Angel Falls and Tracey is giving one lucky reader of The Book Tart an ebook copy of Angel Falls! *points down* enjoy!
(((hugs))) Kat
The Queen of Tarts
Angel Falls
Publisher: Indie |
Release date: January 13th 2016 |
ISBN: 9781500174682
Format: Ebook
It isn't easy to surprise Cassandra Bick. When you run a human-vampire dating agency, your colleague is a witch who is engaged to a shifter and your business partner is one of London's most powerful (and sexiest) vampires, there's no such thing as a normal day at the office.
But when a mysterious Dark Dates client brings a dire warning of a new threat to the city's supernatural community, Cass and her friends realise they are up against their deadliest foe yet – and that this time, the danger is far closer to home than they could ever have imagined.
Sexy, snarky and with more bite than a crypt full of vampires, Angel Falls is the latest in the Dark Dates: Cassandra Bick series.
♥ Buy this book from: Amazon |
♥♥♥♥♥♥♥♥♥♥♥♥♥♥♥♥♥♥♥♥♥♥♥♥♥♥♥♥
♥
Excerpt

♥
Angel Falls

by Tracey Sinclair

'Tell me, do you ever watch The Wire?'
For some people, this might seem an odd question to be asked by a vampire. OK, for some people, being asked any question by a vampire would fill their lifetime quota of odd. But in my line of work, this was pretty routine.
I was sitting in my office at Dark Dates, a dating agency which arranges matches for humans and vampires, among other things (those 'other things' lately, alas, mainly amounting to being blown up and attacked – and I don't even get paid for that).
♥♥♥♥♥♥♥♥♥♥♥♥♥♥♥♥♥♥♥♥♥♥♥♥♥♥♥♥
More Tracey:
Tracey Sinclair is a writer and editor. Her novel and collection of short stories (Doll and No Love Is This, respectively) have been published by independent publisher Kennedy & Boyd. She is currently working on the paranormal series, Dark Dates/The Cassandra Bick Chronicles.
Her work has appeared in magazines as diverse as Sky, Printer's Devil, Yours and Woman's Weekly, as well as having been performed on the radio. Her first play, Bystanders, was premiered as part of the New Writing Season at Baron's Court Theatre. She also a regular contributor to online theatre magazine Exeunt (www.exeuntmagazine.com)
Website: Dark Dates
♥
(Cassandra Bick Chronicles 1)
Release date: Apr. 3, 2012
ASIN: B007RH5PF4 |
Format: eBook
All Cassandra Bick wants is to be left to get on with doing her job. But when you're a Sensitive whose business is running a dating agency for vampires, life is never going to be straightforward – especially when there's a supernatural war brewing in London, a sexy new bloodsucker in town and your mysterious, homicidal and vampire hating ex-lover chooses this moment to reappear in your life…
Witty, sharp and entertaining, Dark Dates is a heady mix of vampires, witches and werewolves – with the occasional angel thrown in – and introduces Cassandra Bick, a likeable heroine destined to join the ranks of fantasy's feistiest females.
 ♥
(Dark Dates Short Stories Book 1)
Release date: Nov. 7, 2012
ASIN: B00A3SVOOU |
Format: eBook
The hunter just wanted to be left alone – one last drink before leaving London forever. Then the vampire Laclos walked into the bar, and suddenly his night wasn't looking so quiet after all…
There's a new hunter in the city and he'd targeting Dark Dates – the vampire/human dating agency run by Cassandra Bick, who also happens to be the woman that both Cain and Laclos love. These two fierce rivals must work together to stop him before he drags London's vampires into the spotlight and destroys Cassandra's life – that's if they don't kill each other first.
Explore a darker side of London with this exciting short story from author, Tracey Sinclair. The first novel in "The Cassandra Bick Chronicles", "Dark Dates" is out now.
♥
(Dark Date Short Stories Book 2)
Release date: Dec. 7, 2012
ASIN: B00AKVV4TA |
Format: eBook
It's Christmas in London but Cassandra Bick, owner of the human/vampire dating agency Dark Dates, doesn't feel much like celebrating. There's a rogue vampire running loose on the streets and Cassandra and her friends must try to stop him before he strikes again – even if that means enlisting the help of Laclos, the flirtatious vampire with very definite ideas of what (or who) he wants to unwrap this Christmas…
♥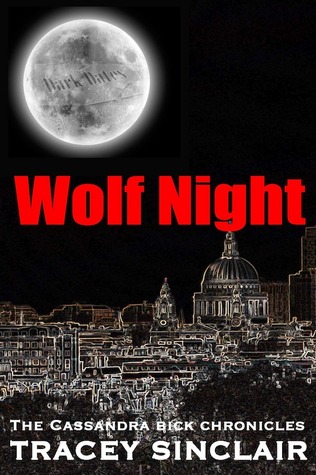 Wolf Night
(Cassandra Bick Chronicles 2)
Release date: March 8th 2013
ASIN: B00BQLSEW8 |
Format: eBook
After narrowly averting a supernatural war in London, Cassandra Bick just wants life to get back to normal. Or as normal as life can be when you run a dating agency for vampires, your best friend is a witch and the oldest, strongest and sexiest vampire in town is taking a very personal interest in your business. But when a vicious new supernatural enemy threatens her friends, Cass finds herself once again fighting for the fate of her city – and having to face some demons of her own.
Snarky, sexy and fast paced, Wolf Night will leave you breathless.
♥
A Vampire In Edinburgh
(Dark Date Short Stories Book 3)
Release date: November 9th 2013
ASIN: B00GIKZT6G |
Format: eBook
It's August in Edinburgh, and the world's biggest arts festival has once again brought thousands of visitors to this historic city as actors, comedians and musicians from all over the globe come to showcase their talents for an international audience. But this summer, something is using the chaos of the Fringe to hide a far worse crime than bad theatre, and the hunter Cain must team up with new friends and old enemies to stop a bloodthirsty killer who is targeting the visiting performers. This year, there are more things to worry about at the Fringe than just getting a bad review…
A Vampire in Edinburgh is a Dark Dates short story (Cassandra Bick Chronicles).
♥
A Vampire In New York
(Dark Dates Short Stories 4)
Release date: July 29th 2015
ASIN: B0131CNC1M|
Format: eBook
It should be fun to be a vampire in the city that never sleeps. But it can be hard to stand out if everyone else is already wearing black and staying up all night – especially if you're more 'short, ginger and nerdy' than 'tall, dark and handsome'. Lonely, broke and bored of blood bags, Barry is finding death a big disappointment – until he stumbles into the circle of the rich, mysterious and ridiculously hot vampire Laclos, vacationing in New York to escape his recent troubles in London.
Instantly smitten by this sexy stranger, Barry joins Laclos on an after dark tour of the city, from its glamorous hotspots to its seedy underside. But Laclos moves in a dangerous world where not everyone is so taken with his charm – and it's starting to look like he hasn't managed to leave all of his enemies back in England…
Barry is about to learn you need pretty sharp fangs if you want to take a bite out of the Big Apple.
A Vampire in New York is a Dark Dates short story
♥

Tourwide Contest!
What:
Tracey is giving one lucky duck her new ebook Angel Falls !
(epub or mobi)
When: Now- February 6th, 2016
Who: Open to International Entries too
How: Use the rafflecopter
Good Luck!