I LOVE my Amy Lane. She of the angsty, colorful, love filled stories that remind me love is worth fighting for. I was lucky enough to pounce on Amy in 2013 at the Romantic Times convention and she's just as warm and wonderful in person as I imagined. When I reached out to ask for help with my Save The Book Tart event after my life
collapsed on my head she wrapped her virtual arms around me in a HUGE hug and sent me a guest post that made me cry like a baby and feel a bit stronger and warmer and able to deal with drama a little better. That's how her stories make me feel too.
Oh! Oh! *Kermit flail* Make sure you enter my Save The Book Tart giveaway, There's lots of prizes including 4 stories from Amy's The Granby Knitting Menagerie!
(((hugs))) Kat
The Queen of Tarts
PS. The FREE Superhero vectorstock is from HERE
♥♥♥♥♥♥♥♥♥♥♥♥♥♥♥♥♥♥♥♥♥♥♥♥♥♥♥♥
♥
Guest Post

♥
A Blanket in Planning
Now see, I've met the Book Tart before, and our beloved Kat Fish is someone special.
She's high energy, bright colors, big heart, excitement, kindness, and a quick mind and intelligence in one beautiful package, with a penchant for full 50's skirts with zombie waitress fabric.
Someone special, right?
So when I saw the first pictures online of her and her Beau's beloved house, and the collapsed ceiling, my first thought was "Oh my God, I want to knit them something! Something black, with mustard yellow and lime green stripes, or white with bright red and green cherries all over it! Something orange, with black and lime and neon pink and bright yellow polka dots!"
"I want to knit them color and comfort and bright happy Kat Fish colors that will take all the bad away!"
Alas, I write more than I knit these days, so that blanket might be in the planning stages for years—her house will be fixed and her living room decorated and re-decorated before Amy gets her knitting together and makes that comfort blanket. But that doesn't mean the urge is all for naught.
See, knitters are do-ers, by nature. They want to do for the people in their lives. They want warmth and kindness, softness and beauty, in the lives of the people they know, so they put them together with handcrafts and throw them at people. "Here! Here are my emotions in yarn! Deal with them! Yes, it was rough for me too!"
So that's why writing the knitting books were so much fun.
All of the people in The Granby Knitting Menagerie (which actually consists of three separate novellas) and Blackbird Knitting in a Bunny's Lair knit, because their emotions are easier to deal with in wool. It's way easier to fall in love if you can give tangible proof.
"Look here! Look what I made you! I love you doesn't this house cozy in size one yarn with tiny needles with the Fair Isle pattern prove it?"
Which is, of course, why the famous "boyfriend sweater" myth is so prevalent. I mean, imagine—there you are, thinking you and your boy/girlfriend are having a good time, and suddenly they present you with forty hours of wooly proof that your "good time" has been thinking about you? Wouldn't that kind of pressure make you bolt for the hills?
But for the folks in Granby, that's all they got. If the person they love can't deal with massive quantities of warm, wooly love, then that person just doesn't have the staying power, and that's just life.
So I wish Kat and Beau all the good fortune in the world, and I wish them massive quantities of warm, wooly love. I shall plan that blanket for them, regardless of the reality of actually producing it, and in the meantime?
I'm giving away e-book copies of the three novellas in The Granby Knitting Menagerie, as well as an e-book copy of Blackbird Knitting in a Bunny's Lair to one lucky commenter.
Now if you'll excuse me, I need to go buy some yarn!
♥ Amy
♥♥♥♥♥♥♥♥♥♥♥♥♥♥♥♥♥♥♥♥♥♥♥♥♥♥♥♥

Blackbird Knitting in a Bunny's Lair
Publisher: Dreamspinner Press |
Release date: May 2nd 2014|
Format: Ebook and print |
Sequel to Knitter in His Natural Habitat
A Granby Knitting Novel
After three years of waiting for "rabbit" Jeremy to commit to a life in Granby—and a life together—Aiden Rhodes was appalled when Jeremy sustained a nearly fatal beating to keep a friend out of harm's way. How could Aiden's bunny put himself in danger like that?
Aiden needs to get over himself, because Jeremy has a long road to recovery, and he's going to need Aiden's promise of love every step of the way. Jeremy has new scars on his face and body to deal with, and his heart can't afford any more wounds.
When their friend's baby needs some special care, the two men find common ground to firm up their shaky union. With Aiden's support and his boss's inspiration, Jeremy comes up with a plan to make sure Ariadne's little blackbird comes into this world with everything she needs. While Jeremy grows into his new role as protector, Aiden needs to ease back on his protectiveness over his once-timid lover. Aiden may be a wolf in student's clothing and Jeremy may be a rabbit of a man, but that doesn't mean they can't walk the wilds of Granby together.
♥ Buy this book from: Amazon | Barnes & N0ble|Dreamspinner Press | ARe |

♥♥♥♥♥♥♥♥♥♥♥♥♥♥♥♥♥♥♥♥♥♥♥♥♥♥♥♥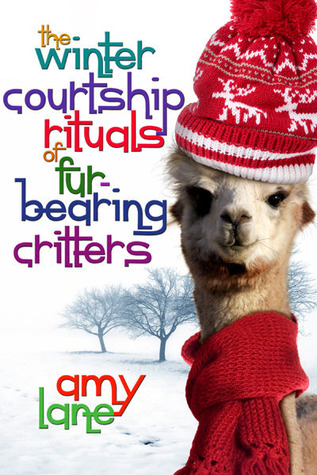 ♥♥♥♥♥♥♥♥♥♥♥♥♥♥♥♥♥♥♥♥♥♥♥♥♥♥♥♥
More AmyAmy Lane dodges an EDJ, mothers four children, and writes the occasional book. She, her brood, and her beloved mate, Mack, live in a crumbling mortgage in Citrus Heights, California, which is riddled with spiders, cats, and more than its share of fancy and weirdness. Feel free to visit her at www.greenshill.com or www.writerslane.blogspot.com, where she will ride the buzz of receiving your e-mail until her head swells and she can no longer leave the house.
Stalk Follow her
♥

Save The Book Tart Moving Madness
Click HERE for DAY 1s guest author Tracey Sinclair!
Click HERE for Day 2s guest author Steff Nuss!
Click HERE for Day 3s guest author Lynn Cahoon
Day 4

Giveaways!
What: $40 Gift Card to Amazon or B&N
+
Steph Nuss is giving
two eBooks of Fantasized By You !!!
+
Lynn Cahoon is giving away
an ebook of The Bull Rider's Keeper!!!
+
Amy Lane is giving away e-book copies
of the three novellas in The Granby Knitting Menagerie,
as well as an e-book copy of Blackbird Knitting in a Bunny's Lair!!!

When: Now- August 16th
Who: Open to International Entries too
How: Use the rafflecopter 🙂