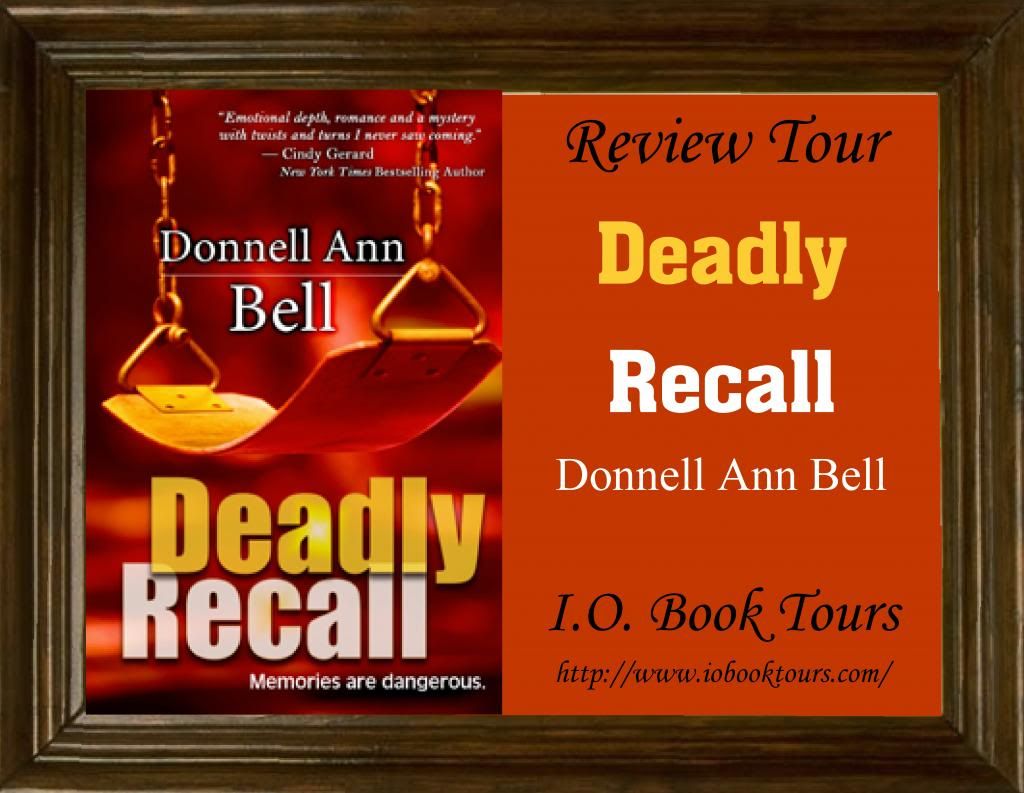 I grew up reading Nancy Drew and Trixie Belden before I moved onto Mary Higgins Clark and Nora Roberts. I love mystery and suspense with my romance. Take a look at Donnell Ann Bell's newest novel Deadly Recall… It's on my TBR pile.
(((hugs))) Kat
The Queen of Tarts
Deadly Recall
Release date: January 25th, 2013 |
Publisher: Bell Bridge Books
Genre: Suspense, Romantic Suspense
Donnell Ann Bell (Author)
Format: Print and eBook
A terrifying memory is locked deep inside her.  A killer wants to keep it that way.
Nine-year-old Eden Moran thought she was saying good-bye to her mentor that fateful day in St. Patrick's.  She had no idea she'd witness the nun's demise, or that her child's mind would compensate.  Now seventeen years later, Albuquerque cops have unearthed human remains, and the evidence points to Eden as being the key to solving Sister Beatrice's murder.  When a hellbent cop applies pressure, Eden stands firm.  She doesn't remember the woman.  Unfortunately for Eden, Sister Beatrice's killer will do whatever it takes to keep it that way.
♥ ♥ ♥ ♥ ♥ ♥ ♥ ♥ ♥ ♥ ♥ ♥ ♥ ♥ ♥ ♥ ♥ ♥ ♥ ♥ ♥ ♥ ♥
More Donnell:
Donnell Ann Bell is a two-time Golden Heart® finalist who previously worked for a weekly business newspaper and a parenting magazine.  Her debut novel The Past Came Hunting became an Amazon bestseller, reaching as high as #6 on the paid overall list and finaling in 2012 Gayle Wilson Award for Excellence, RWA's® Greater Detroit Bookseller's Best, and the 2012 Daphne du Maurier Award for Excellence in Mystery/Suspense. Deadly Recall, brought to you by Bell Bridge Books, is her second published novel.
Stalk Follow her
Website    www.donnellannbell.com
Blogs she plays on:
Everybody Needs a Little Romance 

and Five Scribes


Innovative Online Book Tours
3/23  Review   GMTA
3/23  Review   Mallory Heart Reviews
4/8   Promo    T B R
4/9   Review  Queen of All She Reads
4/11  Promo   The Book Tart
4/12  Promo   A Little Bit of Spice
4/15  Review  My Cozie Corner
4/16  Promo   Mom With A Kindle
4/16  Promo   Tattooed Book Review
4/18  Promo   Celticlady's Reviews
4/19  Review  Annelise Ianthe
4/19  Review  Pure Jonel
4/19  Review  StoreyBook Reviews
4/19  Promo    My Kindle Fever
4/19  Promo   Hanging On Every Word
4/19  Review  My Book Reviews
Amazon Review  luvspurple
Amazon Review  Mallory Anne-Marie Haws
Amazon Review  Melanie A Ramey
Amazon Review  Gatosqueak
Amazon Review  Grandbub
Amazon Review  Simone Lilly-Egerter
Amazon Review  WilDersh
Amazon Review  lsmoore43
Amazon Review  L Hayes