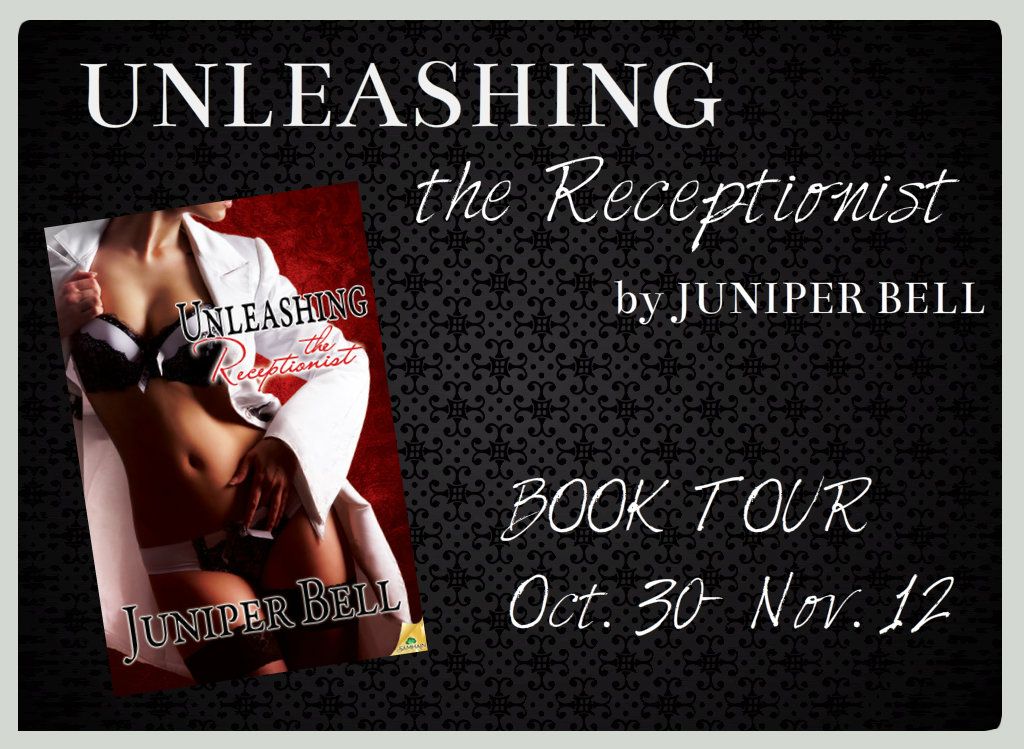 Juniper Bell writes HOT erotic romance. The 3rd book in her Receptionist series, Unleashing the Receptionist was released October 30th from Samhain. It should be at other online bookstores soon.
If you are in the mood for steamy, boardroom fantasies come to life, take a look at these books. 🙂
Oh! Check out her book tour (at the bottom of the post) and hop along for more goodies.
(((hugs))) Kat
The Queen of Tarts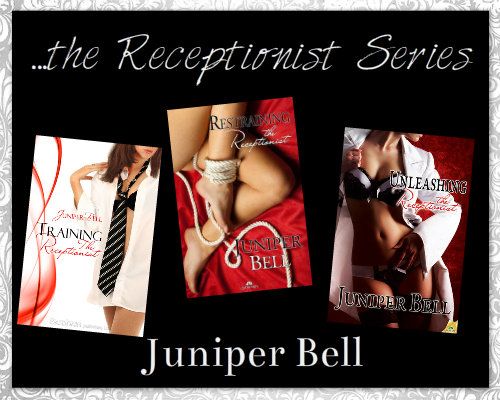 ♥♥♥♥♥♥♥♥♥♥♥♥♥♥♥♥♥♥♥♥♥♥♥♥♥♥♥♥♥♥♥♥♥♥♥♥♥♥
Training the Receptionist, bk 1
It's her naughty dream  job-if they're satisfied with her performance… Eager to escape her  miserable existence in Low-Life, Long Island, street-wise Dana Arthur  jumps at an entry-level position with the consulting firm Cowell &  Dirk. As her training period begins, she quickly discovers she's  required to do more than take messages and order office supplies. Her  job description contains some deliciously naughty duties that give  receptionist a whole new meaning. Simon has almost given up on finding  the right woman who will please his clients as well as his demanding  partner and mentor, Ethan Cowell. No one measures up-until Dana. Her  inner fire and fearless nature are perfect for the job. No matter what  wicked punishment he devises to chastise her for her on-the-job  mistakes, she accepts with a relish that leaves him wondering which one  of them is really in control. The last thing he expects to discover is  that she's a perfect sexual soul mate he can't bear to share. But share  he must-it's part of his business agreement. Unless he makes Ethan the  deal of a lifetime… Warning: This title contains explicit sex,  bondage, menage, ingenious use of office furniture, lingerie, and the  occasional sex toy. Oh, and did I mention the package delivery guy?
♥♥♥♥♥♥♥♥♥♥♥♥♥♥♥♥♥♥♥♥♥♥♥♥♥♥♥♥♥♥♥♥♥♥♥♥♥♥
 Restraining the Receptionist, bk 2
Every deal has a loophole.
…the Receptionist, Book 2
Dana Arthur's new job with the firm of Cowell & Dirk  is going well. Translation: the occasionally kinky ménage with her two  bosses, Ethan and Simon, has been several months of politically  incorrect bliss.
Except the relationship feels unbalanced. While Ethan is the undisputed master, the partners' iron-clad agreement stipulates that Simon must be present as she performs her "duties". And she senses there's a subtle, powerful tug-of-war developing for more  than just her body.
Simon had agreed to share the firm's  fiery, sensually daring receptionist…to a point. With Simon out of town, Ethan plans a feast of erotic temptations designed to have Dana begging him to break the deal. He didn't realize his heart would be a casualty.
Once she surrenders to his wicked demands, Dana realizes  there's no going back. It's time for a three-way renegotiation…this  time, all or nothing.
Warning: NSFW!! Do Not Try This at Your Job. Contains highly inappropriate workplace behavior  including m/f/m, m/m, bondage, creative use of office space and a  high-stakes trip to Atlantic City.
Buy from Amazon| Barnes & Noble | Samhain
♥♥♥♥♥♥♥♥♥♥♥♥♥♥♥♥♥♥♥♥♥♥♥♥♥♥♥♥♥♥♥♥♥♥♥♥♥♥
Thanking the Receptionist, bk 2.5
Dana Arthur has found  the job of her dreams … if her two sexy bosses are satisfied with her  performance. On her very first business trip, Ethan and Simon intend to  show Dana just how much the firm of Cowell & Dirk appreciates her.
FREE from Barnes & Noble 
♥♥♥♥♥♥♥♥♥♥♥♥♥♥♥♥♥♥♥♥♥♥♥♥♥♥♥♥♥♥♥♥♥♥♥♥♥♥
NEW 
 Unleashing the Receptionist, bk 3
You can tie a girl up, but you can't keep her down…
…the Receptionist, Book 3
In the year since Dana joined Ethan and Simon's firm, the three of them  have found the perfect balance of power and pleasure in their three-way, work/play relationship. Not only that, but it's been the firm's most  successful year financially.
Except something is missing. Her men won't tell her anything about their past. How they met, or how they  formed such an unconventional business and personal partnership. Until  they start sharing their secrets, Dana fears she'll always be the odd  girl out.
Everything changes when a vengeful former partner  resurfaces. Suddenly, both the business and their idyllic relationship  are under siege. With a tax auditor watching their every move, the three must be on their best behavior.
Never one to back down from a  challenge, Dana seizes the chance to prove herself—and finally win her  sexy bosses' full trust and confidence. Now the race is on to root the  evil nemesis out of their lives once and for all—before her dream  relationship cracks under the pressure.
Product Warnings Contains hot three-way M/F/M sex, highly inappropriate office behavior, a  shocking secret, a kinky accountant and some really bad girl-on-girl  porno reenactments.
♥♥♥♥♥♥♥♥♥♥♥♥♥♥♥♥♥♥♥♥♥♥♥♥♥♥♥♥♥♥♥♥♥♥♥♥♥♥
Meet Juniper
 Juniper Bell is a  multi-published author and avid fan of romance novels, the steamier the  better. She lives with her sweetie in a cabin in Alaska with no running  water and a spectacular view of glaciers. She wound up in the frozen  north after leaving her career as a stressed-out Los Angeles TV writer.  Luckily, her love for writing survived the move. When she's not writing, she's spending time with her family, traveling, shoveling snow, and  dreaming about the day she moves to Hawaii.
You can find me at my blogs:
Play With Me:
♥♥ Book Tour ♥♥