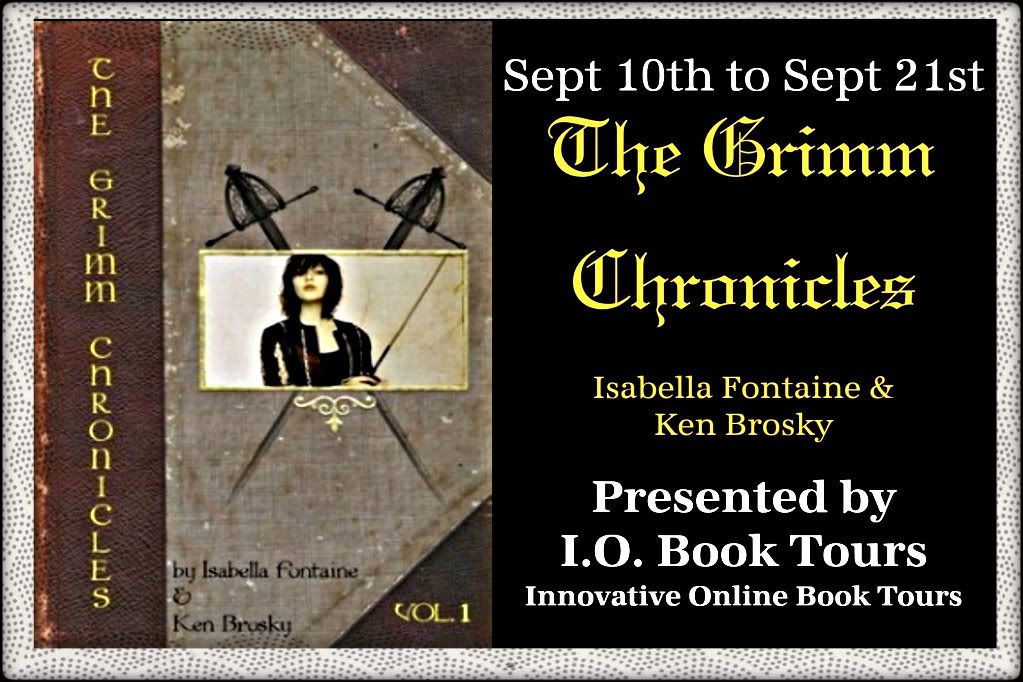 The Grimm Chronicles grabbed my attention. I loved the synopsis. I am always intrigued by fairy tale stories… I think it was all the Hans Christian Anderson I read as a child… I hated (actually, still do hate) the original Little Mermaid story <g> So, anyway, fairy tales, happy ever afters, or not… interest me… But I have been burning the candle at both ends with this new website and asked one of my Court of Reviews, La Revenant, to read this book in time for the post. I still plan on reading it. Especially after she told me about the snarky, funtastic dialogue and the magic pen. The pen is mightier than the sword. Ha!
Sooo, Welcome Le Revenant and The Grimm Chronicles. We have the first chapter to wet your appetite for this young adult fantasy and a giveaway too.
(((hugs))) The Queen of Tarts
La Revenant's Review of
The Grimm Chronicles, Vol. 1
  By
Isabella Fontaine
and Ken Brosky
Fairy tales, we have all grown up knowing the Disney versions with the "happily ever after" endings, but, if you go back to the original stories written by the Brothers Grimm you would see that these tales were not so happy and were much darker and more intense then what you have recently read or watched on the television.
In The Grimm Chronicles, Vol. 1, the authors, Isabella Fontaine and Ken Brody, combine three short stories along with a couple of lost diary entries and the original Grimm fairy tales, from which the characters, The Corrupted, evolved from. I read the E-version, provided for review by I.O. Book Tours, of The Grimm Chronicles and I must say, it was an enjoyable read!
The heroine of these chronicles is Alice Goodenough, I'm not too fond of the last name but that is neither here nor there. Alice is a high school student who is volunteering at her local library during her summer break because she loves books! While on summer break, Alice discovers a magical pen and is introduced to an invisible (by choice) rabbit, named Br'er (Briar to his friends) rabbit. A plucky heroine always needs a sidekick, which is exactly what Briar rabbit is, he assists Alice through the many adventures she finds herself in. Alice and Briar hunt down The Corrupted, which are the characters from the Grimm's tales who are living among the humans. The Corrupted know that Alice, the hero, is hunting them so they in turn hunt her. It is all fairly exciting, with much butt kicking by Alice.
A major plus about these stories is that Alice is a smart, strong, and resilient protagonist who does not just extract herself from sticky situations through sheer brute force, but by also using her brain.
I think it was a rollicking good read, which drew me in and kept my interest until the end of the book. I am looking forward to following Alice through the rest of her story in the chronicles to come.
Read forever after,
La Revenant
Release date: Aug. 3, 2012 |
Genre: Young Adult, Fantasy
ISBN-13: 9781478288633 | Format: Trade Paperback
200 years ago, the Brothers Grimm unleashed their stories upon the world.
Literally.
Now the characters of the Grimms' stories walk among us. With every day that passes, they grow more evil. They are the Corrupted, and only a hero can stop them. For 18-year-old Alice Goodenough, that means taking precious time off from her summer vacation. In addition to volunteering at the local library, Alice must stop the Corrupted who are now actively hunting her down. With the help of her magic pen and her trusty rabbit friend, the world has suddenly gotten a lot more complex.
The Corrupted are everywhere, and only Alice can see them for what they truly are.
This book contains the first 3 episodes of the critically acclaimed series, which has already been downloaded on the Kindle more than 5,000 times:
Episode 1: Prince Charming Must Die!
Episode 2: Happily Never After Episode
3: Revenge of the Castle Cats
Additional features for the print edition: –
 An introduction –       Two special "Lost Diaries" –
A behind-the-scenes interview –
A collection of original Grimms' Fairy Tales
The Grimm Chronicles is intended for Young Adults aged 13 and up. The goal is to provide Young Adult readers with a strong, charismatic young woman in the role of the hero and provide readers with a positive protagonist who uses her brain to overcome obstacles life throws in her way.
Excerpt from The Grimm Chronicles Volume 1
The Grimm Chronicles
Copyright © Isabella Fontaine, Ken Brosky
Chapter one:
Prince Charming Must Die!
1
I should have known Edward was too good to be true.
No. Wait. Let me go back to the beginning. Before I had this curse. Before I went around slaying creatures that shouldn't exist. Before I made friends with a rabbit.
Let's start at the end of my junior year of high school. That was when all of this really started. I was looking forward to summer. I didn't have a job but I had something even better: a volunteer spot at the local library. It was the best job in the world—sure, I mostly just put away all of the books and no, I wasn't getting paid. But I loved being inside that old building. From the outside, it looked like a big old firehouse complete with rusty red bricks a rusted fire escape on one side. All it needed was one of those big garage doors for the fire truck.
Inside, though … that was where it all happened. When you walked in through the front door, you passed the little check-out desk where one of the old librarians would give a smile. Beyond that: rows and rows of old metal bookcases. Fiction. History. Biography. Science. In the center of the massive space was a circular table with five computers, the only hint of technology in the entire place.
Even the light bulbs were old! I'm not kidding—the lights hanging from the tiled ceiling had old steel shades, something out of the nineteenth century. It was a good thing the library closed before it got dark because without sunlight streaming in through the windows, the place might take on a much creepier tone.
But in the daylight, it just looked neat. On the second floor were more bookcases, mostly children's books and young adult books, but there was a reading room up there, too. I remember going there as a child and sitting on the red carpet of the reading room and following along as one of the librarians read one of the children's novels. My dad sat outside, reading Star Trek books.
I remember the first time I "graduated" to the first floor. I chose a science book about extinct animals from long ago. I'd been enraptured by a drawing on the first page where a long-extinct saber-toothed tiger was battling a ferocious lion. I just knew the tiger had won because tigers are the greatest.
I remember that time because I'd almost gone into the basement. The basement door was near the bathrooms and I'd opened the door by mistake. A cool breeze had touched my skin. It was so dark that I squinted, trying to make something out. Anything. But it was too dark, and it gave little 13-year-old me the chills.
9/19  Sharing Links and Wisdom  Review, First Chapter, and Giveaway
9/20  The Book Tart Review, First Chapter, and Giveaway
9/20  Close Encounters with the Night Kind   Review, First Chapter, and Giveaway
 9/20  Waiting on Sunday to Drown  Review and Giveaway
9/20  Cheerful (Book) Reviews Review
9/21  Geo Librarian Review and Giveaway
9/21   Mademoiselle Le Sphinx   Review  
______________________________________________
Bios:
Ken Brosky received his MFA in writing from the University of Nebraska-Omaha and lives in Madison, WI. In addition to writing The Grimm Chronicles, he also spends time writing literary fiction and has been published in magazines including Gargoyle and Barcelona Review.
Isabella Fontaine calls Wisconsin her home. This is her first Young Adult series. She once read through the entire dictionary because she wanted to know more about words!
Where to find Ken and Isabella: Blog      Website
more places to play 🙂
Leave a comment telling us your favorite fairytale
Giveaway
20 E-Book International