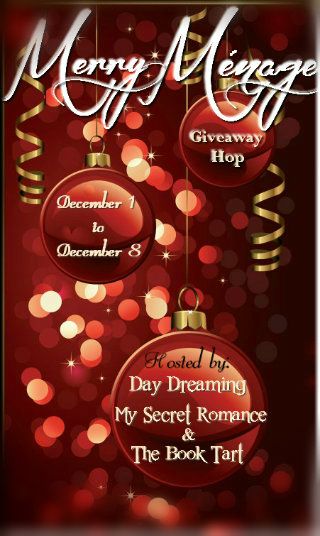 Welcome to day 3 of our Merry Ménage Hop. I am so happy to have Tracey Sinclair back to visit! I met her a few months ago when I read the first book in her new urban fantasy series, Dark Dates, click HERE for my review.  We bonded over our love of all things geeky and good 😀 like Terry Pratchett and The Avengers. I was spazzing on twitter about my new love for the show Doctor Who and that sparked Tracey's creative gears and she wrote me a brilliant piece of Doctor Who Holiday goodness.
Her new novella A Vampire Walks into a Bar is FREE Today 12/3 so check it out 🙂
Also, scroll down to the bottom and use the Rafflecopter for a chance to win a $25 gift
card and both of Tracey's Cassandra Bick stories! If you've already entered The Book Tart giveaway, you can enter again by telling us if you have watched Doctor Who 😉 If you've entered the $30 giveaway please don't enter that one again. 😀
(((hugs))) Kat
The Queen of Tart
♥ Author Guest Post ♥
An English Christmas –
Doctor Who and the Queen
by Tracey Sinclair
In almost any household in England, there are two Christmas traditions which these days are sacrosanct. It doesn't matter whether you open your presents in the morning or the evening; whether you prefer turkey or goose – it doesn't even matter if you aren't actually a Christian and don't celebrate Christmas at all. On December 25th there are two fixed points in everyone's day: the Queen's speech and the Doctor Who Christmas special.
The Queen's speech, of course, needs little explanation. A decades old institution, hatched in the days when people had to huddle around a radio to listen, it's one that years of royal scandal and political apathy haven't dented. Even in the most fervently republican household, there is likely to be at least one elderly relative who insists that, come 3pm, the telly gets switched on and everyone has to listen to what Her Majesty has to say (giving rise to that other festive tradition, the annual 'why do we have to watch the bloody Queen's speech every year' argument).
The Doctor Who special is a more recent event, and the way it has been wholeheartedly embraced by the nation is all the more impressive given its relative newness. But of course the key to its popularity lies, in great measure, in the fact that it isn't actually new at all. To explain why the TV show Doctor Who has a secure place in most English hearts to people not raised with the BBC as their national broadcaster can be difficult. It started in 1963 and for years was a staple of Saturday evening viewing: in the days when there were only 3 television channels (and your mum and dad wouldn't let you watch ITV because it was 'common'), every weekend the nation could be found glued to the Doctor's latest adventures – whether they viewed them sitting on the sofa or behind it was dependant on age, but it didn't matter if 'your' Doctor was Tom Baker, Peter Davidson, Jon Pertwee, or any of the other inhabitants of the TARDIS; to grow up in England was to be scared of the Daleks and unable to pass an old-fashioned police box without wanting to see if it was bigger on the inside.
This cross-generational familiarity means that it's a TV show custom made for Christmas, though it's only in his relatively recent revival that everyone's favourite Timelord has been a centrepiece of the schedules. For years the show languished in development hell, unloved and unfashionable (although there was a fairly constant lobby for its return by fans) before the BBC finally realised that the thing to fill the Doctor-Who-shaped hole in its family programming was… yes, actually Doctor Who. The revived series was a massive hit, revitalising the BBC's Saturday evening programming (and making them a small fortune in licensing and merchandising) but, more importantly, it helped revive the ailing tradition of 'whole family' viewing – along with reality/talent shows like Strictly Dancing (transformed in the US to Dancing with the Stars) and the X Factor, it meant that even in these days of multi-screening and Tivo and watch-on-demand, there was still one night when everyone could sit down and watch all the same shows.*
With first made-for-the-season special The Christmas Invasion, Russell T Davies not only gave us the Doctor who, arguably, best personifies the reinvented TV show (with the introduction of the amazing David Tennant), but he took this family-friendly remit and planted it right in the middle of our biggest family holiday – to wonderful effect.  Now, each Christmas, all ages can merrily sit around the TV set, the kids high on sugar, the adults drunk on Baileys, and for a glorious hour they can all be entranced by the familiar-to-all-generations world of the Doctor. The rest of the day might consist of eating, fighting and trying to figure out how to programme the new Wii game, but for one old-fashioned hour you can get everyone together. The specials are crafted with this mixed audience in mind: slightly more sentimental than usual, less complex stories and light on continuity (recognising the 'slightly drunk and haven't watched an episode in years' factor of the older folks, and the 'watching it with one eye on Twitter and my iPhone' attention span of the younger), but somehow, it still works. Because so knitted into the fabric of British life is Doctor Who that even your granny will have a vague idea of what's going on and have an opinion about her favourite Doctor – my mum is in her 70s and such a fervent Tennant fan that she refuses to take down the 2009 Doctor Who calendar in the kitchen because to replace it would to acknowledge the usurpation by Matt Smith. Doctor Who remains almost unique in being a show the whole family can sit down in front of – and then, of course, have a big row about afterwards. Because that's the spirit of Christmas.
Tracey
♥♥♥♥♥♥♥♥♥♥♥♥♥♥♥♥♥♥♥♥♥♥♥♥♥♥♥♥♥
Meet Tracey Sinclair
Tracey Sinclair works as freelance copywriter, editor and legal directories consultant.  A diverse and slightly wandering career has included writing factsheets for small businesses, creating web content for law firms, subtitling film and TV and editing one of the UK's largest legal directories. A keen blogger, she regularly writes for online theatre site Exeunt and science fiction site Unleash the Fanboy and her blog Body of a Geek Goddess was shortlisted in the Cosmopolitan Blogger Awards 2011. Her work has been published in a number of magazines and anthologies and her short play Bystanders was premiered in 2011 as part of the CP Players New Writing Season at Baron's Court Theatre, London. She has published two small press books (Doll and No Love is This, both Kennedy & Boyd) and is now dipping a toe in the digital self-publishing world with her new urban fantasy novel, Dark Dates.
 Stalk Follow Tracey
website: http://bodyofageekgoddess.blogspot.com/
♥♥♥♥♥♥♥♥♥♥♥♥♥♥♥♥♥♥♥♥♥♥♥♥♥♥♥♥♥♥♥
Release date: Nov. 7, 2012
ISBN: B00A3SVOOU | ISBN-13: B00A3SVOOU | Format: eBook
The hunter just wanted to be left alone – one last drink before leaving London forever. Then the vampire Laclos walked into the bar, and suddenly his night wasn't looking so quiet after all…
There's a new hunter in the city and he'd targeting Dark Dates – the vampire/human dating agency run by Cassandra Bick, who also happens to be the woman that both Cain and Laclos love. These two fierce rivals must work together to stop him before he drags London's vampires into the spotlight and destroys Cassandra's life – that's if they don't kill each other first.
Explore a darker side of London with this exciting short story from author, Tracey Sinclair. The first novel in "
The Cassandra Bick Chronicles", "Dark Dates"
is out now
Tracey's Books
 ___________________________________________
The first giveaway Rafflecopter for $30 is sponsored by Taryn of My Secret Romance,
Dawn of Daydrmzzz and me, The Book Tart
The 2nd Rafflecopter is just mine so you can enter again! 😛

I'm giving away a
$25 Amazon.com gift card
+
Tracey Sinclair's UF Cassandra Bick Chronicles
+
Amy Lane's new M/M novella Turkey in the Snow
+
Coreene Callahan's new PNR (out 12/4) Knight Awakened
(((hugs))) Kat
The Queen of Tarts
Welcome to day 3 of the Merry Ménage Hop!
If you have entered the first Rafftlecopter for the $30 gift card…. Yay! and please don't re-enter that one. But feel free to enter the bottom one again by leaving us a comment and telling Tracey and me if you've watched Doctor Who before.
♥♥♥♥♥♥♥♥♥♥♥♥♥♥♥♥♥♥♥♥