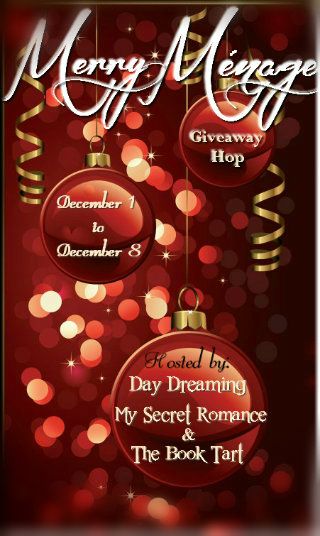 I am ecstatic! That's fancy
 for very excited.
Yes, I read Fancy Nancy lol Shhhush 😛
This is my very first co-hosted blog hop! My huge-est thanks and hugs and kisses to Dawn and Taryn for letting a newbie join in the fun.
We are the Merry Ménage….
The three of us could have been the Three Musketeers… But where's the fun in that? 😉 And the more the merrier in our Ménage of book loving fun times.
Need a new bedtime story to light your fire? Looking for something with a little heat to warm you during the cold holiday season? Feel like decking the halls naughty style? Well then, come join us as we  stand under the mistletoe for this wickedly sexy giveaway hop! The more  the merrier! Have no worries, we'll help you  trim your trees, deck yours halls, and spark that  fire! 😉
Please click on the links  below to hop along to all the great book blogs that have joined our Merry Ménage.
Taryn, of My Secret Romance,
 Dawn, of Daydrmzz Book Reviews
and Me, of The Book Tart are giving away a
$30 gift card
to Amazon or Barnes & Noble
use the first rafflecopter to tell us your fav holiday drink
♥♥♥♥♥♥♥♥♥♥♥♥♥♥♥♥♥♥♥♥♥♥♥♥♥♥♥♥
All this coming week I will be sharing fav holiday wish lists and other stuff,
crafts, books and songs mostly 😀
I am delighted that a few of my favorite authors had time to
chat holidays and give us guest blogs too.
I'm feeling very festive and un-Grinchy 😛
So I'm giving away a  few more prizes.
*Kermit Flail*
Merry Ménage Holiday Guest posts by
*drum-roll please*
Amy Lane

~ Dec. 6th Click

HERE to enter again
I adore all these authors and LOVE their writing
soooo I'm giving away 4 more prizes!
$25 Amazon.com gift card
+
Tracey Sinclair's UF Cassandra Bick Chronicles
+
 

Amy Lane's new M/M novella Turkey in the Snow
+
Coreene Callahan's new PNR (out 12/4) Knight Awakened 
Use the bottom Rafflecopter to tell us a
fav movie or show you watch during holidays 🙂
The 4 winners will be chosen Dec. 8th and notified via email.
Winners have 72 hrs. to respond before another winner is chosen.
(((hugs))) Kat
The Queen of Tarts
♥♥♥♥♥♥♥♥♥♥♥♥♥♥♥♥♥♥♥♥