My girl La Rev read Mason James Cole's Buster Voodoo and absolutely LOVED it! (Click HERE for her review.) She asked me if she could ask the author for an interview. I said "of course!" and he said yes too. 😛 I'm so glad- cause I'm laughing maniacally as I post their chat.
Enjoy! And make sure you enter the contest!
(((hugs))) Kat
The Queen of Tarts
PS. Oh! Oh! La Revenant is gifting Buster Voodoo to one lucky commenter! Details at the bottom of the post. 😉
♥
The Book Tart Quickie with Mason
La Revenant: Welcome to Tartlandia! I'm ecstatic to have you (virtually) in my clutches. So without further ado, lets get down to business. To start off, I'm going to throw the "quickie 10" at you, after which I would be delighted if you would tell me (and those readers who visit this realm) a bit about Buster Voodoo. Thanks for playing. 😀
1: What historical Figure would you love to see in 21st century life?
Mason: It's gotta be Jesus. We'd find out what he actually looked like, and then he could give us the 411 on what actually went down back then, and how people need to stop doing and saying awful shit in his name.
Or maybe Vlad the Impaler, the historical Dracula.
Or maybe both of them, and then they could throw down like Christopher Lee and Peter Cushing.
I wonder—if Jesus were fighting a vampire, would he hold up a cross or just stand there with his arms out?
La Revenant: I'd totally buy a ringside ticket to see Jesus and Vlad go at it!
2: As a kid were you ever frightened of a monster under the bed or in the cupboard?
Mason: I was raised in an intensely superstitious environment, one in which ghosts, demons, and even werewolves were believed to be very real. The flipside, of course: angels and God, so while I was raised to believe in a demon haunted world, I was taught that God and his angels would protect me. In essence, I was raised to believe that the boogeyman was real, but that I really didn't have to worry about him.
La Revenant: A very balanced perspective. 🙂
3. Have you ever won a giant sized cuddly toy from a fair?
Mason: No, but when I was a kid, large Icee wax-paper cups had this little prize flap down at the bottom. You peeled it to the side to reveal a message that typically said something like YOU ARE NOT A WINNER (thanks a lot, Icee!), but once, at some out-of-the-way corner store in Buras, Louisiana (the place was dim in broad daylight—in my memory, it's like there were no lights and the windows were dirty), I won the huge Icee bear. Emboldened by this fortuitous turn of events, I assumed that I would continue to win all the schwag Icee had to offer.
Wrong. I went back to being NOT A WINNER.
I loved that Icee bear. For a while, anyway, and then he got shuffled into a closet or something, and then a cat pissed on him and he got thrown away. Toy Story 3 ain't got nuthin' on that.
La Revenant: LOL
4. Is the glass half full or half empty?
Mason:  Half full.
Of sadness.
La Revenant: Yup, sounds about right.
5. Have you ever walked into a wall?
Mason: Only when trying to walk through one.
La Revenant: Please let me know when you figure that trick out. I'm not having any success on my end.
6: If you could have any feature from an animal what would you want?
Mason: A cat's penis is barbed. A spider's penis is on one of its legs—I think. Not sure which of the eight legs it's on, or if there's a penis on EACH leg, in which case, you go, spider!
I think a barbed penis would be an awful thing to have, and if I had a weenie—barbed or otherwise–flopping around on each thigh (or from each knee or each calve), that would pretty weird, and I'd have to stop wearing cargo shorts, and my wife would be happy. (Not because of the two knee-penises but because she HATES my cargo shorts.)
So, uh—yeah! Elephants!
I'd love to have the memory of an elephant. By which I mean, a good memory—not memories of walking through the jungle and getting shot at by poachers and showering with my weird nose.
La Revenant: My mind is still stuck on "barbed penis". 😀
7. Are you related or distantly related to anyone famous?
Mason: Jesus, Dracula, and the Elephant Man.
La Revenant: Family reunions must be a blast.
8: Have you ever been in a fight?
Mason: In elementary school and junior high, yeah—got stitches in my brow in summer school between seventh and eighth grade, but that's about it, I guess, unless you count fighting with family members.
See—in addition to believing in ghosts and the ability for the incantation spoken in CHILDREN SHOULDN'T PLAY WITH DEAD THINGS to invite actual demons into our house (I had to fast forward through that scene), my family believed deeply in the power of screaming and punching to settle disagreements.
La Revenant: Sounds diplomatic :p
9: What's the most interesting thing you can see out of your nearest window?
Mason: Jesus, Dracula, and the Elephant Man.
And my neighbor, standing over his kitchen sink. He's old and large and always shirtless. Talks funny, too, but I can't hear him right now.
La Revenant: Good thing you don't have supersonic hearing.
10: What was the first film you remember seeing at the cinema?
Mason: The candidates were: SUPERMAN, STAR WARS, AIRPLANE!, HUMANOIDS FROM THE DEEP, SPAWN OF THE SLITHIS, and THE CRATER LAKE MONSTER.
A visit to IMDB tells me that it's THE CRATER LAKE MONSTER, which was released in March of 1977, a month after my second birthday and two months before the release of STAR WARS. Now, movies had very different release schedules back then. There wasn't one release date, like there is now–prints would travel the country over the course of several months, so who knows when either STAR WARS or THE CRATER LAKE MONSTER actually made their way down to New Orleans? I'm going with CRATER as my first big-screen movie, though it might be STAR WARS.
Both were drive-in experiences, and I was two, so I remember images and moments: the back of my dad's pick-up truck; the green, spiral mosquito wick with its red-hot tip; the stop-motion Crater Lake monster casing a cow pasture, Princess Leia and Governor Tarkin on the Death Star.
SUPERMAN and AIRPLANE! were in '78 and '80. My mom took me to see them at an actual two-screen cinema (it's an off-track betting joint now), and I remember two things rather vividly: I started bawling when little naked Kal-El crawled up out of the crater, and the boobs bouncing toward the camera in AIRPLANE! really upset me—in both cases, my mom had to leave, because I was so freaked out by the nudity.
I think I was a member of the MPAA in another life…
Am I supposed to talk about BUSTER VOODOO now?
La Revenant: Yes please!
Click here for my review
Release date: August 13th 2014 |
Publisher: Permuted Press |
Genre: Horror|
Format: eBook and print |
"…one of the best horror novels I've read in the last five years, ranking right up there with Joe Hill's N0S4A2. Buy it and read it. You won't be disappointed."
— Bryan Smith, author of HOUSE OF BLOOD and THE KILLING KIND
Permuted Press proudly presents a chilling new novel of fear and hope that paints a portrait of New Orleans' deepest wounds using the language and symbols of her past: magic, voodoo, and faith.
BUSTER VOODOO
Fear is no stranger to Dixon Green.
Growing up the son of a Voodoo priestess in a poor black neighborhood in 1940's New Orleans, Dixon has witnessed pain, violence, desperation, and death. When children start to disappear in the Tremé, people suspect that feral dogs are to blame, or perhaps a roogaroo—a werewolf. But soon, when Dixon's sister goes missing, word spreads that a terrifying legend is to blame: Buster Voodoo is back.
Nearly sixty years later, Dixon works as a janitor at a second-rate theme park where he's biding his time with a bottle in his hand. Downtrodden and lonesome, his life is devoid of the magic and mystery of his childhood. That all changes when children begin to disappear into the darkness of Marie Laveau's Zombie Nightmare, a Voodoo-themed dark-ride.
Only Dixon seems to realize what's happening and only Dixon knows how to fight it. As he begins to question his sanity—did Buster Voodoo really kidnap all those children or is he just losing his grip on reality?—a deadly force looms on the horizon that is far more powerful than any boogeyman: Hurricane Katrina.
In a gripping interlaced narrative that builds to a devastating climax, Dixon uncovers the terrible realities behind his sister's disappearance—and his mother's dark secrets—as he struggles to survive the dark days that follow in Katrina's wake.
Mason James Cole, author of the cult hit Pray To Stay Dead, returns with a chilling novel that contrasts the horrors of the imagination with the horrors of the real world.
Suspenseful and heartrending, Buster Voodoo is a fever-dream that reads like Stephen King by way of Flannery O'Connor—a glimpse of a sad world on the brink of disaster and the story of one man who is trying to unravel the haunting mystery of his childhood.
"In the New Orleans of BUSTER VOODOO, magic and death court each other like lovers, but this is no romantic tale of French Quarter courtyards and gas-lit alleys; its brutality and its beauty live in the meaner streets. This is a story of deep blood ties, murder, and a storm that drowned a city.
"Avoiding the cliches and cutting to the absolute, often ugly truth of the place, Mason James Cole is writing about New Orleans and its environs as well as any living author."
— Poppy Z. Brite, author of LOST SOULS and LIQUOR
♥ Buy this book from: Amazon |Barnes & Noble | Smashwords |
♥
BUSTER VOODOO is my second* novel, released moments ago by Permuted Press, is a ghost story, a mystery, a supernatural thriller, a character study.
I got the seed of the idea ten years ago, when I was working for Six Flags New Orleans. It was gonna be a short story then, with a pretty straight-forward premise: there's a monster in the Dark Ride, eating unwanted children—erasing them from existence—and the only person who knows what's happening is a sixty-five year old janitor with a drinking problem.
I put the idea, then called Unwanted, on the shelf for years, and then Katrina happened. In the aftermath, my family and I moved to Dallas, and I began tinkering with the idea again, realizing that I had to write Katrina into the story. The storm would interrupt this man's plans to confront the monster, just as it had interrupted everyone's plans—no matter how large or small.
I decided to expand it into a novel, exploring the main character's childhood in the 1940s, when children were being kidnapped from his neighborhood and murdered by what many believed to be a sinister urban legend—Buster Voodoo. Could the thing stealing children in the Dark Ride be the same thing responsible for the killings in 1948?
So—a monster killing kids. I grew up on Freddy Krueger and Pennywise the Dancing Clown, but I've also grown up—this book needed to be about more than simply Stopping The Monster. A writer friend of mine (Alex Jennings—you should check out his new short story collection, HERE I AM) probably said it best—BUSTER VOODOO is a horror novel that's about more than itself. It's a lean book, but I'm tackling big subjects—race, religion, family… my own chi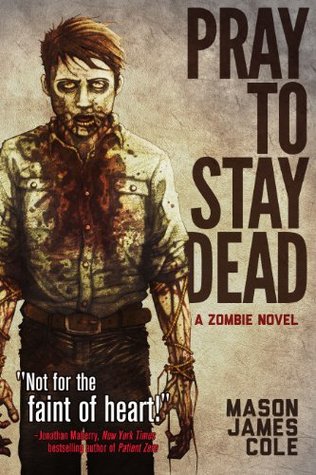 ldhood.
So far, BUSTER VOODOO has been very well-received. When I read Jack Ketchum's THE GIRL NEXT DOOR twenty years ago, I never imagined that I'd one day have the man tell me that he enjoyed something I'd written, and that he looked forward to many more. It's surreal and wonderful, and I hope your readers enjoy it.
*My first novel is PRAY TO STAY DEAD, also a Permuted title, an over-the-top, violent-as-heck nod to seventies Grindhouse cinema. It's like DAWN OF THE DEAD meets I SPIT ON YOUR GRAVE mashed up against THE TEXAS CHAIN SAW MASSACRE. It's a very different read from BUSTER VOODOO.
 La Revenant: Thank you so much for playing with us at The Book Tart!
More Mason
Mason James Cole's first novel, PRAY TO STAY DEAD, was called "a revelation" by Badass Digest, and is available through Permuted Press. He's currently hard at work on several new projects, among them a series of Sci-Fi adventures aimed at Young Adult readers, and an epic post-apocalyptic neo-noir. He wanders the New Orleans night, in search of stories. Sometimes, he finds them—other times, they find him.He doesn't believe in ghosts, but he sees them all the time.
Stalk Follow him
Website: http://masonjamescole.tumblr.com/
♥ ♥ ♥ ♥ ♥ ♥ ♥ ♥ ♥ ♥ ♥ ♥ ♥ ♥ ♥ ♥ ♥ ♥ ♥ ♥ ♥ ♥ ♥

CONTEST
What:  La Rev is giving one lucky duck an ebook copy of Buster Voodoo!
When: Now- August 31st
Who: open to international entries
How: Use the rafflecopter and
Leave us a comment
Answering 1 of the Quickie 10 questions Mason answered 😀

♥