*snicker* Ok, ok, I'm kinda on a sugar high… but I think even without that you'll get a kick outa my chat with Dennis Spielman, author of The Crashing of Heaven and Hell. He's a hoot and made me laugh out loud a couple times. And maybe more importantly, it made me move his book up my TBR mountain. I want to read about his robots and vampires and vengeful gods and more mayhem. Join the fun and make sure you enter his contest too!
(((hugs))) Kat
The Queen of Tarts
Me: Dennis! Come in come in! Get comfy on my red virtual couch and lets chat. It's almost Halloween. Are you dressing up? Oh! Can I get you a coffee or soda or… *gulp* water?
Dennis: I am dressing up. A friend is doing a Clue themed Halloween event, so I will be dressing up some murder related. Still working that out. I'll have a Vodka Seven if you happen to have one. 
Me: In the library with the wrench?! Fun!
*hands Dennis his beverage and flops on couch* I love costumes! And all things fantasy and geeky. Flash question! Who says "Oh God, oh God, we're all going to die?"
Dennis: Wash! Actually, the first thing in my mind was "the fox." That song is corrupting my memories.
Me: Gahhh! Make it stop! Now that song is in my head to… What does the fox say? ieieieieiei nneiienie *head/desk*
Dear reader if you've somehow missed the song. Do NOT google it. 😛
So you are on a journey to destroy boredom. I support this goal. *nods emphatically* I had fun playing around on your website! You do lots of very fun and whimsical things… improv, how to host a murder games (Love those!) and photography to name a few. And, You write!
Dennis: Thank you! I do my best to keep my site fun, especially with my self-shot picture series. Did you have a favorite one those?
Me: oooo The interviewee interviewing me! hmmmm…. I think from your self-shots.... I got a kick outa them all. But my fav is The Writing Process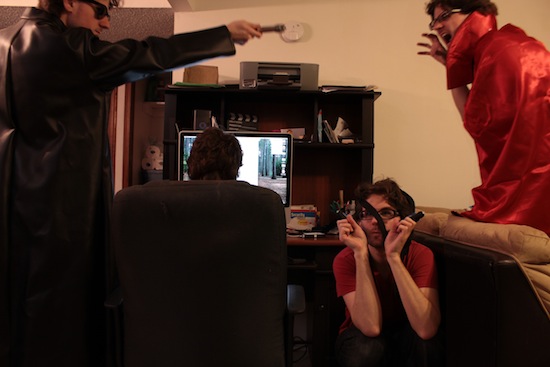 Tell me about your first novel The Crashing Of Heaven And Hell please. Actors, robots and zombies oh my. I LOVE your synopsis.
Dennis: Yes, The Crashing of a Heaven and Hell is a melting pot of cultures. Basically, one day the Heaven and Hell comes crashing down on a planet where aliens, mystical creatures, monsters, and people live together. It's a fun adventure where the Gods are trying to get order back to the world through manipulation.
Me: What are you working on now and what are you doing for Halloween?
Dennis: I am working on so many projects. I am working on TV series about a time traveling fugitive actress called, The Time Traveling Troupe. I have another novel, Too Close the Ground, about a teenager who is caught in the middle of schemes involving a liquid demon from Hell. I'm also working on the next edition of my local date idea book. That's just the current major projects I'm focusing on right now.
As for my Halloween, it involves murder. MURDER. A mystery. A mystery to me. And giving candy to kids.
Me: Meep! you're busy! but… before I let you go….  you've been a darling but the fun's not done. *drumroll* it's time for…
The Book Tart Quickie 10
1. How many pairs of shoes do you own?
Two. Such as guy answer.

*snork*
2. Have you ever been canoeing/kayaking?
Yes. I've done it once along the Oklahoma River. Fun.
3. What's your favorite Milkshake flavor?
I'm not into milkshakes.
*gasps* Sacré Bleu 😛
4. Do you have any scars?
If I do, I don't know about it.
5. What would be your dream sandwich?
A meat with bacon, cheese, lettuce, tomato.
Nomnomnom
6. Have you ever bought anything from ebay
Nope.
7. Star Wars or Star Trek?
Firefly. But if I have to answer, Star Wars.
Your Firefly answer has redeemed you from the tragedy that is not liking milkshakes! 😀
8. What's your favorite series to watch on TV?
I'm big into many shows as I am working on being a show runner. Doctor Who gets me the most excited.
*Kermit flail* I'm on season 4 of the new Doctor. I adore Donna!
9. Can you down a pint (of anything) in one?
M&Ms was the first thing that popped into my mind. Not sure if I honestly could though.
*snicker chokes* Mom, can I keep him?
10. What color socks are you wearing?
Black.
Me:  Ha! Thank you for playing with me at The Book Tart! I am looking forward to seeing what you get up to next.
Dennis: Thank you for having me! I hope to be able to share my next project with you soon.
Me: Yes please!
(((hugs))) Kat
PS. Make sure you enter Dennis' contest *points down*


♥ ♥ ♥ ♥ ♥ ♥ ♥ ♥ ♥ ♥ ♥ ♥ ♥ ♥ ♥ ♥ ♥ ♥ ♥ ♥ ♥ ♥ ♥
The Crashing of Heaven and Hell
Release date: July 29th 2013 |
Genre: Sci-fi/Fantasy

Dennis Spielman (Author)
It was so beautiful, yet so terrible, to see the crashed islands of Heaven and Hell naked on the planet's surface. To blurt out how and why would be a great insult to everyone involved. To be truly enlightened, or entertained if you're an Atheist, you must know the series of events that happened on the day Heaven and Hell came crashing down. Follow the normal lives of several people on the Green Planet as they deal with vengeful actors, kidnapping robots, making a documentary, a disappearing moon, scavengers in space, a zombie rights protest, and the Gods' schemes to cause the planet's heaven and hell to crash on the surface. Take an amazing journey on Hell's wicked roller coaster, fly with angels in heaven, shop in a futuristic mall in the shape of a crystalline horse, run from a giant three headed dog on a hover board, meet some fascinating people, and get involved in the Gods' drama in Dennis Spielman's book, The Crashing of Heaven and Hell.
♥ Buy this book in print from: Amazon |Barnes & Noble

♥ Buy this eBook from: Amazon |
♥♥♥♥♥♥♥♥♥♥♥♥♥♥♥♥♥♥♥♥♥♥♥♥♥♥♥♥
More Dennis
Dennis Spielman is most known for producing the local travel show site, Uncovering Oklahoma, which he started back in 2009. He also produced an improvised comedy series, Dennis Spielman's [Wild] Improv Challenge. He's author of Uncovering Oklahoma's Date Idea Book series and The Movie Murder Mystery Party, along with several short stories and movies. He spends most of his time working, exploring new places, and creating new projects, both big and small.
♥ ♥ ♥ ♥ ♥ ♥ ♥ ♥ ♥ ♥ ♥ ♥ ♥ ♥ ♥ ♥ ♥ ♥ ♥ ♥ ♥ ♥ ♥


Blog Tour CONTEST
What: eBook of The Crashing of Heaven and Hell

When: Now- Nov 4th
Who: Open to International Entries
How: Use the Rafflecopter
:
Good Luck!