I love holiday stories and gifts… and C.A. Szarek has a present for us! Her new story is a Christmas novella and it's FREE!
Click HERE to get Cole In Her Stocking from Totally Bound then come back and read her silly madlibs (we'll wait! 😉 ) Oh! Enter Chrissy's awesomesauce contest too.
(((hugs))) Kat
The Queen of Tarts
♥
Me: Chrissy! *Kermit flail* yay! Yay! YAY! (((hugs))) I'm so glad you're here! Help me calm down and take a breather. *collapses on couch* gahhhh! I'm a mess the holiday season. Boy, Blog, and a WAY unfinished shopping list makes me a crazy Kat. Join me in some hot chocolate… with marshmallows?
Happy late book birthday hon. I am so thankful you have a holiday novella! Cole In Her Stocking (Yum!) lets us holiday with Cole and Andi from your romantic suspense Collision Force… And the icing on the cupcake is… it's a FREE novella! Can I just say thank you? *nods* Thank you for the present!
Release date: November 2013 |
Genre: Romance
C.A. Szarek (Author)
Publisher: Totally Bound
ISBN:
Format: FREE!!! eBook
A Crossing Forces Slice of Life Story!
It's Christmas in Antioch, Texas.
Detective Cole Lucas and his wife, fellow detective Andi are taking it easy for the holiday—time off from the police department.
Andi's plans for Christmas are shattered when her family cancels. They're not coming home to Texas. She's crushed, sure Christmas will be ruined. But Cole is fine with an intimate affair—just them for the holiday, forging new traditions.
Can Cole show Andi she can rely on him and prove he's all she needs for Christmas?
♥ Get this ebook FREE from:  Totally Bound
Me: What are you working on now? Are you taking a little break this month or juggling writing and the holiday rush?
Chrissy: Well, call me a glutton for punishment, but NO, I am not taking a break. I just finished Calculated Collision (Crossing Forces Book Three) and sent that puppy in to my editor, and dived right into book four, Collision Control! I would LOVE to finish it by the end of Dec. I have about 25k words right now, and 70 is the goal. We'll see.
Then I am going to write King's Riders book three (Which doesn't have a title yet) but I know WHO it will star and what their story is about.
Me: Oh My Goodness!!! and wow! <g> Go Go Chrissy! 😀
Chrissy: And guess what!? I'm DONE Christmas shopping! YAY!
Me: 😛
Chrissy: I'm also gearing up
for Pete's book, Chance Collision (Crossing Forces Book Two) because it releases Jan 31, BUTTTTTTTTTTTTT it will be pre-release on my publisher, Totally Bound, website starting Dec 20! *squeeeee*
Me: Yay! Pete's book!!! *Double Squee!* I wants.
*takes a gulp of hot chocolate* Ok Chrissy… before I rush off continue my plan of attack on my shopping list. Meep! Let's play a little game. 😀
Madlibs!
Make the words as naughty or nice as you like…..
NOUN

 

Cherry

PART OF THE BODY

Arm

ADJECTIVE

Fantastic

NOUN

Texan

 ADJECTIVE

Large

PART OF THE BODY

Foot

VERB

Run

NOUN

Tree

ADJECTIVE

Shiny

PLURAL NOUN

Presents

NOUN

Car

ADJECTIVE

Blue

ADJECTIVE

Black

PART OF THE BODY

Eyes

VERB

Wink

VERB

Waving

PLURAL NOUN

Snowballs
*claps with glee* ha! Here it is!
Madlibs "Secret Santa"
Buying Christmas presents for every family CHERRY is not only stressful but also costs an arm and an ARM (ha!). Which is why doing Secret Santa can seem like a FANTASTIC option. That way, everyone picks a TEXAN from a hat and buys that person a gift, Simple, right? But be warned! LARGE Santa can really FOOT the fire if, like most of us, you like to re–RUN presents from previous years. There's nothing wrong with "recycling" that useless TREE–maker your aunt go you or the SHINY edition plate set of the US PRESENTS that Grandpa thought was right up your CAR. Unless you end up wrapping that present like is brand-BLUE and giving it to the person who originally gave it you. Ooops! Should this happen, you must absolutely tell a big BLACK lie that you EYE–picked the gift just for them. They may not believe a word you WINK, but you really don't have a choice. To avoid this scenario make sure you're WAVING down who gave you what unwanted item.
As long as you keep track of the bad SNOWBALLS you can keep re-gifting them!
Me: *Snork* you EYE picked the gift just for themli and told a big BLACK  lie. 😉
Thank you so much for making me sit down for a minute. *sigh* I adore you you know. Have a wonderful Christmas holiday and thank you again for your yummy stories!
(((smishes))) Kat
Chrissy: Thanks for having me back, you know I adore you as well!
♥ ♥ ♥ ♥ ♥ ♥ ♥ ♥ ♥ ♥ ♥ ♥ ♥ ♥ ♥ ♥ ♥ ♥ ♥ ♥ ♥ ♥ ♥
More from Chrissy
♥ ♥ ♥ ♥ ♥ ♥ ♥ ♥ ♥ ♥ ♥ ♥ ♥
More C.A.
Author of fantasy, paranormal, romantic suspense and the occasional YA. Sword's Call (King's Riders Book One) AVAILABLE NOW from Gypsy Shadow Publishing! Collision Force (Crossing Forces Book One) releases July1, 2013 from Total-E-Bound Publishing!
C.A. is originally from Ohio, but got to Texas as soon as she could. She is married and has a bachelor's degree in Criminal Justice.
She works with kids when she's not writing.
She's always wanted to be a writer and is overjoyed to share her stories with the world.
♥ ♥ ♥ ♥ ♥ ♥ ♥ ♥ ♥ ♥ ♥ ♥ ♥ ♥ ♥ ♥ ♥ ♥ ♥ ♥ ♥ ♥ ♥

CONTEST
What: Chrissy is giving away 3, yep!
THREE Signed! print copies of her holiday novella

(I want one 😀 )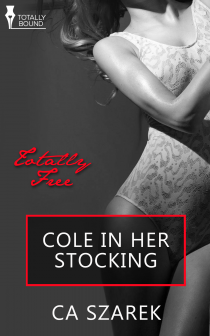 🙂
When: Now- Dec 13

Who: US and Canadian residents

How: Use the rafflecopter and tell us:

what is your favorite holiday movie?
♥
good luck and may the odds be ever in your favor 😉