Nicole Flocton is on my interview couch! I adore this girl, she's my Aussie of Tarts you know. *nods* She's sweet and sassy and everything nice. Enjoy our chat, and my Crazy 8 questions! Don't forget  add her newest novel, Daniel's Decision, to your TBR pile. 🙂
((hugs))) Kat
The Queen of Tarts
PS. I'm writing my review right now! it'll be up ASAP
♥ ♥ ♥ ♥ ♥ ♥ ♥ ♥ ♥ ♥ ♥ ♥ ♥
Me: Nicole! Ahhh honey- you must be exhausted after your trip! Come in, come in and kick up your feet. Have a cupcake and celebrate your return from the Romantic Times Book Convention! *sigh* I missed you my Aussie of Tarts!
Nicole:  *Nicole kicks off her shoes and collapses on the couch* I'm soo tired!!  But had a fantastic time catching up with everyone. Although I missed you terribly by Queen of Tarts!!
Me: What costumes did you wear? *puppy eyes* Oh! Oh! What was a highlight for you? *passes cupcakes to Nicki*
Nicole: MMMMM Chocolate cupcakes – you rock Kat!! 
Now RT, I really didn't do costumes this year and I only went to a couple of parties. I learned last year that some of them wasn't for me LOL.  The highlight would be when I went into a store one night after dinner and was chatting to the saleslady and when I gave her a postcard of my book "Tango Love" she told me she'd read it. That was a huge squee moment.
Me: Oh My Goodness!  LOVE that!
Sooo Besides the convention funness you also celebrate a book birthday! *Kermit Flail* Daniel's Decision debut on May 5th. Can you tell me a bit about writing a story in The Emerald Springs Legacy series with other 4 authors? By the way… I loved Daniel! *swoon*
Nicole: Oh it was fun working with the other 4 authors. The whole continuity came from a passing comment I made about doing continuities. We had a lot of fun teasing each other on who was the cutest brother – I know without a doubt Daniel is the cutest but Monia Tillery – who wrote about Adam the oldest brother – always said Adam was the cutest. Elley who wrote about the youngest brother Chad, would just sit back and sip a beer – so like Chad. We created the whole town and the townspeople. It was so much fun creating a whole community and the two families as well.
Daniel's Decision
Nicole Flockton (Author)
Release date: May 5th 2014 |
Publisher: Crimson Romance |
Genre: Romance
ISBN-13: 9781440571046|
Format: eBook
Meet Daniel, the fourth of five unforgettable characters in the Emerald Springs Legacy.
Life in the small town of Emerald Springs, Washington, is anything but slow and peaceful. An old feud between former business partners Whitman and Sanders keeps competition on a high burner, fueling resentment, renewing rivalries … and love. Now someone is trying to bring down Emerald Tea Farm, and it's up to both families to protect their future while still wrangling over the past.
Daniel Whitman has a plan to turn their hospitality retreat into a high-end eco-friendly resort, but his father and brothers think the timing is wrong. Against family wishes, he heads off to Australia to an award-winning eco-spa to test their services. He is immediately attracted to marketing manager Rochelle Harris but pushes it aside to concentrate on discovering what has made this resort so successful.
Rochelle is a career woman, whose mother who frittered away every single penny her father earned, putting him into an early grave. Now Rochelle's sole goal is to get to the top of her field and become financially secure so she won't need to rely on anyone. What she doesn't need is a sexy, attractive American distracting her from her plans.
The more time they spend together, the more the attraction grows. Then a disaster back home makes Daniel realize he has to step up to his responsibilities. But is Rochelle prepared to take the risk and relocate halfway around the world—and can Daniel open up and let someone be a true partner in his life?
♥ Buy this book from: Amazon | Barnes & Noble | iTunes | Kobo | Google Play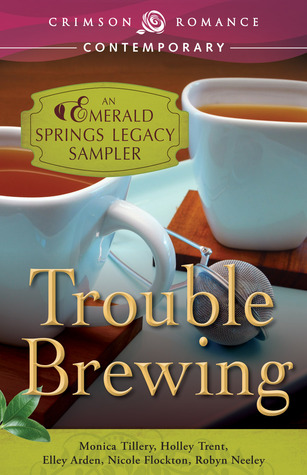 Me: *bounces on couch * Oh! Oh! Did collaborating with girls for The Emerald Springs Legacy prepare you a bit for your next venture? I adore short stories and I'm so excited about your contribution to July's Obsidian Collection. *licks frosting off lip* Can you share a bit about what your story?
Nicole: My story is called "Obsidian Heart" and is about a girl who, after being dumped by her long term boyfriend, still decides to go on her vacation to a tropical getaway. She's looking to have a bit of a holiday fling but ends up finding a mysterious man who can offer her more than just a fling.
It's an exciting project as it will be first foray into self publishing and I'm super glad I'm doing it with 8 other people. Makes it less scary. LOL
Me:*squee!* Sounds yummy! Also- going point, friends help stuff be less scary. 😀
Ok, before I let you go back to Texas and the spring heat we have to play a game!
Nicole: I'd much rather stay here with you – I love my visit with my Queen of Tarts!!!
Me: awwww 🙂
The Book Tart
Crazy 8s
1.
If you had a warning label, what would yours say?
"Can snap if prodded too much"
ha!
2.
What's the weirdest thing you've eaten?
Oh geez I'm so boring! I haven't tried anything weird to be perfectly honest!
3.
Do you ever write naked?
Umm no LOL
hehe 😛
4.
Do you karaoke? If yes, what's your song, if not, would you?
I've not done karaoke because I'd clear the bar. Not sure I'd get up there and sing though.
5.
What secret talents do you have?
I can play tennis with both hands.
Nice!
6.
What song/s best describes your work ethic?
"We didn't start the fire" by Billy Joel
because it jumps all over the place and that's me. I'll do something then start doing something else. I'm a procrastinator.
<g> LOVE your choice and had to share the vid cause it's starts with an I Love Lucy homage
7
Can you say 'Peter Pepper Picked a Pickled Pepper' 5 times fast? 😛
LOL I tried but best I got was 3 times LOL
*whispers* I can't either….
8.
What was the silliest thing you did at the RT convention?
I was pretty subdued this year – have I told you I can be rather boring sometimes LOL
Silly. You are wonderful!
Me: Thank you so much for playing with me here at The Book Tart and for all your wonderful stories! I adore you very much a lot!
Nicole: Thanks so much for having me!!  I love visiting you and I'm so glad you are MY Book Tart!!!
(((BIG hugs))) Kat
♥ ♥ ♥ ♥ ♥ ♥ ♥ ♥ ♥ ♥ ♥ ♥ ♥ ♥ ♥ ♥ ♥ ♥ ♥ ♥ ♥ ♥ ♥
More Nicole
On my very first school report my teacher said 'Nicole likes to tell her own stories'.
It wasn't until after the birth of my daughter and after having fun on the community board of eharlequin.com that I finally decided to take the plunge and write a book.
I joined the fabulous Romance Writers of Australia and evenutally linked up with a great group of girls and we formed "WINKGirls"
The stories I write are contemporary romances with either a medical setting or in the boardrooms of high powered business. It's fun and unique to take two characters and create unique situations for them.
Apart from writing I'm busy looking after my very own hero – my wonderfully supportive husband, and my two fabulous kids. I also enjoying watching sports and, of course, reading.